Charles Schwab consolidates data
Financial services company Charles Schwab & Co has selected Teradata to provide datawarehousing technology to support its...
Financial services company Charles Schwab & Co has selected Teradata, a division of NCR Corporation, to provide data warehousing technology to support its reporting and analytical needs.

Download this free guide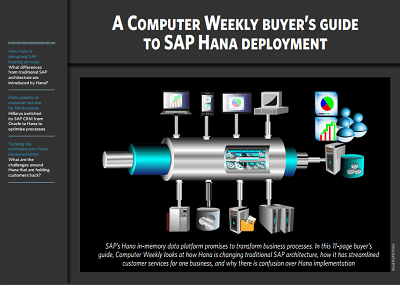 Computer Weekly's Buyer's Guide to SAP HANA Deployment
SAP's Hana in-memory data platform promises to transform business processes. Computer Weekly looks at how Hana is changing traditional SAP architecture, how it has streamlined customer services for one business, and why there is confusion over Hana implementation.
By submitting your personal information, you agree that TechTarget and its partners may contact you regarding relevant content, products and special offers.
You also agree that your personal information may be transferred and processed in the United States, and that you have read and agree to the Terms of Use and the Privacy Policy.
Schwab selected Teradata's solution to benefit from its parallel database technology, linear scalability and ability to support real-time business intelligence.
With both historical and current operational data consolidated into one central warehouse, front-line employees can have direct access to a single version of information for both analytics and decision-support needs.
The consolidation of data will also help the company reduce information-technology complexity and improve customer service at lower costs.
"By consolidating and simplifying our data warehousing platforms, we believe that considerable cost savings and operating efficiencies can be achieved across the company," said Scott Strait, chief technology officer at Charles Schwab.
"With both operational and customer data stored in one central repository, the business can easily manage, access and analyse information for faster decision-making and improved customer service," he said.
Read more on Database software