Disabled charity and car dealers benefit from web portal
Motability, the company that provides leased vehicles to drivers receiving disability allowance, has implemented a self-service...
Motability, the company that provides leased vehicles to drivers receiving disability allowance, has implemented a self-service web portal solution from BroadVision.

Download this free guide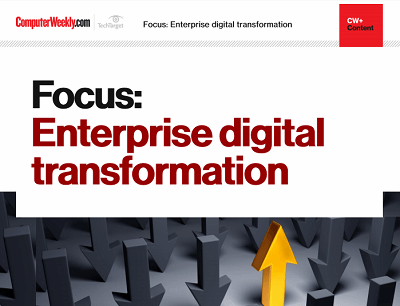 Are you digital to the transformation?
Digital transformation - the buzzword that we can't get away from. Enterprises need to accelerate their digital transformation journeys to avoid being left behind in an increasingly digital world. It's not an easy feat, but one that can be costly to get wrong. Join us as Computer Weekly takes a look at how businesses can stay on track through collaboration, innovation, and listening to user needs.
By submitting your personal information, you agree that TechTarget and its partners may contact you regarding relevant content, products and special offers.
You also agree that your personal information may be transferred and processed in the United States, and that you have read and agree to the Terms of Use and the Privacy Policy.
The portal is designed for Motability call centre agents and dealers who want to re-sell cars once they have been returned by drivers when the lease is up.
The BroadVision solution is streamlining the returns process and reducing Motability's costs as a result.
The turnover of car sales on the new portal is close to £5m in an average week, and up to £3m a day during national number plate changes. The portal is being used to dispose of 120,000 cars annually.
Motability Operations had wanted an online portal that would allow it to transact with dealers more effectively, by managing the collection and sale of its ex-lease vehicles. This would help delivering cost savings and boost revenue from this part of its £900m a year business.
Andrew Jordan, Motability technology architect, said, "We wanted to create an e-commerce portal that could be accessed by our call centre agents and the dealers to manage the whole online process, from searching for vehicles through to placing and tracking an order.
"We decided to use BroadVision as it provides scalability, whilst also allowing us to extend and customise the platform to deliver our exact selling side portal requirements."
The portal allows Motability to inform dealers in advance if a car is being returned to them by the customer, so it can go straight to a dealer without having to be stored at cost to Motability.
The site also gives dealers personalised access to their preferred choice of cars on sale at any one time, so they can pick the models that suit them to buy. The system also alerts dealers by e-mail if cars of a particular pre-specified model and age for instance, become available, so they have an early chance to buy the vehicle.
Read more on Operating systems software