Sun and Microsoft to detail interoperability plans
Sun Microsystems and Microsoft will provide more details next month on work they are doing to make their products interoperable.
Sun Microsystems and Microsoft will provide more details next month on work they are doing to make their products interoperable.
The announcement will focus on their work regarding interoperability in the web services and directory services area, said Mark McClain, vice-president of software marketing at Sun.

Download this free guide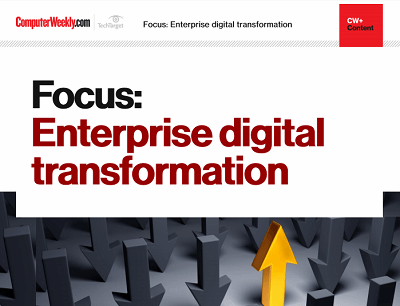 Are you digital to the transformation?
Digital transformation - the buzzword that we can't get away from. Enterprises need to accelerate their digital transformation journeys to avoid being left behind in an increasingly digital world. It's not an easy feat, but one that can be costly to get wrong. Join us as Computer Weekly takes a look at how businesses can stay on track through collaboration, innovation, and listening to user needs.
By submitting your personal information, you agree that TechTarget and its partners may contact you regarding relevant content, products and special offers.
You also agree that your personal information may be transferred and processed in the United States, and that you have read and agree to the Terms of Use and the Privacy Policy.
An October announcement means a slight delay for details on the interoperability work. Sun chief executive officer Scott McNealy said in late June at the company's JavaOne conference that Sun and Microsoft would detail their initial collaborative work during the US summer, which ends in September.
"We're going to miss that summer target," a Sun spokeswoman acknowledged. "As happens when large organisations are working together, things take a bit longer."
When the announcement is made, however, Sun and Microsoft will have a demonstration of interoperability between their technologies, the spokeswoman said.
"We want to make sure that it is a solid announcement and that we can show our customers how we can work together. The goal is to have an event and to demonstrate interoperability in some capacity."
The spokeswoman could not specify what would be demonstrated but said it would most likely be in the areas of directory services and single-sign-on technology.
Sun and Microsoft started work on interoperability as part of a broad settlement and cooperation agreement between the companies that was announced in April. Executives from Sun and Microsoft have repeatedly said that users are clamoring for interoperability between Sun's Unix and Java environments and Microsoft's Windows and .net.
As part of the April deal, Microsoft agreed to pay Sun $700m (£389m) to resolve all pending antitrust issues and $900m to resolve all patent issues. The settlement ended a bitter legal dispute between the rivals that started in 1997.
Joris Evers writes for IDG News Service
Read more on Operating systems software