Sun opens up Project Looking Glass
Sun Microsystems is releasing the source code for a user interface technology that provides users with a 3D view of their PC...
Sun Microsystems is releasing the source code for a user interface technology that provides users with a 3D view of their PC desktop.
"The client is back," said Jonathan Schwartz, Sun's president and chief operating officer. He also previewed an upcoming version of Java 2 Standard Edition, the desktop version of the Java standard.

Download this free guide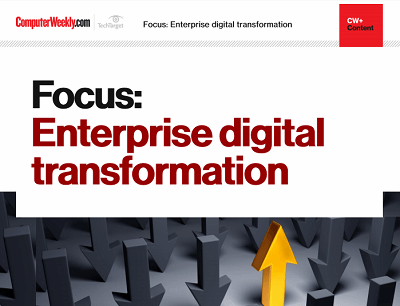 Are you digital to the transformation?
Digital transformation - the buzzword that we can't get away from. Enterprises need to accelerate their digital transformation journeys to avoid being left behind in an increasingly digital world. It's not an easy feat, but one that can be costly to get wrong. Join us as Computer Weekly takes a look at how businesses can stay on track through collaboration, innovation, and listening to user needs.
By submitting your personal information, you agree that TechTarget and its partners may contact you regarding relevant content, products and special offers.
You also agree that your personal information may be transferred and processed in the United States, and that you have read and agree to the Terms of Use and the Privacy Policy.
Called Project Looking Glass, Sun's interface technology was first shown a year ago. It should allow developers to build desktop user interfaces that are easier and more intuitive to use than traditional desktop windows, Schwartz said.
Looking Glass is for computers running Linux and Sun's Solaris operating system. By offering the code under an open source license, Sun hopes to draw the attention of more developers, who it hopes will use the technology and improve it further.
Sun plans to release a Looking Glass software developer kit in the coming months.
Looking Glass is little more than a good-looking technology at the moment, but its release to the open source community could see it used in some interesting applications that could spur its adoption, said James Governor, principal analyst with Red Monk. And because the technology is open source, developers might be able to create a version for Windows, he said.
IBM and BEA Systems have also been promoting new desktop platforms, Governor noted - IBM with a project based on Eclipse, and BEA with an effort called Alchemy that aims to make the web browser more useful by adding better caching and synchronisation technologies.
"Schwartz said the client is back, but in fact the rich client is back," Governor said. The industry seems to be recognising that Web portals, or personalised websites with multiple content windows, aren't the easiest way to navigate through information, especially for consumers, he said.
James Niccolai writes for IDG News Service

Read more on Operating systems software