IBM brings grid to software suppliers
Seven independent software vendors (ISVs), including Citrix Systems and Cognos, have been the first to take advantage of an IBM...
Seven independent software vendors (ISVs), including Citrix Systems and Cognos, have been the first to take advantage of an IBM programme that bridges the gap between commercial software suppliers and the world of grid computing.

Download this free guide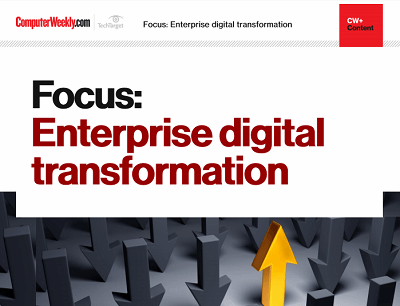 Are you digital to the transformation?
Digital transformation - the buzzword that we can't get away from. Enterprises need to accelerate their digital transformation journeys to avoid being left behind in an increasingly digital world. It's not an easy feat, but one that can be costly to get wrong. Join us as Computer Weekly takes a look at how businesses can stay on track through collaboration, innovation, and listening to user needs.
By submitting your personal information, you agree that TechTarget and its partners may contact you regarding relevant content, products and special offers.
You also agree that your personal information may be transferred and processed in the United States, and that you have read and agree to the Terms of Use and the Privacy Policy.
Launched in 2003, the Solutions Grid for Business Partners gives ISVs access to IBM engineering expertise, hardware and software at four IBM Innovation Centres in the US and the UK, where they go through "a very well-defined process" to extend their applications, said Steve Gordon, an alliance executive for grid computing at IBM.
"The centres are set up to support whatever configuration - within limits - they want to test with their application," Gordon said.
IBM developed the Solutions Grid programme to promote the idea of grid computing - a way of developing software so that it can use computing resources from many different systems - outside of the academic world where it was first developed, Gordon said.
Citrix, for example, used the programme to extend the load balancing capabilities of its MetaFrame software using IBM's Tivoli Orchestrator product. With the new grid-enabled MetaFrame, customers can tell the software to automatically add new servers to run the application, whenever it is being heavily used.
"What this integrated service does is it effectively automates the process," said Chris Fleck managing director of strategic alliances with Citrix.
The Solutions Grid programme also helps ISVs to grid-enable their applications using grid software from IBM partners. Citrix, for example is now working with grid supplier DataSynapse to integrate the Citrix Presentation Server with DataSynapse's application management software.
The other ISVs who have grid-enabled their applications are Abaqus, Actuate, Engineous Software, Fluent and Sefas Innovation.
IBM has another 15 software suppliers signed up for the programme.
Robert McMillan writes for IDG News Service
Read more on Operating systems software