Business leaders offer guide to e-government
Leading private sector organisations have joined forces to offer government bodies a helping hand in using online technologies to...

Download this free guide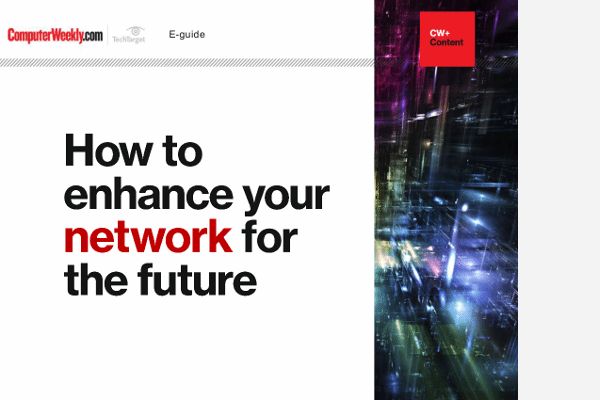 How to enhance your network for the future
Latest on networking developments and directions: NFV, self-optimising networks and IoT enabled smart cities
By submitting your email address, you agree to receive emails regarding relevant topic offers from TechTarget and its partners. You can withdraw your consent at any time. Contact TechTarget at 275 Grove Street, Newton, MA.
You also agree that your personal information may be transferred and processed in the United States, and that you have read and agree to the Terms of Use and the Privacy Policy.

Leading private sector organisations have joined forces to offer government bodies a helping hand in using online technologies to cut costs and improve services.

Members of the IT best practice network BuyIT, including Rolls-Royce, BAE Systems, Capgemini and Microsoft, last week launched a set of guidelines to help central and local government agencies make the move to joined-up e-government.

The free report, Delivering E-Enabled Public Sector Reform, identifies three key IT issues that need to be addressed to improve e-government services.

They are: offering effective online service to the customer; integrating back-office systems across the public sector; and offering support from the back office for front-line staff.

The report comes at a time when public sector organisations are facing the dual task of meeting the 2005 e-government deadlines and hitting chancellor Gordon Brown's target of saving £20bn across government.

Fritz Janssen, chief executive at BuyIT, said the experience of early adopter businesses can help government bodies. "We are not saying that the private sector has done everything right, but early adopter lessons are always useful," he said.

Surveys have shown that the UK is slipping in the global e-government tables, and the report's authors urged public sector bodies to ensure their online services are fulfilling an actual need rather than just hitting a target.

"The 2005 targets were initially about availability, but now online services have to show an impact," said Graham Colclough, senior vice-president at Capgemini. "They have got the information there, but now they need front-to-back integration."

www.buyitnet.org