Don't hang back on Linux, users urged
Open-source operating system Linux is ready for the enterprise and users should not delay implementations because of the legal...
This Article Covers
RELATED TOPICS
Open-source operating system Linux is ready for the enterprise and users should not delay implementations because of the legal wrangling about its status.
That is the advice of a number of analysts as IT directors begin to sketch out next year's budget proposals.
Ted Schadler, Forrester's group director, this week referred to claims that Linux was too risky for enterprise datacentres as "hogwash".
"The actual risk is much lower than most users think," he said. "Linux is more than ready to go, and waiting means only one thing - cheating your company of the savings that come from moving Unix workloads to Linux on Intel."

Download this free guide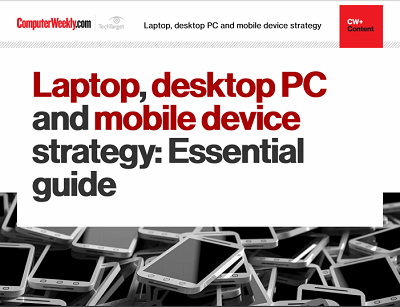 The great debate - to PC or not to PC
IT leaders have greater choice in end-user devices than ever before. The age of PC-only users is over and we have entered the multiple device era. In this guide, you can find best practice, analysis of the latest trends, and expert advice on formulating enterprise strategy in laptops, desktop PCs and mobile devices.
By submitting your personal information, you agree that TechTarget and its partners may contact you regarding relevant content, products and special offers.
You also agree that your personal information may be transferred and processed in the United States, and that you have read and agree to the Terms of Use and the Privacy Policy.
Tim Jennings, research director at Butler Group, said switching from Unix to Linux in an enterprise data centre environment was a valid approach, although he cautioned that Linux is not suitable for every occasion.
"Linux is ready for the enterprise, but I don't agree that if you don't move to Linux you're missing out on cost savings. The cost of ripping out and replacing Unix would be substantial," said Jennings.
Both Schadler and Jennings agreed that the SCO Group's lawsuit against IBM would not be a serious inhibitor to Linux adoption.
Analyst firm Meta Group also recently advised users not to delay Linux implementations in response to the SCO lawsuit against IBM.
Schadler: Five reasons why Linux is more than ready for the enterprise
17% of large North American companies already use Linux

The Linux kernel is "more than ready" for enterprise workloads and will be helped further by the launch of the 2.6 kernel in the autumn

Commercial support is readily available from industry heavyweights like HP and IBM as well as Linux specialists like Red Hat and SuSE

ISVs such as Oracle are porting their applications to Linux

Although open-source software faces challenges from intellectual property holders, there is no giant company that might sue to stop the adoption.