Police Federation welcomes Airwave digital radio safety research
The government has launched a £5m health-monitoring programme for police officers using Airwave, the controversial new police...
The government has launched a £5m health-monitoring programme for police officers using the Airwave digital radio system.

Airwave is operational in eight forces and will be rolled out to all 53 forces in England, Scotland and Wales by the end of 2005.

The monitoring programme has been welcomed by the Police Federation, which represents 128,000 officers in England and Wales. The federation has pushed for extensive monitoring ever since fears were raised about the potential health impact of Airwave during trials with Lancashire police.

Download this free guide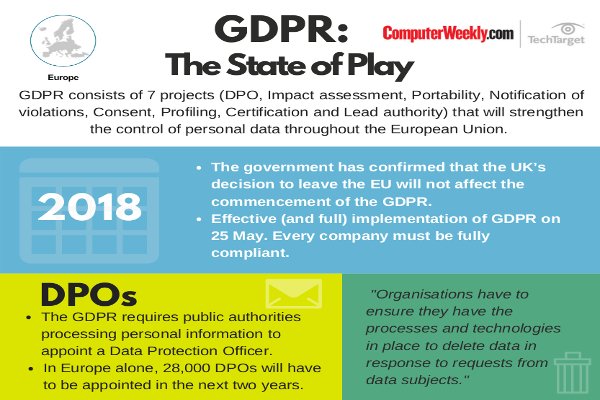 Infographic: GDPR - The State of Play
Get the latest information on how GDPR is going to affect your business and how to avoid any unwanted fines with this simple infographic.
By submitting your personal information, you agree that TechTarget and its partners may contact you regarding relevant content, products and special offers.
You also agree that your personal information may be transferred and processed in the United States, and that you have read and agree to the Terms of Use and the Privacy Policy.
Last year the House of Commons Public Accounts Committee warned that it was not clear who would be responsible if health fears surrounding the system were justified.
Imperial College London will carry out a more a detailed study of 150 officers to determine whether Airwave signals have any effect on the well being of users.
Academics will also monitor 100,000 police officers for 15 years, in what the the government said would be the largest study of its kind in the UK.
"We have already undertaken research that shows that Airwave is safe to use - we are investing in this groundbreaking health-monitoring programme to provide further reassurance to users about long-term safety," Home Office minister Bob Ainsworth said.
The University of Birmingham and the University of Manchester are also undertaking research measuring the radio talk time of officers during typical shifts. Their research, which began in March, will feed directly into the national health-monitoring programme.
Read more on IT legislation and regulation