Security flaw discovered in wireless Lan 802.11 and 11b
Security weaknesses have been found in wireless Lan standard 802.11 and 802.11b by a University of California at Berkeley...
Security weaknesses have been found in wireless Lan standard 802.11 and 802.11b by a University of California at Berkeley research team, writes Antony Adshead.
The security hole exists in the wireless equivalent privacy (WEP) algorithm. The research team discovered numerous ways of intercepting and modifying transmissions even if access to the network had been restricted.

Download this free guide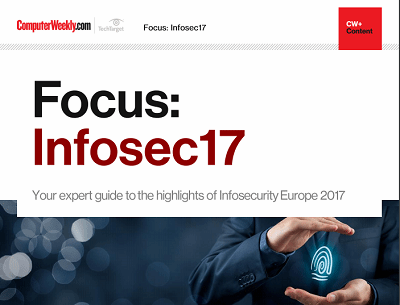 From forensic cyber to encryption: InfoSec17
Security technologist Bruce Schneier's insights and warnings around the regulation of IoT security and forensic cyber psychologist Mary Aiken's comments around the tensions between encryption and state security were the top highlights of the keynote presentations at Infosecurity Europe 2017 in London.
By submitting your personal information, you agree that TechTarget and its partners may contact you regarding relevant content, products and special offers.
You also agree that your personal information may be transferred and processed in the United States, and that you have read and agree to the Terms of Use and the Privacy Policy.
In particular, the team found it could decrypt traffic using statistical analysis, transmit new traffic from unauthorised mobile stations, decrypt traffic by tricking the wireless access point, and mount a dictionary-based attack - which analyses a day's worth of traffic to allow real-time decryption.
The group said inexpensive equipment could be used to mount the attacks and recommended that those using 802.11 wireless equipment should not rely on WEP for security. The vulnerability occurs in both 40-bit and 128-bit versions.
WEP is designed to protect wireless Lans from eavesdropping and prevent unauthorised access. It uses a secret key shared between a mobile station, such as a laptop, and the base station access point. It encrypts packets as they are sent and carries out an integrity check to ensure no modification has been made in transit.
Butler Group senior analyst Mark Blowers downplayed the risk. "The best way a company can protect itself is by having a security policy - wireless networks are no more insecure than fixed networks," he said.
"However, with wireless networks, management needs to determine the specific risks associated - is wireless suitable for all traffic or should only certain types be transmitted that way?"
Wireless Lan supplier 3Com said the WEP standard is a simple defence against everyday threats but conceded that it is susceptible to sophisticated hacker attacks.
The Berkeley paper advises use of higher level security, such as virtual private networks.