Lambeth pays the price of outsourcing
Lambeth Council is locked in a housing benefits contract with outsourcer Capita, despite a 40,000 backlog of claims and a series...
Lambeth Council is locked in a housing benefits contract with outsourcer Capita, despite a 40,000 backlog of claims and a series of failed rectification programmes.



Resource-strapped Lambeth is spending up to £1.5m to take back management control of the service.

But the council has ruled out the option of exercising its legal right to make Capita pick up the cost of the move.

The council's executive director of finance, Michael Crich, said such a move could affect Capita's work on the rest of the contract, which covers council tax, call centre and cashier services.

Download this free guide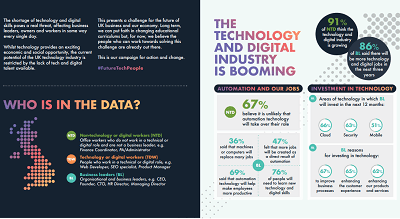 Infographic: Future-proofing UK technology
The shortage of technology and digital skills poses a real threat, affecting business leaders, owners and workers in some way every single day. Whilst technology provides an exciting economic and social opportunity, the current potential of the UK technology industry is restricted by the lack of tech and digital talent available. This presents a challenge for the future of UK business and our economy. Long term, we can put faith in changing educational curriculum but, for now, we believe the people who can work towards solving this challenge are already out there.
By submitting your personal information, you agree that TechTarget and its partners may contact you regarding relevant content, products and special offers.
You also agree that your personal information may be transferred and processed in the United States, and that you have read and agree to the Terms of Use and the Privacy Policy.
Lambeth's plight follows last month's admission by Treasury minister Dawn Primarolo that the Government would not demand compensation from Andersen for the troubled NIRS2 national insurance records contract for fear of damaging future relationships.
The two cases illustrate the dangers that could face organisations, public and private, which outsource core business processes. When problems develop, clients can find themselves at the mercy of their outsourcer, however strong their contracts.
Lambeth admitted its reliance on Capita in a report presented to the council's policy committee on 3 April. It said, "The council is legally in a position to suspend the benefits service from the contract and to provide or procure the service from elsewhere at Capita's expense.
However, the key question is whether this is operationally feasible. "Capita is believed to be losing about £1m a year on the contract and is likely to resist the possibility of additional losses."
The council said that the service implications of Capita pulling out of Lambeth are ''massive", and "must bring into question the adequacy" of a £5m performance bond held by the borough.
Capita refused to comment on its losses at Lambeth or the council's fears that it might pull out of the borough. A Capita spokeswoman said, "We are in talks with the council to find new ways of working to make housing benefit in the borough work."
Lambeth has faced similar problems in administering housing benefit as other inner city boroughs, including Manchester, Hackney and Taunton Deane. Processing delays caused by the installation of new software compounded its difficulties.
On the council's dependence on Capita, Crich said, "The standard contractual model does not seem to work" with outsourcing.
With hindsight he would have let the council's services in separate contracts, not as one block.