Chancellor George Osborne has announced plans to unlock more government datasets over the next 12 months with a new research centre based in London's "Tech City".
Speaking at Google's Zeitgeist conference in London, Osborne said the data will be used to help families choose GPs and check the performance of hospital departments, teaching quality and crime reports.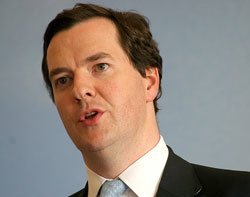 "Our ambition is to become the world leader in open data, and accelerate the accountability revolution that the internet age has unleashed," he said.
The impact of the open data revolution is "profound", Osborne said, and he wants the UK to be "at the forefront of this new wave of innovation".
Imperial College London and University College London will help create the Shoreditch-based research centre, which will focus on energy, transport and social data, in a commercial partnership with companies.
Osborne also announced the appointment of Beth Noveck, previous head of Barrack Obama's Open Government Initiative.
Noveck has been recruited to work alongside Martha Lane Fox, Tim Kelsey and Tom Steinberg to harness new technologies to make government more innovative and accountable, he said.
Move to online services
During his speech the chancellor also reiterated the government's commitment to moving services online-only, citing the reduction of processing costs for driving licences from £10 to £2 as a benefit of this model.
"In all our reforms we assume that public service delivery can be shifted online - and officials and ministers have to justify why any aspect needs to be delivered through traditional offline channels," he said.
"We are designing the universal credit system with online delivery in mind right from the start - not as an expensive afterthought," Osborne added.
However, the chancellor acknowledged the ongoing challenge of connecting the nine million people currently not online - the majority of those being the demographic most reliant on public sector services.
---
Read more about government IT
---
Picture: altogetherfool on Flickr
Email Alerts
Register now to receive ComputerWeekly.com IT-related news, guides and more, delivered to your inbox.
By submitting your personal information, you agree to receive emails regarding relevant products and special offers from TechTarget and its partners. You also agree that your personal information may be transferred and processed in the United States, and that you have read and agree to the
Terms of Use
and the
Privacy Policy
.