The Indian government is putting pressure on the country's telecom service providers to give it access to e-mails sent and received on Research In Motion's Blackberry smart pones, an official has told The Wall Street Journal.
The news follows RIM's reiteration there is no possibility of giving the authorities access to its Blackberry corporate e-mail.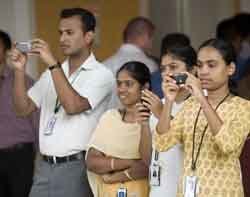 The Indian government fears that the encrypted service could be used by terrorists to circumvent government interception.
According to the report, a clause in the country's telecom licensing agreement allows government agencies to intercept all communication systems.
But RIM has failed to meet a January 31 deadline to make available to Indian authorities access to its encrypted corporate e-mail service.
RIM said it had been assured by senior government officials that any policy relating to "lawful access" requirements for encrypted enterprise or VPN (virtual private network) telecommunications will be applied equitably, broadly, and simultaneously to all such products and services that use encryption in India.