WikiLeaks founder Julian Assange has revealed a back-up plan to continue releasing secrets if the whistleblowing website is shut down.
There are encrypted backups of all the things Wikileaks has yet to publish that have been distributed among 100,000 people, he said in an interview at the weekend.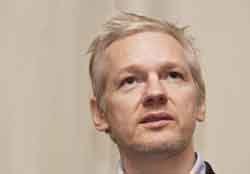 "All we need to do is give them an encrypted key and they will be able to continue," he told CBS News in an exclusive interview.
Assange, who is under US investigation over the leaking of thousands of secret diplomatic cables, said the key would be released only as a last resort.
The Wikileaks founder denied that he was motivated by anti-Americanism or other political agendas, describing his group as "free press activists".
Assange refused to discuss the Swedish sex crimes allegations that have him largely confined to a house in the UK on bail pending extradition proceedings, according to the Bankok Post.
He also refused to confirm or deny whether Wikileaks plans to release information on the Bank of America, but said "When you see abusive organisations suffer the consequences as a result of their abuse, and you see victims elevated, that's a very pleasurable activity to be involved in."