The US has adopted new rules that will give the Department of Homeland Security access to the Defense Department's cyber capabilities in a cyber attack.
Just as the military can be called on in natural disasters, a presidential order will allow the use of the military's expertise in cyber warfare, according to the New York Times.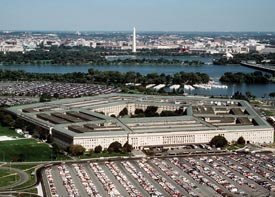 The Department of Homeland Security would direct the work to avoid concerns that civil liberties would be at risk if they military were to take over domestic operations.
The rules were introduced because most of the government's computer-network capabilities are inside the Pentagon.
Most of the likely targets of a cyber attack are on domestic soil, whether within the government or in critical private operations like regional power grids, the paper said.
The Department of Homeland Security is to send a team to the military's new Cyber Command, and in exchange, a team of military networking experts will be assigned to the operations centre at the Homeland Security Department.