The Liberal Democrats would start their term in office by scrapping ID cards, the Contactpoint child database and the next generation of biometric passports.
The party released its manifesto today and joined the Conservatives in saying it would scrap the big "intrusive" projects, at the same time as expanding investment in green technologies.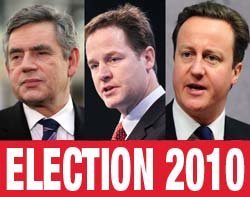 If elected, the Liberal Democrats would rely on IT cuts to help them make a lot of the savings they think are necessary in Whitehall.
The party would start a spending review after the election, consulting widely throughout the public sector throughout the end of 2010 and beginning of 2011. It would publish a full spending review with the 2011 Budget. It would focus largely focus on pay, public sector pensions and IT provision, the manifesto says.
"The cross-government economies needed to reduce the deficit such as on pay, pensions, and IT procurement will affect all departments, so it would simply be dishonest to say that entire departmental budget can be ringfenced from cuts," the manifesto says.
The Liberal Democrats also say they want "better IT government procurement", and would investigate the potential of cloud computing and open-source software.
Other IT-related steps the party wants to take include strengthening the Data Protection Act and the Office of the Information Commissioner, after several years of high-profile public sector data losses.
It says it would end plans to store e-mail and internet records "without good cause", and remove innocent people from the DNA database. It also wants to tackle online bullying by backing "quick-report buttons" on social networking sites.
The Institute of Directors said the manifesto would have mixed consequences for businesses. "There are aspects of the Liberal Democrat manifesto which tip their hat to the business agenda, but unfortunately these are largely undermined by a series of proposals that would inhibit business growth."
The Liberal Democrats are the last party to publish a manifesto, with Labour announcing theirs on Monday and the Conservatives yesterday.
Nick Clegg explains his technology vision >>
Email Alerts
Register now to receive ComputerWeekly.com IT-related news, guides and more, delivered to your inbox.
By submitting your personal information, you agree to receive emails regarding relevant products and special offers from TechTarget and its partners. You also agree that your personal information may be transferred and processed in the United States, and that you have read and agree to the
Terms of Use
and the
Privacy Policy
.