The Digital Economy Bill is now the Digital Economy Act 2010, following overnight Royal Assent after being rushed through parliament before the election.
A statement from the Department of Business, Innovation & Skills, which sponsored the bill, said the provisions against online copyright infringement in the act will require secondary legislation before they come into force.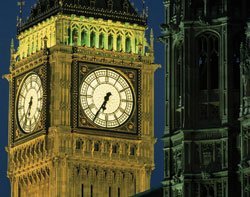 This condition was negotiated between government and opposition whips in the face of backbench rebellions on both sides, and massive opposition to the bill outside parliament, particularly in internet-savvy circles.
A controversial clause that gave corporations the right to exploit freely works whose ownership was unknown or unclear was dropped. This delighted photographers who faced endless litigation to prove ownership of images they uploaded to sites such as Flickr and Picasa.
The act, originally framed by Lord Carter, was always about more than fighting online pirates. It includes provisions relating to the UK's communications infrastructure, public service broadcasting, copyright licensing and online infringement of copyright, and security and safety online and in video games.
Some measures come into effect immediately with others taking effect in two months. Many provisions require further public consultation and in some cases approval by parliament, before they can be implemented.
Main provisions of the Act
Communications regulator Ofcom reports
Online infringement of copyright
Powers in relation to internet domain registries
Channel Four Television
Independent television services
Independent radio services
Access to electromagnetic spectrum
Video recordings
Copyright and performers' property rights: penalties
Public lending right
Commencement of the act's provisions
Most of the act's provisions take effect two months after it is published. Those that come into effect immediately include:
Sections 5-7 regarding the initial obligations code, which covers costs of enforcing copyrights and thresholds for penalties.
Section 15 regarding the sharing of costs in relation to provisions on online infringement of copyright.
Sections 30 to 32 regarding digital radio switchover and renewal of radio licences.
Other provisions will come into effect after secondary legislation.
Email Alerts
Register now to receive ComputerWeekly.com IT-related news, guides and more, delivered to your inbox.
By submitting your personal information, you agree to receive emails regarding relevant products and special offers from TechTarget and its partners. You also agree that your personal information may be transferred and processed in the United States, and that you have read and agree to the
Terms of Use
and the
Privacy Policy
.