There is no safety without security on the internet, John Colley, managing director of information security professionals' organisation (ISC)² has warned.
Youngsters continue to use the internet in new ways and take risks in a world where parents and teachers are ill-equipped to guide them, he said in a statement to mark Safer Internet Day.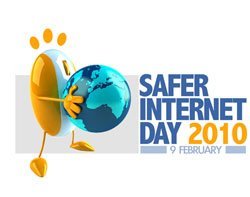 (ISC)² volunteers who run an internet safety and security programme in schools across the UK have found that many children share their parents' home or work computers and take homework to school on unprotected memory sticks.
About half the children visited by volunteers admit using peer-to-peer networks to download music, which could lead them to accidentally download malware, said Colley.
This poses a risk to parents' work computers as malware is commonly designed to steal personal information, including login credentials for work-based information systems.
"It is important that children receive guidance on security and safety online, since they have little understanding of how their actions present risks to themselves, friends, family and their parents' workplace," said Colley.
More than 60 countries are celebrating Safer Internet Day 2010 on 9 February, which has the theme of "Think B4 U post".
The theme is aimed at making internet users aware that anything anyone posts online remains there for an indefinite period and accessible for everyone, which can have serious consequences.
"Think B4 U post" advice for children using the internet
Use the privacy settings offered by social networking services
Only select as online friends people you know you can trust
Think carefully about the potential consequences before publishing photos of themselves
Do not publish pictures of friends without their permission