Avaya bets on SIP in Nortel integration
Telecommunications firm Avaya plans to focus on internet protocols (IP) as the basis for all communications following its $900m...
Telecommunications firm Avaya plans to focus on internet protocols (IP) as the basis for all communications following its $900m acquisition of bankrupt Canadian switch maker Nortel.

Download this free guide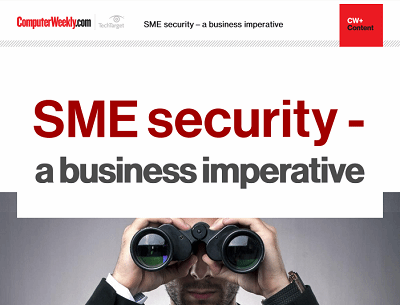 The secret to winning - SMEs and cyber security
50% of SMEs plan to spend less than £1000 on cyber defenses in the next year and only 42% of SMEs are concerned about ransomware. Anyone see a problem? Computer Weekly outlines some solutions to this growing naive trend.
By submitting your personal information, you agree that TechTarget and its partners may contact you regarding relevant content, products and special offers.
You also agree that your personal information may be transferred and processed in the United States, and that you have read and agree to the Terms of Use and the Privacy Policy.
Presenting its technology roadmap, Alan Baratz, Avaya's senior vice-president and president of global communications solutions, said the firm will base future communications products on the Session Initiation Protocol (SIP) to provide better integration between applications and communications for large and small firms.
The communications industry is at an "inflection point" as IP PBX solutions give way to an enterprise-wide real-time architecture built around open industry standards, including SIP, Presence and web services, he said.
The roadmap addresses unified communications, call centres, small and medium enterprises, and data network products, Baratz said.
Avaya introduced SIP as a "future-proof" application integration platform with the introduction of Avaya Aura firmware in 2009. This allowed firms to use existing time division multiplexing (TDM) and IP systems to form a common SIP-based communications platform, he said.
Baratz said Avaya will use Nortel's Agile Communications Environment (ACE) software with Aura to help integrate information flows from business applications through firms' existing PBX systems to staff and customers.
Avaya will integrate ACE with Aura for unified communications. ACE uses service oriented architecture and web services to speed up development of communications-based applications, and is more advanced than Avaya's internal API development programme, so it makes sense to scrap that in favour of ACE, he said.
Baratz said Avaya will provide upgrades to current software releases to protect existing investments in legacy systems such as Definity, Meridian and SL100. But they will offer an incremental transition from TDM to IP and SIP capabilities, he said.
Avaya Aura will also be at the centre of Avaya's call centre portfolio, with Nortel Enterprise Solutions (NES) integrated to provide agent desktop, work assignment, experience management and analytics applications for mid-range to large contact centres.
Baratz said it will continue to sell its SME products such as Avaya IP Office, BCM, Norstar, Partner and Integral 5, but these technologies will migrate to the company's flagship hybrid IP offering, IP Office.
It will also offer the Avaya software communication system, a SIP-based product from NES for SME customers who want to manage unified communications from their datacentre.
Baratz confirmed Avaya will adopt the current roadmap of NES data products in its entirety. These include Ethernet switching, routers, wireless networking, access control and unified management.
E-Handbook

E-Handbook

E-Handbook
Read more on IT for small and medium-sized enterprises (SME)