The Queen was today presented with a letter setting out how the royal prerogative had been used to shield parliament from the terms of an extradition treaty with the US, the same treaty now being used against self-confessed hacker Gary McKinnon.
"I am sure the queen would not have knowingly sold out her own citizens," Janis Sharp, McKinnon's mother, told Computer Weekly.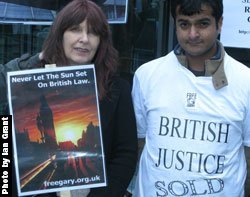 Sharp was speaking at the protest outside the Home Office before delivering the letter to Buckingham Palace.
The letter was part of a protest organised by Save Gary campaigners against his extradition to the US. McKinnon faces charges that he hacked into and damaged US military IT systems in 2001. McKinnon admits the hack, but denies causing damage.
Among the MPs who lent their support to the protest were Liberal Democrat leader Nick Clegg, Home Office minister Keith Vaz, Chris Huhne, Kate Hoey, and Andrew Mackinlay.
In July, Mackinlay told parliament, "We talk about the extradition treaty between the US and the UK, but actually there is no such piece of legislation in the UK. These things are done under the royal prerogative. In contrast, the measures in question were endorsed in legislation in the US Congress two and a half years after we promulgated our side of the so-called bargain. There has clearly been a disparity from the beginning."
Sharp said former home secretary Jack Straw had once called for the royal prerogative, an ancient law that permits the queen to declare war and conclude treaties among other things, to be struck off the statute book. It is now used only on the advice of the prime minister and cabinet.
Sharp said Labour used it to hide from parliament the text of the controversial extradition treaty. "The government negotiated and signed the treaty in secret in the wake of 9/11," she said.
Sharp said McKinnon, who suffers from Asperger's syndrome, an autistic condition, had become suicidal from stress as the case, now eight years old, dragged on.
McKinnon's lawyers have asked for a judicial review of home secretary Alan Johnson's decision to allow McKinnon's extradition to go ahead, despite his deteriorating physical and mental condition. The courts are expected to reply by 24 December.
Protesters from the Save Gary campaign outside the Home Office, London.
Email Alerts
Register now to receive ComputerWeekly.com IT-related news, guides and more, delivered to your inbox.
By submitting your personal information, you agree to receive emails regarding relevant products and special offers from TechTarget and its partners. You also agree that your personal information may be transferred and processed in the United States, and that you have read and agree to the
Terms of Use
and the
Privacy Policy
.