Women need to take on the geeks in fight for recognition
With the number of women working in IT-related jobs falling, government initiatives and industry think-tanks are working together...

Download this free guide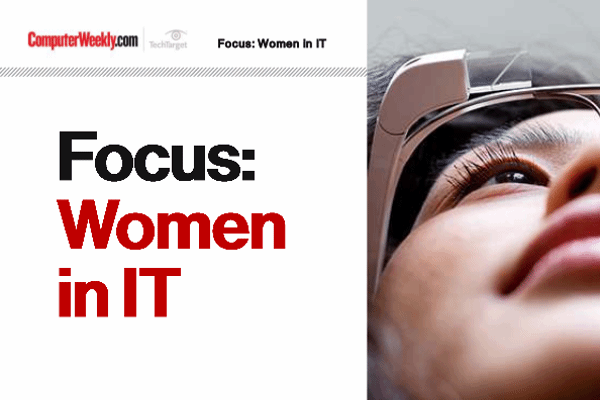 Shifting the landscape of gender and diversity
The number of women in tech in Europe is an average of 16%. This guide offers a collection of articles highlighting some of the prominent issues surrounding increasing the number of women in the IT industry.

By submitting your personal information, you agree that TechTarget and its partners may contact you regarding relevant content, products and special offers.

You also agree that your personal information may be transferred and processed in the United States, and that you have read and agree to the Terms of Use and the Privacy Policy.

With the number of women working in IT-related jobs falling, government initiatives and industry think-tanks are working together to redress the balance.



Improving the way IT-related careers are portrayed to women could have a significant impact on employment patterns and stem the falling numbers of women in IT, according to government research published this month.

The government report, Women in Itec (Information Technology, Electronics and Communications) Courses and Careers, showed the number of women working in IT-related jobs in the UK has fallen over the past couple of years. In 1999, 16% of women were working in technology-related jobs in the UK economy, but within a year, that number had fallen to only 13%, placing the UK well below the US, Canada and Ireland.

The trend is worrying because despite the current slowdown in the jobs market, analysts see the skills shortage getting worse when the economy recovers. A report published last year by research firm IDC showed that there was a shortfall of 860,000 in IT-related jobs in western Europe, which is expected to rise to 1.74 million by 2003.

The European Information Technology Observatory (EITO) sees the demand for e-business and call centre skills pushing that shortage up to 3.84 million by 2003.

In response to these figures government and industry have launched various initiatives to encourage more women to enter IT-related careers. But recent events, such as the bursting of the dotcom bubble, have provided a further setback for women in IT.

Jane Millar, research fellow at the University of Sussex and a joint author of the government paper, said it was likely that the numbers [of women in IT] had fallen because the data was collected before the dotcom fall out, at the height of the panic about the skills shortage in the sector.

"Back then, I would've been more optimistic about women's participation in the ITEC-related workforce because a lot of people were being employed in response to the crisis," she said.

The problem, for both young women thinking about a career and those considering changing to IT, was that IT-related opportunities were still crippled by negative stereotyped-images, most of which had no bearing on reality, Millar said.

"The image is that of a geek or a nerd, someone who is not particularly communicative and is cooped up all day interacting with a machine. When selecting a career, women seem to be turned off by this stereotypical image," she said.

Millar added that there needed to be a lot more debate between Government and industry about promoting the variety of jobs women could apply for if they took certain decisions during their education. "If there was a more comprehensive awareness about the variety of jobs available, and a better mapping of the skills that women have, it could have an influence on the decisions they make."

The report also touched on the participation of women in ITEC-related courses, in which they are generally under-represented, particularly in more technical areas such as product design and software development. The number of female graduates from technology-related courses was lower in the UK than in any of the other five countries studied.

London student Louis Okadiegbo, an undergraduate at Greenwich University who is completing a four-year course in information systems and business and management, said that of the 80 students on his information systems course, only eight were female, compared with seven out of 10 on the business/management side.

The problem, he agreed, was one of perception. "It's a psychological thing: most women see it as just a technical or mechanical job. Someone should educate women about the diversity of it. There are so many things you can do in IT, like design: it's not just about support or fixing PCs," he said.

He said IT internship programmes could be a valuable way of showing what the reality was like. "I think this would help to educate women about working in an IT environment and probably change their perception."

Okadiegbo has completed a year's internship at advertising and marketing giant Grey Global, where he was working under Anne Marie Wolfe, a regional chief information officer. Wolfe, who started her career in IT in the early 1980s when she joined a trainee programme with oil giant Shell, agreed it was crucial that young women understood the diversity involved in an IT-related career.

"You have to get them at entry level, at the age of 16, and make them realise just how many opportunities there are in IT," Wolfe said.

"Working in IT is a hugely diverse and constantly-changing environment but we've not been very good at showing what it's all about. We need to see a higher profile of women who have been successful in IT."

Raising the profile of women achievers was a strong proposition which was likely to spur understanding about work in the sector, Miller said. "It's a very good idea but I don't know where the responsibility for [encouraging] that would lie," she said. She pointed to certain industries where there had been successful initiatives to promote "gender champions", such as the Women into Science & Engineering (Wise) campaign, where women visited schools to share their experiences. Work was under way to find ways of extending the profile of these initiatives to other industries, she said.

For too long IT professionals have presented a narrow image of working in IT - overemphasising technical skills and glossing over the need for broader business skills. "Those with deep technical knowledge have to be willing to accept and value that broader range of skills but that requires a cultural change that isn't going to happen overnight. The presence of women in these jobs will encourage a different culture, but it's a vicious circle because they have to get there in the first place," she said.

Respondents' comments
The report surveyed women in IT-related courses and careers in six countries.


"The industry is not women-friendly. There are long hours, early starts, late nights and a lot of travel. It's not family-friendly, or socially friendly. There's still a macho thing about it."



"The ideal IT manager is a young, male, he lives and works in the South East, has a team of about half a dozen and there's one female in it. He's possibly reluctant to bring in a second because he worries about their commitment, and he won't recruit older than himself. The IT manager recruits in his own image. Issues of women and age sit alongside each other."



"Most women are employed in user companies because they are interested in the application of computing and because their business interests are stronger and their knowledge of IT is secondary."



"This is the first systematic analysis of what it is to be a high flyer, and it confirms many people's fears that it helps to be a man."



"Women are changing their acceptance of IT. It used to be that women saw IT as a geeky, anorak-populated, macho, game-playing career, and the image was not appealing to them. This is changing and IT is changing."



"Being customer-focused is increasingly important in IT, there has been a rapid growth in the use of customer relationship management software, all about touchy-feely things like how do you love your customers. This requires traditional feminine skills. There is more in IT now that needs the female touch. Now there is a need to say to women 'there is a career here and you don't need to be male'."
Further Information:

www.skillsbase.dfes.gov.uk
Read more on IT jobs and recruitment