VARs: Blow your own trumpet...
With market conditions as tough as they currently are, could VARs be doing more to secure their company's future prosperity? It's...
With market conditions as tough as they currently are, could VARs be doing more to secure their company's future prosperity? It's debatable whether quieter times should be used for proactive self-analysis or perhaps promotion and market building, or whether focusing on existing customer demands is the way to secure tomorrow's new business

With the market as tough as it is currently, could you be doing more to secure your company's future prosperity? What about using the quieter times for some proactive self-analysis and promotion instead of fire-fighting?

The IT industry, most notably the value-added reseller community, has a poor reputation for marketing. When business is constant, these organisations prefer to keep their heads down and focus on meeting existing customer demands, with little thought to where tomorrow's sales will come from.

If it ain't broke, don't fix it, is the motto. But when existing customers start putting their spending plans on hold, this lack of forward-planning and market-building can leave these same blinkered VARs high and dry.

A credible alternative
Here's some food for thought. Take PR: a rare handful of VARs have been known to engage PR companies or internal PR consultants during more lucrative times, but when the going gets rough these are the among the first 'luxuries' to be surrendered. Meanwhile, the majority assume PR is not for them because they're not big enough and don't have much of a story to interest the press.

This is a shame, since PR can be a relatively inexpensive way of promoting a company out of a black patch. Compared to advertising, it's also deemed a lot more credible; if a cynical journalist is extolling the virtues of what a company does, then it must be good.

But if that company says the same about itself, will anyone believe it? And when the industry has taken a hit as a whole, it could be that these sorts of services are available at lower cost.

RedEye is a relatively young PR consultancy, already charging what it claims is £100 per day less than the going rate for public relations services in the IT sector (thought to be about £700). Even so, managing director Paul Wooding admits he has had to be creative with his services to retain clients in the current climate, which has paved the way for smaller companies to get a good deal.

"I've had to adapt quite a few contracts to keep clients on board," he says. "In one case, this led to my client (a content management company) sharing the cost of PR with its VARs. This proved to be a positive experience for all parties.

"The VAR is getting increased awareness and coverage in its target vertical market press and generating more leads, and the vendor has strengthened its relationship with the VAR and will benefit from any increase in business." It could be worth speaking to vendor partners about similar arrangements.

Value for money
If they are considering going the PR route, companies must keep a check on what they're getting for their money. As with any consultant, the best results are usually achieved with the tightest briefs and, although VARs are paying them for their expertise and press contacts, it's up to the VAR to direct the activities.

What kind of work does it need? Where, specifically, does it want to gain publicity and to what effect? Without clear objectives, costs can quickly run away with themselves with clients ending up unsure what value has been provided.

Look for firms that are happy to itemise their fees, or which only take payment based on tangible results. Emmett & Smith publishes its fixed charges on its Web site, itemising work right down to individual articles, press releases and press interviews. Shaw PR is equally candid about its charges, billing by the hour, with fees scaling up or down depending on the experience of the account handler. A typical client pays £3,000 to £4,000 a month, though fees can be as low as £1,200 for the same period.

Use your end-users
PR company MCC International believes the most cost-effective way for smaller VARs to get something out of PR is by exploiting their user base. Indeed, end-users are the people journalists most want to speak to when researching their articles, as they hold the views that count - real experiences of new products, for example. Supplier comments are ten a penny, but a frank-speaking customer is worth its weight in gold. Suppliers that can prime and deliver their end-users to the press become excellent contacts for the press. And since VARs are closer to their customers than anyone else in the IT supply chain, who better to be leading the way?

MCC has designed special programmes for VARs based around this idea. These include researching and writing up customer projects as publishable case studies; site visit programmes; vendor/reseller forums and working groups; and a Web site dedicated to IT user stories (see www.itcasetsudies.com). "I don't think there is a better way for small resellers and VARs to see return on investment from PR than maximising their user base," says director Ian Peel.

Starting small
If the industry standard of roughly £700 a day is too extravagant for a company's marketing budget, it could go the freelance route, employing independent PR consultants for special campaigns.

Lesley Stiles Muir has been a freelance PR consultant for two years and claims her fees are less than half those charged by bigger agencies. The services tend to be more personal too. "Everyone knows that many agencies pitch with their A-team, and then once the contracts are signed the client is left with the graduate trainee," Stiles Muir says. "This is especially the case for small, 'less glamourous' clients, which are usually paying a rock-bottom price for their services. Working with an independent means the client gets an experienced opinion all the time, something their budgets would hardly ever stretch to with a bigger agency."

Andrew Smith, who runs London-based agency Object Marketing, agrees that high-gloss PR services are probably not for smaller resellers. "PR companies are a waste of time for VARs," he says. "They tend to have limited marketing budgets and PR is probably the least relevant discipline to them. Investment in direct marketing and sales promotion is far more likely to deliver what is really wanted - increased sales. These activities can also be scaled as appropriate, so companies can start small and test a campaign without committing themselves.

Instant impact
So what about e-marketing, the new medium for direct marketing? It's deliciously cheap, is infinitely scalable, has instant impact and leaves no clues as to the size of the company behind the promotions; meaning anyone can pretend to be as big as Microsoft if they want to.

"This is the most cost-effective lead source," says Tim Beadle, head of marketing and PR agency Opus Group. "It costs £5 to £10 per lead, compared to direct mail at £30 and telemarketing at over £100 per lead. Resellers often get suckered into telemarketing by agencies that oversell it, yet it is rapidly losing its effectiveness.

"E-marketing, on the other hand, can be highly effective, provided what you are saying is relevant to the audience." However, all too often resellers use e-marketing to say what they want to say, rather than what customers want to hear, he warns.

Beadle makes an important point, which is that any marketing campaign is only as good as its planning, execution and follow-up.

"Getting leads is not the problem," he notes. "It's effectively addressing the opportunities you have that matters. Fewer than 30 per cent of leads ever get followed up. And just because a lead goes cold this time round, that doesn't mean it can't be warmed up later."

The mistake resellers make is skimping on their customer databases, he adds. "Every reseller should invest in an accurate database of customers - and not through the accounts department," he says. "We get many reseller lists as part of campaigns we run for major vendors and they are dreadful - lacking basic information and being appallingly out of date."

With a little help
VARs should make more use of their suppliers too. Bernie Dodwell, sales and marketing director at specialist security distributor Allasso, notes that most distributors have access to marketing funds from the vendors they represent, which they can distribute among resellers. This kind of support could be invaluable for those in the value-added channel that have limited marketing expertise and resources in-house. "The opportunity for distributors to offer support both financially and from a strategic viewpoint is rarely exploited," says Dodwell.

With a little help from vendors and distributors, VARs may find they don't need the full services of an agency to help them boost their profile. The availability of design packages, such as PhotoShop and Illustrator and the reach of the Internet, has helped smaller companies rise to compete with their larger competitors. So the odd marketing seminar and helping of marketing funds can go a long way in encouraging solution providers to initiate their own marketing activities.

Dodwell admits that the supplier community could do more to help. "Typically, the value-added distributor gets beaten up to supply leads, rather than paying closer attention to reviews of the reseller's customer database, customer tracking, retention and internal telemarketing activities," he says, agreeing that resellers' customer and prospect lists tend to be of poor quality, poorly selected and of little real value.

However, VARs must also take responsibility for this. "The lack of expectation is to blame," Dodwell says. "This causes the VAR to fail to maintain and deliver what one might think is a pre-requisite to a successful company. VARs need to respect marketing."

A consultative approach
Finally, as a growing proportion of the channel turns towards higher level services to boost their margins, VARs need to think about how they position themselves in front of new prospects, which in turn will affect any branding, marketing and PR initiatives. This affects more than just the marketing people.

"It's imperative that the sales staff are open and objective," notes Andy Zollo, UK channel manager at telecoms and IT vendor Alcatel. "This means asking 'why' a lot. It is essential to listen to the customer's business requirements and propose an innovative solution that meets their needs. This ensures that a 'consultative' approach is adopted and enables a long-term relationship to be built. Then the customer will look to the VAR for advice and more sales opportunities will open up as a result.

"Educate customers through seminars. Many still hold a traditional view of VARs, and it's up to the reseller to emphasise the value of looking to the VAR in a consulting capacity. By offering customers advice on how to improve their procedures, as well as simply which products to buy, the reseller ensures the customer will come back with additional business."


E-marketing hints
E-marketing represents an excellent opportunity for VARs to gain new customers, according to Martin Huxford, managing director of Networx Electronic Publishing. As well as direct mail campaigns using e-mail, e-marketing can include:


Download this free guide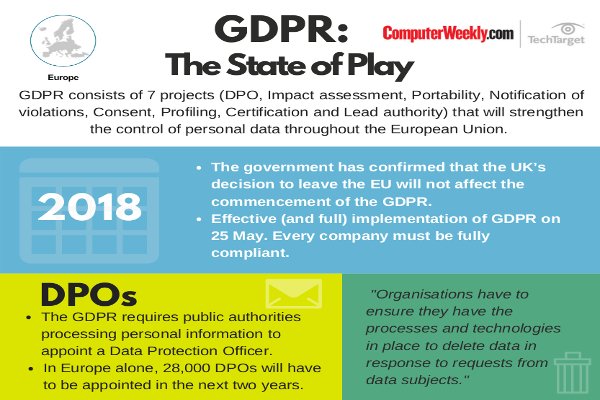 Infographic: GDPR - The State of Play
Get the latest information on how GDPR is going to affect your business and how to avoid any unwanted fines with this simple infographic.
By submitting your personal information, you agree that TechTarget and its partners may contact you regarding relevant content, products and special offers.
You also agree that your personal information may be transferred and processed in the United States, and that you have read and agree to the Terms of Use and the Privacy Policy.
Search engine registration and optimization


Web site development and community building


News groups


E-mail newsletters and promotions

To make the most of these opportunities, Huxford advises VARs to:

Make sure your Web site is up-to-date and provides maximum service levels and convenience. Can users download your software from the site, for example?

Promote your site with search engines - check that your Web site appears high up on the listings of the main search engines for your product areas and industry focus. Get an agency to check how your performance on-line compares to that of your competitors


Use e-CRM, build on-line communities and provide on-line support for your products and services on your Web site - this can generate rich customer feedback, as well as building loyalty through repeat contact


Sponsor an on-line newsletter aimed at your target audience, or take an advert on one - get your brand out there


Comment in on-line news groups and discussion forums - stay current and be seen, and make references to your products and services at every opportunity. But beware of overstepping the line; make sure you've read the rules of participation first



Get the best from publicity
George Shaw of PR and marketing agency Shaw PR, offers the following tips on getting more from PR activities:

Identify target publications and tailor stories accordingly


Invest in a quality photographs to save the publication time


Make sure your stories are interesting - be controversial and provocative


Be available, especially between 6-7pm when journalists may need of a last-minute comment


Build a rapport with key journalists, especially junior reporters who could grow into good contacts. Find out what they need and don't need


Don't expect celebrity overnight


Don't offer advertising as an inducement to print a story - you can't buy publicity in a good magazine


Write press releases as though an article for a tabloid - remember, you're trying to grab the editor's attention


Think ahead - publications work further in advance than you might think


Don't ignore local media, including local radio and TV stations


Write letters to editors of magazines for publication


Surveys are the single biggest cause of column inches


Have opinionated speakers available for seminars and debate panels and write controversial opinion columns for publications which carry these



Contacts
Alcatel: www.alcatel.com
Allasso: www.allasso.com
Emmett & Smith: www.emmettandsmith.com
MCC International: www.mccint.com
Networx: www.networxep.co.uk
Object Marketing: www.objectmarketing.com
Opus Group: tim.beadle@opusgroup.co.uk
Lesley Stiles Muir: Lesley@freshpr.demon.co.uk
RedEye: www.redeyepr.com
Shaw PR: www.joshaw.co.uk
Read more on IT legislation and regulation