TUPE: The facts
The regulation governing staff transfers is 21 years old. But that has not stopped disputes hitting the headlines again. Ross...

Download this free guide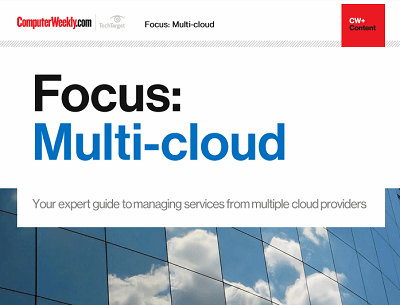 The maturity of the enterprise public cloud
Many IT leaders are increasingly coming round to the idea that sourcing services from one or more providers might be the best way to go. Join us as Computer Weekly takes a closer look at the multi-cloud approach and what providers are doing to capitalise on the trend.

By submitting your personal information, you agree that TechTarget and its partners may contact you regarding relevant content, products and special offers.

You also agree that your personal information may be transferred and processed in the United States, and that you have read and agree to the Terms of Use and the Privacy Policy.

The regulation governing staff transfers is 21 years old. But that has not stopped disputes hitting the headlines again. Ross Bentley reports on what Tupe actually means.



Outsourcing is not just about handing over your IT systems - it also has major implications for your staff. In most cases it will involve a proportion of the IT workforce becoming the employees of the outsourcing company and those who remain behind taking on different roles such as managing the outsourcing contract.

In the UK, the Transfer of Undertakings (Protection of Employment) regulations guarantee staff employment under existing terms when their work is outsourced to a third party. They also require that employees be consulted in good time about any transfer.

In recent weeks Computer Weekly has reported on several outsourcing deals that have been stalled by trade unions and staff councils accusing both outsourcers and their clients of falling foul of the employment laws.

In one case, networking company Lucent transferred an outsourcing contract from Atos Origin to Compaq, now part of Hewlett-Packard, leaving 60 IT support staff in limbo with no job or redundancy payment.

In another instance, union officials threatened insurance giant Prudential with legal action after the insurer announced plans to move its call centre operations to India. Workers accused the company of not undertaking proper consultation with staff.

If you are planning to outsource or strategically restructure in the future it is vital that you are aware of the basic tenets of the Tupe law.

"With outsourcing deals, you will find Tupe issues are not just common, they are inevitable, especially in Europe where employee rights are regarded as very important," says John Mackie, senior consultant at outsourcing consultancy Morgan Chambers.

He says that where some companies fall down is in their failure to communicate clearly and fairly with their staff. This, Mackie says, is vital to prevent an endless circle of rumour and counter-rumour.

In the current climate, where companies are focused on the bottom line, high-level strategic business decisions are being made at the expense of the people issues.

Here, two legal experts explain the implications of the Tupe regulations for employers and employees.

What the employees should know
The Transfer of Undertakings (Protection of Employment) regulations implement a European directive in force in other EU countries. Tupe's aim is to protect employees' rights on the transfer of a business operation from one employer A to another B. On a transfer, employees of A:

Automatically become employees of B from the time of the transfer. They remain on the same terms and conditions of employment that they held with A


Can claim automatic unfair dismissal if dismissed by A or B for any reason connected with the transfer (either before or after it) if they have one year's continuous employment. If A or B can show that the reason for the transfer was redundancy, a dismissal will not be automatically unfair but must be fair and reasonable


Have the right to be informed and consulted about the transfer via trade unions or employee representatives of A. If these obligations are not carried out, and affected employees bring successful employment tribunal claims, they may be awarded up to 13 weeks' pay;


Can object to becoming employed by B so that they do not transfer and their contracts of employment terminate with A (without compensation).


Tupe applies to a transfer of a business operation from one organisation to another or on the outsourcing of a function where the operation is situated in the UK immediately before the transfer. It may also apply on a subsequent transfer to a third party - a second generation contracting out. Tupe is likely to apply where there is similarity between the activities carried out before and after the transfer, tangible assets (buildings or movable property) or intangible assets (goodwill or intellectual property) are transferred and employees transfer.

In situations where operations move offshore, UK employees of the transferring employer may also face redundancy. Where an employer proposes to make 20 or more employees redundant at a business site within three months, employees have the right to be consulted via trade unions or employee representatives at least one month before the first of the dismissals occurs. The financial compensation for inadequate consultation being carried out by a transferring employer is up to 90 days' pay.

On a Tupe transfer, although liability may have passed to employer B, complaints made to an employment tribunal should refer to both employers. It is for the tribunal to decide which, if either, is liable.

Kathryn Clapp is a solicitor at international law firm Taylor Wessing.
E-mail k.clapp@taylorwessing.com

What the employers should know
Traditionally, English law viewed an employment contract as a private matter between employer and employee. If the employer sold the business, the workforce could be made redundant. The new owner could offer to re-employ the
ex-employees on less favourable terms. Tupe established new principles:

The transfer of a business (or "undertaking" in Tupe's language) automatically transfers the employees to the new operator (but the employee has a right to "opt out", terminating his employment without right to compensation)


All of the employer's rights, duties, and liabilities in connection with the undertaking's employees' contracts transfer (except some pension rights) including the employees' outstanding claims against the old employer


Any employee dismissed "either before or after a relevant transfer" automatically has a claim for unfair dismissal "if the transfer or a reason connected with it is the reason or principal reason for his dismissal" (although there is a defence if the dismissal was for an "economic, technical or organisational reason")


Employers have a duty to inform and consult employees affected by a proposed transfer.


If a transfer is caught by Tupe, the new operator of the "undertaking" becomes responsible for the continuing costs and termination costs (including compensation for unfair dismissal) of any employees who are not retained. If Tupe does not apply, the costs remain with the existing employer. The regulations prohibit "contracting out", so the old and the new employers cannot stop the effects of Tupe where it applies even when they don't want the regulations to take effect (but they can privately agree to reimburse each other for any liabilities, for example by giving indemnities).

Tupe applies to voluntary transfers of an undertaking where there is an agreement between the old employer and the new employer (when a business is sold or an employer decides to outsource part of its requirements). It can also apply to involuntary transfers where there is no direct relationship between the old employer and the new employer, for example, where outsourced work is taken over by a new contractor.

Employers and contractors have to be particularly careful where any activity is carried out in a new way: where an existing function is outsourced to an external supplier; where a function currently outsourced is taken back in-house; or where a new contractor is appointed and the services of the old supplier dispensed with, for example on a competitive re-tender. In any of these cases Tupe is capable of applying.

No one factor is decisive in working out if Tupe applies. All the relevant circumstances must be considered. In the last few years the court judgements interpreting Tupe have been a little more consistent than in the past, and now it is usually possible to form a clear view whether Tupe applies in any given circumstances (and sometimes to carefully structure arrangements so that Tupe will not apply). Even so, a number of cases are referred to the European Courts for interpretation each year.

Teja Picton Howell is a partner at Picton Howell solicitors specialising in business transfers. www.pictonhowell.com
Read more on IT outsourcing