Switching systems for the euro
From next year UK SMEs will have to be able to handle euro-based business. How much work will they need to do to prepare for life...

Download this free guide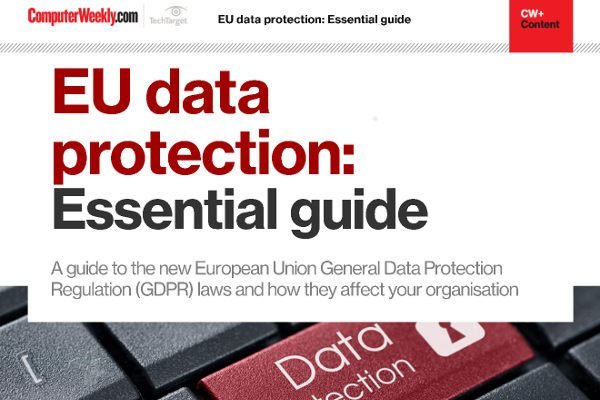 EU data protection: Essential guide
Access this guide to aid you in facing the challenges, opportunities and key actions need to consider in preparing your organisation for GDPR.
By submitting your personal information, you agree that TechTarget and its partners may contact you regarding relevant content, products and special offers.
You also agree that your personal information may be transferred and processed in the United States, and that you have read and agree to the Terms of Use and the Privacy Policy.

From next year UK SMEs will have to be able to handle euro-based business. How much work will they need to do to prepare for life after the franc and the punt?



On 1 January 2002 euro notes and coins will be legal tender in 12 European countries. Austria, Belgium, Finland, France, Germany, Greece, Ireland, Italy, Luxembourg, the Netherlands, Portugal and Spain have all opted in to the single European currency. Even though the UK has not, companies that have links, or do business with any of these countries will have to ensure that their IT systems can support the new currency.

Larger organisations have the luxury of IT departments and budgets devoted solely to the euro but for smaller companies, euro compliance is a potentially daunting prospect.

Peter Warren, senior international trade advisor for Business Link, the government-founded business advisor, thinks it is a straightforward task as long as businesses do their homework now. "euro compliancy [for the SME] is not difficult. It's only difficult if you know nothing about it," he said.

Nor need it be an expensive procedure: Research Group AMR has calculated that euro compliance costs an organisation, regardless of size, 0.5% of their annual turnover.

However, the analyst organisation also found in June that only 10% of businesses classed as small to medium enterprises were ready for the introduction of the euro. That figure is likely to have risen slightly since then but AMR vice-president of European research Simon Pollard believes that no more than 20% of UK SMEs are ready.

And time is running out. Pollard says companies need to take action now, or they will miss the boat. AMR estimates that to achieve full euro compliance, SMEs need between three to six months. And with just four months until the deadline, that means an immediate reaction.

Two years ago, we were in a similar situation with Y2K compliance. There was a mass panic in the later part of 1999 as organisations across the world rushed to Y2K-enable their systems. Vast sums of time, money and resources were spent on Y2K, yet when the clock struck midnight very little happened. Analysts are concerned that people are thinking about the euro in a similar way, and will ignore the issue until it is too late.

"We were so obsessed with the millennium bug, which turned out to be a non-event, that people are now turning off because they think the euro will be the same," said Dr Rex Clark, chairman of the Yorkshire and Humber Euro Forum which helps businesses in the region prepare for the impact of the euro. "But this is a strategic matter that can seriously impact on your cash flow."

By strategic, Clark points out that companies need to consider everyday elements of the running of their business that could be affected by the failure to prepare for the arrival of the euro.

For example, if a company in the UK is sending an invoice to a firm in France, it will have to make sure that invoice is in Euros, or be prepared to face lengthy delays. Price points also need to be considered. Goods or services costing 19.99 may sound like a tempting offer but if that figure is then converted into Euros it may look decidedly less attractive.

Overseas businesses also need to ensure that companies they are dealing with in the UK have a euro fund bank account and have the ability to pay European suppliers in Euros.

So where does the SME start? "You can have a euro compliant system by implementing a new system, or changing and modifying your old system, which is not a small job at all," said AMR's Pollard. The second option involves what is known as "cut over": translating your old data format to a new format that recognises the euro.

Pollard reckons that an SME with a legacy system should regard this as an opportunity to upgrade.

Many companies are expected to approach consultancies or services organisations to help with their compliance projects. However, as the deadline gets ever nearer, such services are likely to be in short supply. Reacting now is critical.

There are some euro experts who think euro compliancy is no big deal for SMEs. Most applications and systems that have been sold for the past three years will be euro compliant, but it is worth double-checking that they will be able to cope with the currency change.

"I don't anticipate a major issue with their [SME's] readiness," said John Downe, customer programmes leader, euro-global initiatives, at IBM. "There will undoubtedly be some practical issues next year, for example the handling of cash but I'm not making it out to be a big issue."

Downe thinks that larger companies will have a much harder job. "For a small organisation, the complexity of what needs to be done isn't on the same level as that of large organisations," he said.

Be it a large or small task, cheap or costly, it is essential that SMEs are ready for the arrival of the euro. Basic steps such as checking your software's euro handling ability and opening euro bank accounts will help ensure that the start of next year does not herald a business nightmare.

There are many resources available to help SMEs with euro projects. The Treasury has a Web site dedicated to advising on euro procedures: www.euro.gov.uk. There are also 12 regional forums that have been established to advise on best practice.

How ready are you for the euro?
Are you satisfied your company is adequately prepared for the euro? Do you think the government has done enough to help SMEs prepare?
We want to know what you think. E-mail CW360.com and let us know >>
E-Handbook

E-Handbook

E-Zine
Read more on IT for small and medium-sized enterprises (SME)