alphaspirit - Fotolia
Nutanix, Tintri pioneer new forms of virtual machine storage
Nutanix and Tintri pioneer new forms of virtual machine storage that aim to deal with large amounts of random I/O with flash, spinning disk and innovative architectures.
The deployment of server virtualisation has transformed virtual machine storage. At first the advent of virtual servers saw the end of direct-attached storage and brought near-ubiquitous shared storage. Now, faced with the demands of virtual server I/O, some vendors are taking an increasingly radical approach and are designing dedicated virtual machine storage subsystems.

Download this free guide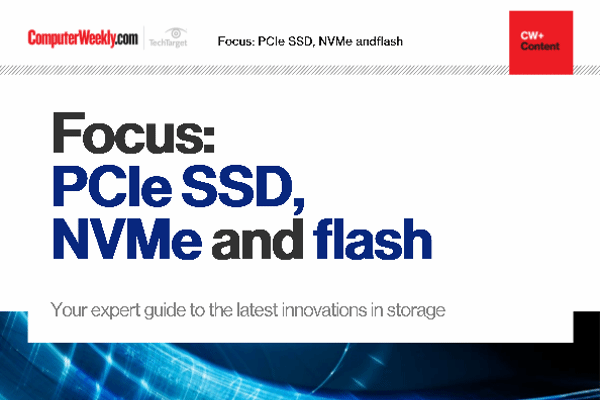 How to soar your storage performances?
The latest PCIe and NVMe technologies offer huge performance gains. Discover their features in this expert guide
By submitting your personal information, you agree that TechTarget and its partners may contact you regarding relevant content, products and special offers.
You also agree that your personal information may be transferred and processed in the United States, and that you have read and agree to the Terms of Use and the Privacy Policy.
In this article we will look at products from two vendors in an emerging category of products that directly address virtual machine storage, Nutanix and Tintri. But first let's look at the issue their products aim to tackle.
A single physical server makes relatively manageable demands on storage, but house 20 virtual servers in a physical host and their combined I/O is so demanding that traditional networked storage can struggle to deliver good performance. The bottleneck is not so much the network but the ability of spinning disks to respond fast enough to large amounts of random I/O.
Traditionally, a demand for more I/O meant more spindles. This approach works, but adding high-speed, short-stroked disks wastes potential capacity and adds to the costs of maintenance, power and cooling.
A more efficient route to even greater performance in virtual machine storage -- and a road increasingly travelled -- is to deploy flash technology as an extra tier to electro-mechanical storage, which might be integrated into the array, located elsewhere on the storage network or placed in the server in PCIe format.
The Nutanix and Tintri approaches differ from traditional arrays in that they build in flash to virtual machine storage (and in Nutanix's case, server) hardware in ways that aim to present much more efficient storage to the virtual servers supported.
Nutanix Complete Cluster
Nutanix's core product, the Complete Cluster, is designed to enable simplified data centre virtualisation by removing the need for network storage.
The product consists of a single tier or building block that includes a cluster of four host servers and storage in a 2U rackable box, together with vSphere 5 software, which handles VMware features such as vMotion and Distributed Resource Scheduler (DRS).
The onboard servers each run a virtual machine that functions as a storage controller to manage VMs on that host. The servers consist of a pair of Intel Xeon 5640s allied to 48 GB RAM, expandable to 192 GB; a PCIe-connected Fusion-io ioDrive card containing 300 GB of flash storage; and 5 TB of 7,200 rpm SATA disks.
According to Nutanix, you can scale out the cluster by adding boxes, bringing linear performance increments that offer better price/performance.
Translation service adds data centres with Nutanix
Ohio-based Language Access Network (LAN) is a translation service for the health care industry, providing real-time, on-demand remote interpreting over video to more than 200 hospitals and health care systems from its primary data centre. It found that scaling its operations from 200 to 600 hospitals would create a $100,000 budget overspend if it used its existing Cisco Systems video platform.
According to Josh O'Brien, LAN's vice president of network services: "The Amazons and Facebooks of the world are already using this converged compute and storage approach for better performance and scale-out, and I didn't imagine a small company like ours would be able to do something similar, but that's exactly what Nutanix delivers. They give us a predictable building block for our data centre that delivers plenty of performance for our business-critical video platform without worrying about issues like network bottlenecks or performance throttling when storage controllers reach capacity.
"That's the key difference between going the Nutanix route or buying one of these new storage appliances on the market. We get the whole virtualised data centre in a little 2U box. Nutanix is going to make every new call-centre data centre we build incredibly simple. Drop in an appliance, calibrate a couple of things, and it's ready and functioning," said O'Brien.
Tintri VMstore
Tintri offers a more traditional approach. Its VMstore appliance consists of a fully redundant box containing flash and spinning storage, designed to simplify the task of providing storage for VMs while adding performance.
Unlike traditional networked storage systems, even those that also integrate flash and spinning disks, there are no LUNs, volumes or tiers, which Tintri says present barriers to virtualisation because they have no intrinsic meaning at the VM level. Instead, each I/O request maps to the particular virtual disk on which it occurs, the system accesses the vCenter Server API to monitor and control I/O performance at virtual disk level, and you manage in terms of virtual disks and VMs.
VMstore supports features such as deduplication and compression, and it allows you to snapshot individual VMs and migrate them to and from the system using VMware vCenter. It shuffles VMs between flash and spinning disk to prevent variations in one VM's I/O patterns from disrupting other VMs, although you can pin a VM to flash for performance reasons. It also automatically aligns the blocks in the virtual disks to those in the underlying medium, which Tintri claims offers a performance boost of up to 30 percent. And it provides a management interface that allows you to see where performance bottlenecks exist, whether in storage, network or host server.
US university chooses Tintri for virtual machines
John Walsh, manager of processing and information platform services at Northwestern University in Illinois, manages some 2,000 servers, 1,200 of which are VMs. He said he likes the Tintri technology because of its predictable cost and performance, as well as its redundancy.
"The Tintri system makes sense because the virtualisation team can manage the device, and there are no multiple LUNs; you can manage it using VMware's vCloud Director and split storage into pools; and you can look at I/O data to see where the heavy loads are coming from," he said.
He added, "This means we have a predictable price model with data protection. We also get 30,000 IOPS, which is very impressive and is more than our EMC Clariion delivers. It's also seamless, as the GUI is VMware-like and easy to manage, and we get metrics even down to latency at disk or network level."
Conclusion
Gartner analyst and storage specialist Valdis Filks believes many startups such as Nutanix and Tintri will be bought out by larger vendors, which often prefer to acquire new technology rather than develop it in-house. "The larger vendors are not innovating," he said.
He does see Nutanix as an innovator, a view supported by Ginny Roth, lab engineer and analyst at analyst house Enterprise Strategy Group (ESG). She said, "Virtualisation will continue to be a disruptive force for IT, requiring new ways of thinking about compute and storage environments as scalability and elasticity become paramount. Nutanix sits at the forefront of this emerging trend with a solution that is both simple and versatile to deploy and manage."
Terri McClure, senior analyst at ESG, said, "With Tintri, users will be able to protect VMs, rather than LUNs. It ties storage cleanly back into the application environment, and isn't that what it's all about?"
So both approaches offer benefits, although the end users quoted above both deployed the Nutanix and Tintri systems in greenfield sites, suggesting that integration with existing systems and processes could be a tall hurdle for vendors hoping to make large inroads into the virtual server storage market.
Manek Dubash is a business and technology journalist with more than 25 years of experience.
Read more on Storage fabric, switches and networks