Lenovo goes for gold with SMBs
When Shelley Rudman unexpectedly won a silver medal for her valiant efforts in the skeleton at this year's Winter Olympics, the world knew she'd gained her unprecedented achievement for the UK in a matter of seconds. In fact, the world expected to know the results in that space of time.
When Shelley Rudman unexpectedly won a silver medal for her valiant efforts in the skeleton at this year's Winter Olympics, the world knew she'd gained her unprecedented achievement for the UK in a matter of seconds. In fact, the world expected to know the results in that space of time.

Download this free guide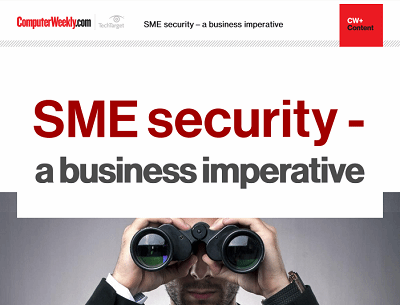 The secret to winning - SMEs and cyber security
50% of SMEs plan to spend less than £1000 on cyber defenses in the next year and only 42% of SMEs are concerned about ransomware. Anyone see a problem? Computer Weekly outlines some solutions to this growing naive trend.
By submitting your personal information, you agree that TechTarget and its partners may contact you regarding relevant content, products and special offers.
You also agree that your personal information may be transferred and processed in the United States, and that you have read and agree to the Terms of Use and the Privacy Policy.
It was imperative that the timing for events such as the skeleton was collected, analysed and presented to a multitude of destinations in almost the flicker of an eye. In essence the Turin event and the Olympic Games in general are entirely dependent on a robust and innovative technology foundation.
Also more or less dependent on such technology foundations are small to medium-sized businesses (SMBs) who may be interested to know that Lenovo, the company responsible for making sure the Turin Winter Olympics was a success, is now moving its attention from ice rinks, ski slopes and sleigh tracks to the SMB arena.
The Lenovo Olympic PC solution included more than 6,000 pieces of personal computing equipment deployed throughout Turin and the mountain venues. In collaboration with other technology sponsors, Lenovo computing equipment distributed data and results from more than 200 competitions and events in real-time to media and Olympic Games audiences throughout the world. Furthermore Lenovo supplied US TV broadcaster NBC with 450 desktop computers, 260 laptops, 200 printers and 50 file servers to support a state of the art broadcasting facility.
Sponsoring the Winter Olympics was an ideal opportunity for Lenovo to express to the world that it had arrived, following its acquisition in 2004 of IBM's PC division. Yet it also represented a gamble, as if it had got things wrong then incalculable damage may have been done to the brand, something Lenovo's general manager for EMEA, Milko van Duijl, freely admits to have thought before the event.
"The Olympics was phenomenally important to us in creating our own identity. The association was important in that it radiates a quality image for Lenovo. I've seen from close up how tough the International Olympic Committee [sponsors' criteria] are. It was a unique opportunity to be synonymous with going with the best. In Olympics stars are born and people who have trained for so long peak at the Olympics; it was the same for us. [We thought] that if we do a great job we will be a new player associated with quality but if we get it wrong, we get it wrong in front of eight billion people."
These are auspicious times for Lenovo and the boost from providing an error-free Olympics is now driving a campaign in the SMB arena. What Lenovo now aims to do is build on the reputation for product excellence that it believes IBM created whilst taking advantage of the fact that it is a more streamlined body that can connect better with SMBs than IBM did, or in fact could.
At the end of February, the company launched the first-ever Lenovo-branded PCs to be offered worldwide, the Lenovo 3000 product family, which, says the company, will offer "an optimal computing experience" for SMBs, featuring several new desktop and notebook models with the latest processor technologies in a new silver chassis.
According to market analyst Gartner, SMBs spent more than £228bn on computer-related products and services worldwide in 2005, and Lenovo is shaping itself to capture revenue from what it believes will be an even more lucrative market in 2006. Part and parcel of this, says van Duijl, will be to work with channel partners to totally align the supply chain so it better supports SMBs in some key areas such as mobility, resilience and security.
He explains, "Trend number one is in mobile as there is a drive for companies to have a mobile work platform to cut down real estate and give the ability to work anywhere at any time."
Lenovo recognises there is a strong desire among SMBs for lower end prices, yet it believes that it shouldn't simply be the cheapest player around. Whilst Lenovo will bring to the market more notebooks at entry prices, it will also capitalise on the strength of the ThinkPad brand, believing that its overall price/performance will be attractive to SMBs.
What this means is that the devices will be bundled with non-entry level functionality that van Duijl believes SMBs will recognise the importance of.
"Security is more and more important and so [we offer] a biometrics fingerprint reader, and to [rely on such technologies] you need a good reader that protects the machine. Another critical but not wholly recognised feature is protecting the hard drive like an airbag in car: if you drop your bag, losing data [could lead to] a crisis that is indefinable. Therefore you need to have a high quality laptop that can't lose that data. Then you need good wireless Lan capabilities in the machine," he says.
The latter is an area of great interest right now. At the end of January Lenovo announced plans to offer by summer 2006 integrated 3G/ Edge/GPRS data connectivity - that is non-data card - from Vodafone into upcoming models of ThinkPad notebooks, in particular the T60 and X60 models. The service will be available in a number of European countries and upgrades to HSDPA networks will be available when they become on stream.
To Lenovo this means SMBs will have built-in, cost effective and secure mobile data connectivity enabling access to the internet, email and corporate applications wherever a Vodafone signal is present. Van Duijl reveals that such a service has been available in the US for a while with the telephony provider's SIM card built into the motherboard of the laptop.
Van Duijl's strategy is to use the technical foundation of IBM but to use it as part of a more comfortable Lenovo experience. He says, "We want the market to think that nothing has changed and they'll continue to see IBM products. But the biggest change is that in IBM, PCs were not the most strategic part of the portfolio. There's nothing wrong with that and I have tremendous respect for IBM, that was [their choice]; but [in SMB] there was no thinking such as 'let's do something and bring out a widescreen device or a tablet' etc."
It's clear that Lenovo will indeed be doing some thinking along these lines for the SMB community. Who knows whether the products will offer medal winning performance?
E-Handbook

E-Handbook

E-Handbook
Read more on IT for small and medium-sized enterprises (SME)