Labouring under misconceptions
Government schemes to improve the computer literacy of blue-collar workers and unemployed people make good headlines but will not...

Download this free guide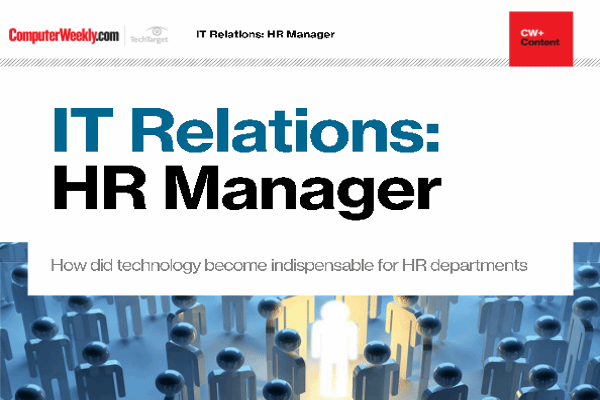 How did technology become indispensable for HR departments
HR and IT departments have begun to work closely together over the last few years. While HR historically has often received limited attention, companies now understand the key role the department plays in the business.
By submitting your personal information, you agree that TechTarget and its partners may contact you regarding relevant content, products and special offers.
You also agree that your personal information may be transferred and processed in the United States, and that you have read and agree to the Terms of Use and the Privacy Policy.

Government schemes to improve the computer literacy of blue-collar workers and unemployed people make good headlines but will not remedy the shortage of specific IT skills, writes Nick Booth



Last May, the Government launched a £25m scheme to provide the long-term unemployed with computer skills training. The logic behind this initiative was that, with one in four unemployed people having no computer literacy skills, there is a growing divide between the unemployed and the demands of the job market.

The Government said it expected to fill 50,000 places on the courses, and targeted London's homeless and former miners in Nottinghamshire as potential students. At the time, critics dismissed this as gesture politics. Ever since, there has been a stream of small-scale schemes, designed to get the unemployed online and to persuade pensioners not to be afraid of the Internet.

But one year on, it is difficult to find any ex-miners working at the coalface of e-commerce. Nor is it common to find IT developers who have left cardboard city behind and learned to think outside their boxes. But this is one of a whole raft of policies designed to do something about the IT skills crisis and the UK's inability to capitalise on the opportunities that technology could give us.

For example, there is UK Online, UK Online for Business, E-skills and a host of other initiatives. Sadly, they do not seem to be integrated, and neither do they seem to form any cohesive pattern.

Nevertheless, the whole exercise is viewed in some quarters as an enormous success. It produced a series of what Labour's ex-spin master Peter Mandelson might have described as "eye-catching initiatives" that no one would hold the Government accountable for later on. Yet they would persuade the voters that the Government was really concerned with the "digital divide". And, doubtless, it also enabled the Government to massage the unemployment figures, and all for a fraction of the price of a Dome.

Which makes this government no better than previous administrations when it comes to understanding how to nurture one of the UK's most dynamic and wealth-creating industries. Thirteen years ago, the Conservative Government diverted millions of taxpayers' pounds destined for unemployment benefit towards sponsoring training programmes. Rather than teach people to type, this scheme had loftier ambitions, it aimed to train the long-term unemployed (anyone who had been out of work for more than six months) for a career in programming.

Ray Connolly attended one of these training courses, in fourth-generation programming languages at Tottenham Enterprise Centre, London, in 1987. "These were supposed to be a licence to print money, because there was just as big a skills shortage then as there is now. It seemed too good to be true. You did a 12-week course, then you could go out and start earning big bucks," says Connolly, who is now an estate agent.

It turned out that it was too good to be true. Kalamazoo, which provided the trainers, made good money from running these courses, charging it is rumoured £1,000 per candidate per week. All this for the cost of fielding a retired Cobol programmer as a trainer.

"All the guy did was read from a manual for eight hours a day. If you asked him a question he admitted he did not know the answer," says Connolly. "Nobody got anything useful from the course at all." Except, of course, the employment minister of the day, and the training companies.

Whether government agencies are naive, or just cynical, is a moot point. But there is a consensus on the argument that UK governments have a terrible record in training their population to work in the IT industry.

The lack of suitable, skilled people who can be trained as useful IT professionals is a problem that needs long-term measures. You cannot expect these from government ministers whose currency will always be, given the unstable nature of their positions, short-term stunts.

The focus should be on long-term conversion of skills, says Ruth Spellman, chief executive of Investors in People UK. "In the IT sector the skills needs are mainly application-based, so employers should take individuals with the core IT competencies and then run a conversion course to expand their skills," she says. In other words, you cannot prepare people for the IT industry. So why bother?

This is borne out by the experiences of networks specialist 3Com's education programme manager, Mark Davenport, himself a graduate of geology. "I take all these government initiatives with a pinch of salt. Besides, you do not meet many people in this industry who studied IT or electrical engineering at college. Everyone seems to have to retrain because nothing seems to prepare you for this industry," he says.

No government initiative has narrowed the inexorably rising gap between skills demanded and those the labour market can supply. By 2003, according to analysts at market research company IDC, there will be 330,000 jobs in IT in the UK that will lack the right people to fill them, of which 75,000 will be in networking. Which is why 3Com took matters into its own hands and decided to provide leadership in this area. Although it has to be said that, altruism aside, being seen as the saviour of the UK IT industry is a very effective branding exercise.

"The problem with academia is that it cannot keep up with industry and the problem with industry is it cannot provide training without being supplier-specific. Most IT companies want to put their branding all over a training course, and they want to teach people only to use their products," says Davenport.

The other big challenge is to meet the specifications of the training organisations. A 3Com-accredited course carries no weight with, for example, national vocational qualifications, or indeed with its US equivalent. In other words, candidates do not end up with a recognised qualification.

There are plenty of people who think this is not a problem. They argue the need for industry-specific qualifications, rather than certificates that satisfy a civil servant with no industry experience.

David Bloxham, operations manager at recruitment consultancy GCS, argues that we should be practical and take a lead from the suppliers. According to research carried out by his company, graduates would be better off if they had supplier-specific qualifications, because that is what employers need. "Science degrees are not training people on essential packages such as Cisco and Microsoft," says Bloxham.

Nonsense, says Alan McGibbon, managing director of systems integrator Scalabel Networks. McGibbon says there should be a government body, or at least an independent industry body appointed by the Government, to help develop courses, oversee training and monitor certification so that real, useful qualifications result.

"When BT was a nationalised industry at least it helped to provide a steady supply of qualified IT people that the industry could use. Now, with a free market, there is nothing and, since most IT companies are overseas bodies, there is little interest in the long-term benefits of the workforce," McGibbon says.

Compare that to today's situation and, if anything, the problem is worse because companies will not take a stand. However, universities are not exactly leading the way either. "The skills shortage is restricting industry," says McGibbon. "But you know why don't you? The graduates are useless. But it is not their fault they don't even have a grasp of the basics. What are the universities thinking of?"

This seems to be an argument that hinges on the vested interests of whichever body of people you listen to. Meanwhile, anyone looking for advice from the Government about training will have a long wait. Try phoning the Department of Trade & Industry, for example, and you will be referred to a million different Web sites and offered a pamphlet or even a series of pamphlets. The e-envoy's press office is no help either, because it only covers e-commerce.

Meanwhile, 3Com appears to have come closest to uniting the aims of the public and private sectors. In the US, 3Com found a company that could match its own education programme with government-approved qualifications. US training company Westnet produced a generic networking book that could be used to gain Comptia credits, which are the US equivalent of our city & guilds qualifications.

Now Davenport is trying to map these onto the City & Guilds courses and roll out a training programme with the aid of the Central Government National Training Organisation (CGNTO).

"By summer, there will be IT NVQs in place and, because of that, colleges will be able to get funds from the Government," says the CGNTO's Chris Morrow.

All very well, but surely the Government should be driving this? And will it make a difference? Once UK graduates leave college, they will still not be able to usefully join the workforce.

"To compete, they must pay an additional £1,000 to £2,000 per module to gain qualifications such as CCNA, CCDA [Cisco certified network and design associate] and MCSE [Microsoft certified systems engineer]," says Bloxham.

"As IT graduates are trying to enter the workforce they are finding themselves competing with skilled international workers who are ready and able to take on a project straight from university with little training."

The consensus of opinion is that, in common with previous administrations, this government has no real idea about how to train the workforce for careers in IT. And who can blame it? The majority of politicians are from a legal background, and most scientists and IT people are too busy working to get involved in politics.

"The Government would be better served using commercial training courses and using the power of buying in quantity to negotiate cheaper prices rather than getting in smaller companies with little commercial experience to run these programmes," says Liz Timoney-White, training manager for Internet Security Systems. "Then students could meet people working in industry and network to find employment using their skills, thereby solving two problems at once, rather than fruitlessly staring into their PCs at home with no motivation or shared experience to help them."

Which is all very well, but it does not fulfil the main requirement for any political party in power, which is to be involved enough to take credit for a scheme, should it prove successful. Meanwhile, a private company, and a US one to boot, seems to be closest to solving the problem of the skills crisis that has dogged IT for decades.


Free Internet training doesn't work

Free Internet training initiatives across Europe are failing to attract job seekers, according to research company silicon.de.
In Germany, a nationwide scheme for getting the jobless online has attracted just 27,000 applicants.
The general introductory course for Internet beginners is a government initiative aimed to make it easier for the unemployed to look for jobs on the Web.
After completion of the three-day course, participants receive a certificate and a voucher for DM50 (£16), which can be redeemed against future Net access at computer centres commissioned by the scheme.
In spite of the disappointing number of participants, regional job centres have vowed to continue running a range of beginners' courses this year.

Opening up IT in deprived areas

The City School, Sheffield
The school has opened its IT suites to parents and local people, including South Yorkshire Police and the staff and governors from local primary schools. Its courses include hardware maintenance and building your own computer. Businesses have also taken advantage of the scheme and the school works closely with other community organisations.

Scottish Power Learning
The company has 17 training centres around the UK with state of the art facilities for training its employees which are also available to local people. The centres are situated in parts of the company's offices that are accessible to the public and these areas remain open for longer than the usual office hours. Individual training programmes have been provided for more than 400 people in Scotland.

Brixton online
Launched in December 1997, Brixton Online is a non profit-making company which offers design and Web courses to businesses and local citizens. It has helped 286 companies and its Web site has had 15,000 individuals accessing the site over the last six months.

Source: http://www.pat15.org.uk/


Useful URLs


Read more on IT jobs and recruitment