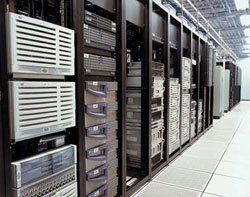 Mass production is the key to unlocking IT's productivity. In the words of US sociologist Charles Perrow: "Productivity depends more on technological changes and economy of scale than on human efforts."
This has proven true in a number of industries. For example, the computer industry experienced an exponential productivity growth over the past 20 years, due essentially to the rationalisation of components and automation that opened the door to mass production of computers. In the context of IT operations, cloud services providers and Internet companies such as Google and Amazon are already benefiting from economies of scale, standardisation and automation. For example, the typical enterprise is content with the ratio of one administrator per 20 servers.
Amazon.com, eBay, Google, Yahoo, and others actually achieve ratios that are closer to one administrator per 2,000 servers. This is the type of productivity gain IT organisations must achieve to meet the need for exponential growth in business services within the next five years. Unfortunately, to achieve this level of productivity, IT organisations face two major obstacles: diversity and volume.
Diversity is the ball and chain that's dragging IT down. Over the years, IT has accumulated a large, complex base of applications that have to be maintained. Likewise, volume keeps pushing the goal posts out. The constant influx of technology innovation and technology progress constantly pushes down the cost-value ratio of business services. Because services equal business productivity gains, IT becomes submerged by new business demands that have to be balanced against the need to keep the lights on. What should IT operations do to overcome these obstacles?
Diversity forces IT organisations to support a wide range of technologies. It also has consequences on IT management tools and on the validity of information coming from these management tools. Business services are often assembled using existing components through a variety of middleware, resulting in complex applications that are difficult to manage end-to-end.
This diversity translates into a number of relatively routine tasks that can be automated. It also translates into a diversity of tools, each requiring specific skills. Here again, automation has the capability to integrate and abstract the differences between tools, simplifying administration and skill requirements.
The lesson of cloud computing is that relatively cheap, cookie-cutter hardware, using virtualisation and embedded functionality, brings flexibility in computing, storage and network capacity, management and enormous improvements in administration. Whether this is achieved internally or through external services is mostly irrelevant in terms of productivity, as long as IT organisations adopt the full cloud model.
As demonstrated in other industries, such as manufacturing, the use of automation technologies and economy of scale through standardisation has direct consequences on processes and organisational structures. As a result, IT leaders must consider this evolution globally and consider the impact of technology changes on processes and people.
Technology improvements need what is commonly referred to as "complementary inputs" to yield their full potential. In the case of internal clouds, differences will affect applications, configuration, monitoring, and capacity management. External clouds will require additional attention to security and network latency performance issues. Availability of financial data also plays a capital role in selecting the right solution. Without progress in these complementary technologies, the benefits of using a cloud computing model cannot be fully realised.
Cloud technology offers embedded virtual to physical configuration management, virtual machine (VM) provisioning, orchestration of resources, basic monitoring, or data collection in an automated environment (in the managed cloud environment) with a highly abstracted administration interface. To realise the full benefits of the cloud model, here are some of the complementary inputs Forrester recommends I&O professionals to embrace:
Asset discovery and management
Application portability: applications must be easily movable
A new application architecture
Financial management systems
Capacity planning tools
Asset discovery and management
Asset discovery and management
When adopting the cloud model, the discovery and tracking of assets and applications in real time is more important than ever. As configurations can easily be changed and applications easily moved, maintaining control of the datacentre requires complete visibility. Likewise, service catalogues and configuration management systems (CMS) must also adapt to this new environment. I&O must adopt the latest dependency discovery solutions available from a variety of tools such as application performance management or business transaction monitoring.
Application portability: applications must be easily movable
To take advantage of the flexibility offered by cloud-enabled orchestration, provisioning, and configuration automation, applications must be able to be easily loaded and configured. This assumes that there is, upstream of the application release, an automated process that will bring together applications, their dependencies, and configuration elements in a "movable" unit. This will affect the application life cycle and the release process. As a result, a new "application supply chain" is required. This implies that I&O organisations fully embrace the development to application (dev ops) movement and be fully involved in automating the release management process.
A new application architecture
Today's applications use middleware extensively to link multiple tiers containing sometimes very different but functionally complementary pieces of code. This complexity is a clear obstacle to using the flexibility offered by cloud computing. In the future, new application architectures will be needed to take advantage of internal or external clouds. Without being involved in application development per se, I&O organisations must be involved in the application life-cycle process and be in a position to advise on the production consequences of application architectures.
Financial management systems
The corollary of infrastructure flexibility as offered by the cloud is an equal flexibility provided by the application itself. Since the way applications are developed and packaged needs to change, IT leaders must be able to choose whether a new service should be developed or acquired and deployed internally or externally. This choice cannot be made without a thorough cost-value analysis.
Capacity planning tools
Contrary to popular belief, cloud resources are not infinite and certainly not free. While cloud technologies do increase the options and capacity available to I&O professionals, forecasting capacity, internally or externally, still requires an understanding of capital and operational costs. Because more choices are available, along with the ease of procurement, cloud computing makes capacity planning more complex. As a result, capacity planning becomes a corporate-level discipline that forecasts the mid-term and long-term needs of the enterprise and defines a strategy to meet them. I&O plays an important role in capacity planning: It owns the tools that make resource forecasts possible.
---
This is an extract from the report: IT Infrastructure and Operations: The Next Five Years by Jean-Pierre Garbani and Marc Cecere, vice-presidents and principal analysts at Forrester Research
Email Alerts
Register now to receive ComputerWeekly.com IT-related news, guides and more, delivered to your inbox.
By submitting your personal information, you agree to receive emails regarding relevant products and special offers from TechTarget and its partners. You also agree that your personal information may be transferred and processed in the United States, and that you have read and agree to the
Terms of Use
and the
Privacy Policy
.
This was first published in May 2011