IT directors: build bridges or be swept away
Old-style IT directors are doomed, says Chris Rawson at Lloyd's of London. Rod Sweet reports
Old-style IT directors are doomed, says Chris Rawson at Lloyd's of London. Rod Sweet reports
Chris Rawson is one of the most high-profile proponents of the bridge-building strategy. The 45-year-old acting general manager of IT services for Lloyd's as well as acting CTO for Lloyds.com, Rawson has certainly been around. He started as a programmer and followed the usual career path, from systems developer to analyst to project manager. His first board appointment was as director of information services at Lombard Tricity Finance in 1993.

Download this free guide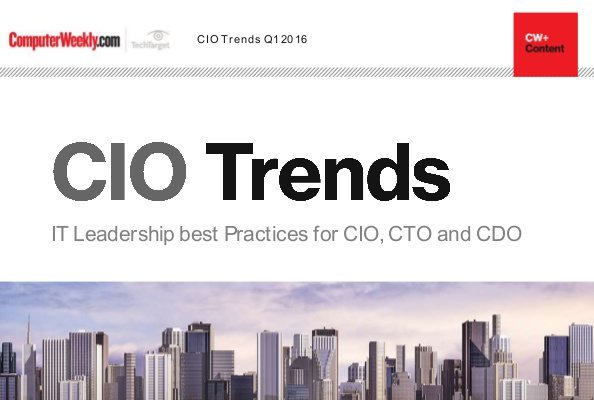 Your exclusive guide to CIO trends
A collection of our most popular articles for IT leaders from the first few months of 2016, including: - Corporate giants recruit digitally-minded outsiders to drive transformation - Analytics platforms to drive strategy in 2016 - Next generation: The changing role of IT leaders.
By submitting your personal information, you agree that TechTarget and its partners may contact you regarding relevant content, products and special offers.
You also agree that your personal information may be transferred and processed in the United States, and that you have read and agree to the Terms of Use and the Privacy Policy.

B&T went to see Rawson at Lloyd's and asked him how much he practiced what he preached and what he wanted to achieve before his contract ran out in March. Rawson turns out to be in the middle of the Lloyd's loop. He reports to the director of insurance services but has open lines of communication to the CEO, Nick Prettejohn, and other senior decision-makers. Things got off to a good start at Lloyd's for Rawson when he and Prettejohn had a frank chat about the role of the CIO and how it would eventually meld into other roles at Lloyd's. Talking is key for Rawson. It helped him win top-level support for his initiatives, which he needs to make IT an intrinsic vehicle for the business, both the bricks-and-mortar part and Lloyds.com. Rawson says the art of bridge-building is something IT directors need to learn. "IT people hide behind their knowledge and their skills, leaking only the information they feel is necessary in a relationship rather than being open and supportive and educational," he said. So how should you share information? Set up meetings, suggested Rawson. Ask lots of questions, open ones, to generate discussion. Probe, but don't be confrontational. "Then compare your own vision of what you want to achieve with IT and understand to what extent they match," he said. "I expect many shy away from open conversations." The debates within the company on the setting up of Lloyds.com, conducted among 10 key players, impressed on him how central IT was to the new business venture. "This was absolutely integrated," he said. "There was no IT on one side and the business on the other. It was a business solution. That's typically the way the Internet world works. Thinking has moved on from the pure disciplines to the business process. The days of discrete IT are numbered." Jack-of-all-trades Rawson refuses to be expert in anything. He pointed to the natural evolution from technical to managerial. In other words, let go. "Many managers try to hang on to their technical prowess and contribute where they shouldn't do," he said. "They will influence the design of a system. Or based on their historic knowledge, they will question what programmers are doing. That endangers the work." He's done it at Lloyd's. When the company needed a market mechanism for the transfer of electronic documents. Rawson could paint the big picture, but needed someone to join up the dots. Jack-outside-the-box According to Rawson, how you move from mainframe to Unix and from legacy to the Internet world are the wrong sort of questions. He calls it A to B thinking. His advice is to think A to C. "C is what's going to happen in three to four years' time when we have broadband services delivering globally." In other words, you need to understand the space in which you think there may be an opportunity. "Anyone can challenge existing business models, whatever their background, whatever their discipline, just by thinking laterally," he said. What's in, what's out IT has been through a lot of upheaval at Lloyd's. About two-thirds of the IT staff, particularly in systems development and the data centre at Chatham, have transferred to contracted companies. It may not have been Rawson's idea but he had to oversee the process. He seems relieved now the upheaval is over. The IT department is tighter and has clearer goals. He says change and uncertainty is his bread and butter but accepts it isn't everyone's. "It's sometimes difficult for people to come to terms with a constantly changing environment, although I find it really quite surprising given that the IT community has always been in a fast, rapidly changing environment." The most important part of outsourcing is knowing what to keep. In the case of Lloyd's, the "crown jewels" to be kept were chief architects, senior systems people, and those with seniority and some tenure who could think out of the box. Management skills were necessary but they had to evolve to manage third-party relationships and not just in-house teams. Managing third-party relationships takes the kind of common sense that comes from experience, Rawson says. Getting bitten enough times, in other words. "The one thing I hate most in this life is dishonesty," he says. While all partners naturally have vested interests, there is still plenty of room for integrity. Rawson calls it balance. "Being in balance means each partner knows where the other is going, each knows what is important to the other, and both work toward the same goal, which is the success of something, success of the initiative, success of the relationship - that's the kind of principle by which I try to live my life." Which one are you? The Introspective CIO Cuts costs Engages process and TCO consultants Reorganises the department Networks within the guild Demotivates staff by introducing a staff development programme Signs up for a Java Beans course Introduces tight change management Builds an island community Defends the patch Apologises The Visionary CIO Positions IT at the heart of the organisation Knows what to insource and what to outsource Works with the CEO and powerbrokers Avoids technical depth Networks with everyone Knows where to get the best skills Develops commercial excellence Contributes on all matters at an executive level Educates and learns from others Source: Business&Technology