Focus on finance
GE Capital wanted to provide its customers with flexibility and productivity in credit and insurance services. Annie Gurton...

Download this free guide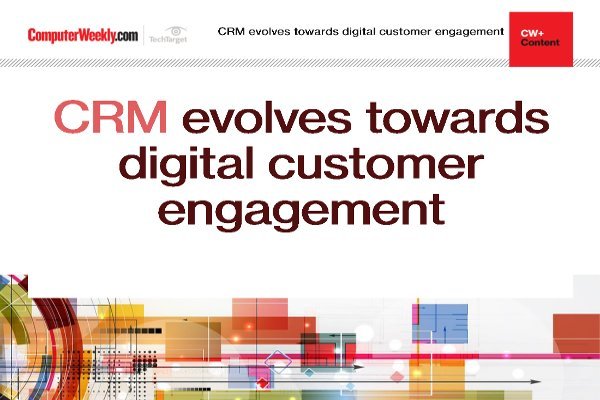 Enhancing digital customer engagement with CRM
Learn about customer relationship management has evolved towards engaging with customers through every channel, with digital at the forefront.

By submitting your personal information, you agree that TechTarget and its partners may contact you regarding relevant content, products and special offers.

You also agree that your personal information may be transferred and processed in the United States, and that you have read and agree to the Terms of Use and the Privacy Policy.

GE Capital wanted to provide its customers with flexibility and productivity in credit and insurance services. Annie Gurton reports on how CRM has helped the company to realise its ambitions



GE Capital, one of the largest and most diversified financial services organisations, is an aggregate of 26 highly focused niche businesses, 16 of which are in Europe. It aims to provide customers with significant competitive advantages through the flexibility and productivity of its credit and insurance services.
However Gary Buxton, GE Capital's senior development manager, realised that key to the continued success of its customers lay in the company's ability to develop and maintain a leading-edge customer relationship management (CRM) system and to replace the existing under-performing one.
"Our existing marketing database, known as Model 204, was plainly inadequate in terms of technology and functionality for our current and future needs. For example, Model 204 did not meet our retail clients' needs for promotional analysis and reporting requirements, and didn't have multi-currency capabilities," says Buxton.
The existing system was also difficult to maintain and because of changes in skills, it was becoming difficult to find support staff.
"Analysis was laborious in terms of both time and energy. To perform any analysis on data, we first had to extract the required data from Model 204 by executing a multi-step process using an expensive, proprietary tool and then analyse it using pre-written or ad hoc SAS code," Buxton explains. "The system to produce direct mail output was also restrictive and labour intensive."
Model 204 also created system resource management and distribution problems, because it had to share the mainframe with core systems.
"Since those systems took priority, the Model 204 was very slow, to the point where it was sometimes unusable," says Buxton.
His solution lay in dedicated SAS Unix server software and an Oracle database connected by Intrinsic software. The new system is used for client analysis, product analysis, management information and general data management and manipulation.
GE Capital's marketing analysts produce data models on the SAS software using data from the mainframe, data warehouse and external sources.
At the moment, once modelling is complete, the file of accounts and model scores are transferred to an IBM mainframe. The nightly batch mainframe process validates the model score files available for that day and transfers them to an Oracle ICMS Unix-based server. These model scores are then used by managers' field and data analysis selections.
The new version of the software analysis tool, Intrinsic7, is providing GE Capital with dynamic analysis capabilities, using models generated in SAS.
"We are now able to run CRM models automatically at the time most appropriate to our managers' needs and their communications process flow, using the most up-to-date data. This is vitally important in a retail credit context and can change daily and continually depending on card activity and spend," says Buxton.
He says the open systems interoperability of Intrinsic7 makes it invaluable. "Because Intrinsic7 operates against all relational databases, we know we will be able to leverage the value of our existing investment in the Oracle database and SAS software," Buxton explains.
Since implementing the SAS and Intrinsic7 solution, GE Capital has increased its marketing campaigns to 3,500 per year, contacting 200 million customers.
"We couldn't possible have done this with our previous system. The whole campaign management process has been improved and streamlined, so that we are able to turn campaigns around very fast," says Buxton.
Also because of the system's ease of use, staff who run and use it do not require expert knowledge and can be productive in a short time. "Productivity has been greatly improved. This is evident by the number of campaigns we run and the reduction in process time. We now have the ability to automatically measure and analyse campaigns and the response they generate in a variety of ways and against complex cross-matching and cross-checking criteria, thereby giving us a considerable increase on our return on investment," Buxton explains.
Although GE Capital's requirements are specialist because it provides credit and financial services, it has much in common with other retailers in the challenges it faces.
"We have to ensure that our e-commerce channels are open at all times. The reports of income losses due to crashed, faulty or unreliable Internet sites demonstrates that system availability and responsiveness is not an easy task it is a fundamental requirement," says Buxton.
Not only do suppliers like GE Capital face the likelihood of prospective customers not returning to an Internet site, they also face a negative impact on the corporate brand as a whole, increasing the likelihood of customers purchasing through other channels.
"Our aim is to improve the ratio of Web site visits to sales. Just as prospective customers won't stick around if a site is too slow, neither are they prepared to spend long trying to find the information needed to convert their interest into a sale," says Buxton.
GE Capital also wanted to increase the likelihood of purchase through its targeted promotions and saw use of CRM and the Internet as a way to achieve sophisticated interactive dialogue with existing and prospective customers.
"Every visit leaves clues as to customers' current and future buying intentions that can be acted on, whether the customer behind the clicks can be identified or not. Someone surfing pages on family cars at an automotive dealer's site is a very suitable target for a referral ad to a child car-seat manufacturer, for example," says Buxton.
However, even though the data needed to reach these conclusions is available, it is often embedded and needs to be extracted and analysed effectively. It may also need to be combined and integrated with data from external sources, such as demographics.

"The SAS and Intrinsic7 e-intelligence solution has improved three critical aspects of our CRM, namely the ability to personalise our campaigns and drive down the focus to individual customers if necessary, the improvement of the e-buying experience from the customers' point of view and the improvement of our electronic systems' reliability and responsiveness for our analysts, managers and customers. We are able to score customers and their accounts 'on the fly' and have greatly improved the level of our service across an increasing number of client brands," says Buxton.


What CRM does for GE Capital

The Intrinsic7 software analysis tool provides GE Capital with dynamic analysis capabilities using models generated in SAS. It uses the system for client and product analysis, management information and general data management and manipulation.
GE Capital's marketing analysts produce data models on the software using data from the mainframe, data warehouse and external sources. Once modelling is complete, the file of accounts and model scores are transferred to the IBM mainframe. The nightly batch mainframe process validates the model score files available for that day and transfers them to an Oracle ICMS Unix-based server.

These scores are then used by managers' field and data analysis selections. The CRM solution:


Runs automatically at the time most appropriate to managers' needs and their communications process flow using up-to-date data


Helped GE Capital to increase its marketing campaigns to 3,500 per year, contacting 200 million customers


Improved productivity. The company now has the ability to automatically measure and analyse campaigns and the response generated in a variety of ways and against complex cross-matching and cross-checking criteria


Helped GE Capital increase the likelihood of purchase through targeted promotions, as every visit leaves clues as to a customers current and future buying intentions


Gave GE Capital the ability to personalise its campaigns and drive down the focus to individual customers


Improved the e-buying experience from the customers' point of view


Increased GE Capital's electronic systems' reliability and responsiveness for its analysts, managers and customers. The company is able to score customers and their accounts "on the fly".
Read more on Business applications