Easy guide to purchasing PCs
Desktop procurement has traditionally been a headache for IT managers - but a few simple tricks will save you trouble in the long...

Download this free guide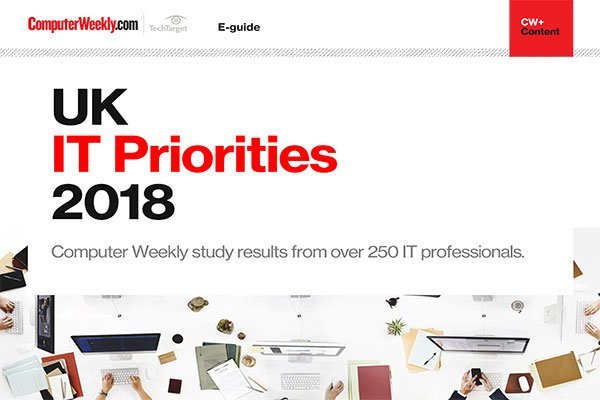 UK IT Priorities 2018 survey results
Download this e-guide to discover the results of our 2018 UK IT Priorities survey, where IT leaders shared with us what they are going to be investing in over the coming 12 months.

By submitting your personal information, you agree that TechTarget and its partners may contact you regarding relevant content, products and special offers.

You also agree that your personal information may be transferred and processed in the United States, and that you have read and agree to the Terms of Use and the Privacy Policy.

Desktop procurement has traditionally been a headache for IT managers - but a few simple tricks will save you trouble in the long term, says Danny Bradbury



Experienced IT managers will tell you that there is always a trade-off in the computing world. For example, when the PC was introduced, end-users got much more power and functionality than they had under the old mainframe and dumb terminal model. On the other hand, it meant that IT managers faced administration headaches because it made monitoring end-user computing environments more difficult.

It also made it harder to procure equipment. Everyone knew where they were in the days of the mainframe - you spent £100,000 on an IBM machine and paid a percentage every year in software and hardware maintenance costs. Procurement managers these days have to choose between countless suppliers and configurations when buying desktop equipment and software, and they have to manage it all. It is no wonder, then, that procurement is one of the biggest bugbears for IT managers because it stops them from doing the more stimulating strategic stuff.

The magnitude of the problem means that many companies do not have a single, consistent supplier and products database. Others lack an accurate assessment of the total cost of ownership for each PC, making it difficult to refine their procurement and management processes.

Before you can work out how to develop your procurement strategy, you have to assess the current state of your infrastructure, and its cost. Compiling an inventory of your current desktop assets is a must, and should be at the top of your to-do list if you have not already done it. Luckily, many companies were forced to create systems inventories during the run-up to Y2K, although how many of them will have maintained this useful resource is open to question.

When choosing an asset management system, use one that incorporates features such as checking for software licence compliance, product serial numbers and specifications, desktop software management and pre-roll-out testing. One of the better known tools is Microsoft's Systems Management Server, and the company has a list of other asset-tracking and auditing tools at www.microsoft.com/ piracy/samguide/tools/sit.asp. If you do not feel capable of managing such a resource yourself, there are several hosted services available that will track your desktop assets for you, and maintain an inventory.

The next step is to work out the total cost per seat for your desktop infrastructure. Factoring in elements such as support costs involves working the maintenance cost of your support helpdesk software and hardware, along with staff salaries, into the mix. Also, think about extended warranty costs for third-party support, and software licensing, on top of the basic hardware cost. Things like network connectivity should also be a component of your cost analysis. Once you have this metric, you will be able to start shaving precious pounds off the total figure.

When you have established what you currently have on your desktops, requirements analysis is the next task to lay the groundwork for planning your procurement strategy, according to Nick Caller, head buyer for procurement at desktop outsourcing company CSC. Gaining end-user feedback is vital, because you have to understand what people are doing with their equipment before you can make an informed decision. You may find, for example, that a certain proportion of users employ Netmeeting extensively for videoconferencing, which may be placing an increased burden on their graphics and network cards.

"We sit down with our clients and agree a portfolio of products that they need to support their environment," says Caller. He advocates using a matrix to map functionality requirements onto desktop hardware and software features.

Conducting this sort of requirements analysis may sound like a daunting task, but you can make it simpler by categorising your end-users into different types.

You may find, for example, that data entry clerks in many departments have the same sort of requirements, but that knowledge workers need to be subcategorised according to their roles within the company (marketing versus sales, for example). Creating these profiles may also make it easier to build specific system images that can be burned to PC hardware at the procurement stage.

Incidentally,one trick here is to delegate such tasks to third parties who can handle them more effectively. Paying a reseller or a PC supplier to burn these different system images for you before hardware is delivered may represent a cost-saving over trying to do it yourself, especially on an ad-hoc basis.

Smart IT managers then put their desktop requirements out to tender, but there is a trade-off in this area too - choosing your supplier on cost alone can create problems. You should think about choosing a supplier that will be able to inform you ahead of time on product plans, so that you can plan your equipment upgrades in advance. Similarly, stability is important, says Caller. Where possible, you should choose a supplier that can guarantee you minimal changes to a system image throughout a single upgrade cycle, even if you are not buying all of your PCs at the same time. If your supplier, for example, can offer you exactly the same PC and software configuration in November as it did in January, you should view this as a considerable advantage. Whenever components and software versions change, you will run into increased complexity, which will inflate your support and implementation costs.

This is where the use of supplier roadmaps comes in handy, because you can plan your upgrade cycles around such changes. For example, knowing ahead of time when your supplier plans to discontinue a particular hardware configuration can enable you to plan your procurement cycle in advance while minimising your support costs.

Working with an organisation that can support your procurement process is vital. Dell, for example, offers a premium service for corporate customers that provides an online procurement portal. Customers can log in and see custom discounted prices on equipment configurations that have been pre-approved by their companies. The system also offers the ability to manage paperless purchase orders, and handles purchasing workflow. It includes purchase history features, and will integrate with shipping companies so that you can track your order. This will free up your time to manage other tasks and make it easier to track equipment that has been purchased but not delivered, for example. As a side benefit, it can also help you to track employee-generated purchase programmes.

Streamlining your procurement process is only one way of reducing costs. A much larger step involves changing your procurement strategy altogether, and adopting a rental approach. This isn't for everyone, but it can carry some significant benefits for companies that need to upgrade their equipment on a fairly frequent basis.

Nick Granger, general manager of desktop equipment rental company Livingston, makes the case for hiring desktop equipment rather than buying it outright. The first issue, of course, is depreciation. PC equipment loses its value very rapidly, leaving companies with a pile of old equipment that they need to divest. Granger offers an alternative: "We have a flexible contract rental product, where a company can rent for a set term," he says. "The cost then reduces if they go beyond the required period." The company also offers an operating lease, catering for longer, fixed-time rental.

From a procurement perspective, rental makes sense because it minimises your tax payments up front, Granger argues. "All rental payments you make are tax deductible," he points out. "With purchase or financing leases, you can only markdown 25% of the cost [in the first year]." This is all to do with the issue of capital expenditure; if you purchase something, then you can't write off the whole cost at once. Instead, you have to link it to depreciation.

Rental charges hover between 4% and 6% of the total system value for a one-week hire; 6%-15% for a month and between 4.5% and 6.5% per month for a year. This means that across an 18-month upgrade cycle, you could end up spending anywhere between 80% and 117% of the total system cost. "But if the rental system falls over, you get a guaranteed replacement the next day, along with guaranteed helpdesk service," says Granger.

The attractiveness of leasing will depend largely on the requirements of your business. If your company needs whizz-bang new equipment for all your employees, all of the time, it could make perfect sense. If, on the other hand, you can give some of your employees hand-me-down desktop equipment from your base of power users, then you may find it more cost-effective to continue buying your PCs.

Much of the best practice in procurement is down to basic preparation, then putting the right foundations in place will give you more intelligence about the state of your infrastructure, enabling you to make better decisions further down the line. Procurement need not be such a headache, as long as you adopt a systematic procedure that works for you and stick to it.

Top 10 tips for managing the desktop

Centralise your administration, so that you can update and patch software from a central location



Lock down end-user operating systems so that people are unable to change critical systems settings and inadvertently cause PC problems



Purchase systems that include compatibility with the desktop management interface from the Distributed Management Task Force (www.dmtf.org). This will help your central servers to monitor desktop hardware status



Implement a directory-enabled network to help you to keep track of equipment, the employees who "own" it and the network services that they are using



Set up an asset management system as soon as possible so that you can tell what equipment you have and what software licences and hardware serial numbers are on your network



Make sure that your personal digital assistant and notebook users are catered for by ensuring that your management software gives them the once-over when they reconnect to the network



Prohibit your users from using modems that directly dial into ISPs, circumventing the corporate network



Install virus protection software either directly on desktops, or on your e-mail and Web proxy servers. PC-based installation will help to prevent virus infection from removable storage media



Use remote control software (this is built into Windows XP) to solve problems on desktop hardware without travelling to the physical location



The most basic desktop management rule of all - educate your end-users in best practices so that they do not create problems for you to clean up later.
Read more on Operating systems software