Easy access
The Woolwich has won a Computer Weekly E-business Award for its customer-oriented bank account. Philip Hunter reviews how Open...
This Article Covers
RELATED TOPICS

Download this free guide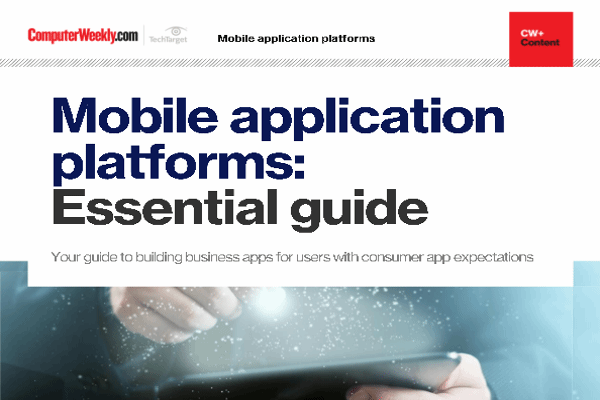 Time to take control of mobile applications
Expert tips on how to deal with mobile application platforms

By submitting your personal information, you agree that TechTarget and its partners may contact you regarding relevant content, products and special offers.

You also agree that your personal information may be transferred and processed in the United States, and that you have read and agree to the Terms of Use and the Privacy Policy.

The Woolwich has won a Computer Weekly E-business Award for its customer-oriented bank account. Philip Hunter reviews how Open Plan has revolutionised online banking



The perfect bank account is one you can access through any available channel and which serves as the repository for all principal financial services. Such an account would be split into virtual compartments, such as mortgage, savings, and current account. You would be able to move money between these to optimise the amount of interest that the holder either receives or pays, depending on whether there is a net debt or surplus.

It would have been impossible for any bank to deliver such an account in the pre-IT era, although, ironically, IT has sometimes been offered as an excuse for not doing so. There is a suspicion that finance houses have been in no hurry to move that way because of the feared loss in revenues when customers are paying no more than they should, either in interest payments or charges.

To make such a utopian bank account work, a substantial investment in IT is needed. The Woolwich won the 2000 Computer Weekly E-business Award in the customer relationship management (CRM) category for successfully completing such a project.

The new universal bank account, called Open Plan, was conceived in late-1997, in a bold move to differentiate the Woolwich from its competitors. This was a time of churn in the UK banking sector with substantial consolidation, such as Japanese bank HSBC's take over of the Midland, and the de-mutualising of building societies.

The Woolwich has invested £125m in Open Plan, of which IT is a major component, and aims to migrate two million of its 4.5 million customers over to Open Plan by the end of 2001. Currently the bank is on target, with 500,000 customers successfully moved by the end of 2000.

From the CRM point of view, Open Plan enables customers to view all their holdings and conduct transactions from a single point via any of the principal channels now available - in a branch, via ATM, by telephone, Internet, wireless application protocol (Wap) phone or digital TV - with complete inter-changeability between them. Any transaction made via one channel is immediately replicated to all the others.

To make the channels interchangeable, and allow the bank to add new channels without disrupting core systems, it was necessary to separate the access layers from the business logic. This, according to Janette Winter, the Woolwich's head of e-commerce, was the key move on the IT front. The process of choosing the actual vendors for servers, communications and mobile networks was, by comparison, trivial.

To provide this separation between front- and back-end processes, the bank adopted a component-based architecture focused around a layer of middleware software. "If you take a basic task such as 'get my account balance'," said Winter, "there's a business object in the middleware with that name, and that object can be used by all the channels."



Technology choices

At the time the technology choices were being made in 1998, there was no off-the-shelf middleware package that the bank felt would provide the required level of integration between the channels and business logic. The bank, therefore, developed its own software with the help of AIT, based on Microsoft's DCom architecture, with components written in a mixture of Visual Basic and C++.

Open Plan is an example of a serious banking application running on a Microsoft NT4 platform, interacting in the background with an IBM mainframe, hosting account processing functions.

The middle tier runs on two mirror-imaged server farms comprising 50 Dell Pentium II and III machines. Between all the channels, this middleware handles, on average, 300 concurrent users at any time and processes 100,000 business object calls, each of these being a single process or task within a transaction, such as a password check.

As well as meeting the business requirement of being able to add new channels readily, the separation of customer access from business logic accomplished the important IT design-objective of load balancing. At certain times there might be a particularly heavy transaction load on one channel, for example, in response to an advertising campaign aimed at digital TV users.

It would be difficult to distribute the transaction load evenly across all the servers if each channel had its own business logic implemented on specific machines. With the channels isolated from business tasks - such as password checking, error logging and transfer between accounts - the tasks can be distributed automatically across available resources irrespective of the mode of access.

Although this middle-tier approach means that capacity within the business process layer is purely a function of the total transaction volume, the bank still needs to know how popular each channel is in order to scale it correctly and determine where to place future investment. The bank has no figures for branch or ATM usage but does know that for every six transactions made via the call centre, often assisted by interactive voice response, there are four made via an e-commerce medium such as the Internet, digital TV or Wap phone.

These figures may not be indicative of the UK population as a whole, given that the early Open Plan customers tend to be leading-edge banking customers, nearly all equipped for online access, but they suggest the potential that such channels offer.

But one disappointing aspect of the service is that even among these "high-Net worth" customers, use of the Wap channel has, so far, been very low. This is despite the fact that the launch of the Wap channel in April 2000 was greeted almost euphorically by financial media organs such as the Financial Times, and led to an 11% surge in the Woolwich share price in a day.

The Woolwich was shortlisted in the Wap category of the Computer Weekly e-business awards, in addition to the CRM category. Such was the confidence of the Woolwich IT staff in the quality of their Wap implementation that, according to Winter, they were amazed that the prize they received was for the CRM category.



Digital TV

Yet Winter admits the Wap channel is not being used much, and cheerfully admitted that the digital TV channel overtook it within three weeks of its launch at the end of August 2000. This seemed to confirm the optimistic predictions that digital TV had the potential to become a major channel for online banking, capable of overtaking the conventional browser-based Internet.

Winter blames the poor take-up of the Wap channel on the failure of network operators and handset makers to make mobile applications easier to use. The Woolwich has teamed up with Vodaphone to fulfil customer orders for Wap phones and provide the mobile service. "The main issue for us," says Winter, "is that it's difficult for users to work out how to access Wap services. We provide support to customers, but they still find it difficult because the phones themselves are quite sophisticated."

Winter yearns for the relative simplicity of the Japanese i-Mode service, which has similar functionality to Wap but is far more successful partly because of greater ease of use. "If you look at the design of i-mode, it's got a big button you press," says Winter.

The cost of mobile calls has also been a deterrent, with customers reluctant to run up bills of a pound or so for the privilege of checking their balance when they can do it more cheaply via one of the other channels. "We can see that cost is an issue with Wap from our daily trends-usage analysis," says Winter. "People tend to use the Wap channel only after 6pm when the tariffs go down."

Nevertheless, when the services become easier to use and when the cost of individual transactions comes down, the Woolwich sees Wap as an important channel for the future. This may happen with the General Packet Radio Service (GPRS) upgrade of the mobile networks this year. GPRS is likely to usher in services charged according to the amount of data sent or possibly by transaction, rather than by time. Although the Wap channel supports the full range of banking functions, the limited display and input options mean that they take longer and are more complicated.

For the present, it is digital TV and the Internet that are making the running. But just when the project seemed to have reached a temporary state of stability, with a winding down of development activity, events took a new turn with the acquisition of the Woolwich by Barclays Bank. The takeover was partly motivated by the success of the Open Plan venture and the skills the Woolwich had to offer in the e-commerce era. "We are now looking at how we can deliver an Open Plan for Barclays," confirms Winter.

The move gives Open Plan a much bigger potential audience, given that Barclays has 16 million customers to the Woolwich's 4.5 million. But it is a new challenge, given that Barclays does not want to scrap all its existing products, and not all customers wish to migrate to a new multichannel account at a stroke. The trick will be to isolate the key features of Open Plan and inject them gradually into the Barclays portfolio.


Open Plan: key benefits



Customers get a single consolidated account with a single point of access, rather than separate ones for each product



The Woolwich was the first major UK bank to offer secure access to financial services via Wap phones


The service has been successful in winning new customers from the Woolwich's competitors, as opposed to simply cannibalising its existing client base


The Woolwich was one of the first UK banking services to generate significant rates of access via digital TV.
Read more on Business applications