Doubts persist about open source IP telephony
Open source VoIP is slowly making inroads in the enterprise, but many companies aren't quite ready to trust an open voice system.
Open source Voice over IP (VoIP) in the enterprise is at the stage where Linux desktops were about five years ago, and the small open source presence at last week's VoiceCon Spring 2007 conference in Orlando is a true indicator that open source VoIP is still in its infancy.

"PC infrastructure faced this dilemma about five years ago, and they are still dealing with it today," said Murray Butler, senior network analyst at 3M Corp. in St. Paul, Minn., who attended the show. "The drive for open solutions to real problems is seeping out of the desktop and server racks into other areas of IT that are traditionally closed platforms."

Download this free guide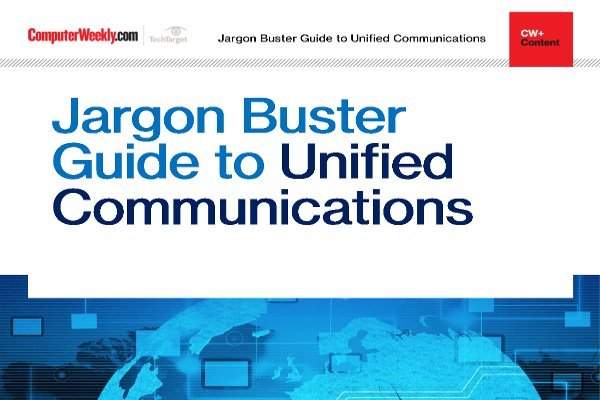 Jargon buster guide to Unified Communications
Explore some of the key elements of a Unified Communications deployment and discover insight into some of the emerging trends that are changing the way we communicate in our working lives.

By submitting your personal information, you agree that TechTarget and its partners may contact you regarding relevant content, products and special offers.

You also agree that your personal information may be transferred and processed in the United States, and that you have read and agree to the Terms of Use and the Privacy Policy.

Leading the charge for open source IP telephony is Digium's IP-PBX, Asterisk, which has already gained acceptance among small and midsized business (SMB) users who are not afraid of open source. The next step for Asterisk, according to Bill Miller, vice president of product management and marketing at Digium, is to win the trust of enterprise VoIP users.

"We've made major competitive moves toward the enterprise. It's finding its way in specific applications," Miller said, explaining that open source could find its way into enterprise departments for applied usage such as an IVR as opposed to a full PBX.

At VoiceCon, Digium announced recent deployments that include the University of Pennsylvania, Sam Houston University and Iowa City Carousel Auto Group. The company launched an authorized reseller program to further its efforts to move into the enterprise and encourage partners to market and sell its products. Digium also demonstrated and gave away CDs of AsteriskNOW Beta 4. According to Miller, a robust, fully released product is due in April.

Asterisk has a steep climb ahead of it, however, if it's to penetrate not only the telephony market, which has traditionally been composed of large vendors, but also the VoIP market, which is still in its formative years.

"Open source right now is not ready for enterprise use as a competitor for telephony systems such as Avaya, Nortel or Cisco," said Irwin Lazar, principal analyst and programmer at Nemertes Research. He pointed out that support and scalability are areas that must mature before enterprises will latch on to Asterisk and said there is "no proven track record of applications," adding that "it's really impossible to build an end-to-end solution right now."

Similarly, there's not yet much demand for open source IPT because the industry isn't ready and is still in need of much innovation, according to Zeus Kerravala, senior vice president of enterprise research at esearch firm Yankee group.

"We're too early in the development cycle to be open sourced," Kerravala said.

Both analysts agreed that the cost savings argument -- that open source is cheaper -- may not apply here, either. Kerravala said that an open source solution might actually cost more than one from a proprietary vendor because the operational costs could be higher over time, even though you might pay less for the initial equipment and software.

Lazar said enterprises "don't see [that open source] presents significant value because they may spend less in capital costs but will end up spending more for support."

Another challenge for Asterisk is to convince users they can trust an open source product.

"People view telephony as mission-critical," Kerravala said, and enterprises would not be willing to put their success or failure in the hands of open source developers.

Also in question for enterprises is the support offered by the open source community. "The SMB market may be happy with an open source project," said Peter Saint-Andre, executive director of the XMPP Standards Foundation and director of standards at Jabber, a software foundation that produces an open source IM client. But, Saint-Andre said, larger organizations may choose proprietary vendors because they want "one throat to choke" if something goes wrong.

"The issue here doesn't seem to be so much a skill issue as it is a feel-good issue," 3M's Butler added. "The desire for a traditional support model, especially in a 'for granted' service like dial tone, is overwhelming."

Likewise, users already concerned about the security risks of VoIP are wary of adding open technology to the equation. Michael Cataldo, director of operations technology at GE Money, said that GE is looking into open source for use at some of its smaller offices, although they are "a little nervous about it." Cataldo said open source implies a product that is "open to everybody," bringing to the forefront concerns about data privacy and liability.

Although he thinks open source telephony is an "up and coming" technology, Cataldo's attitude remains one of caution. "Until we do a lot of homework, we're not just going to throw it on our tech stack," he said.

Despite these challenges, Digium's Miller is optimistic that open source VoIP is making progress, even if it is slow going. He said Asterisk has "made strides" into large-company viability.

"We still have a long way to go, but we are focused on solutions to come into the enterprise," Miller said. "We believe every enterprise should be looking at [Asterisk] and learning about it. They should be asking what things they can do that they can't do with existing phone systems. Should they do a complete cutover at this point? I'm not suggesting they should do that, not today."

And many customers are testing the open source VoIP waters, even if they are not quite willing to take the plunge into a full-fledged implementation.

Butler said that 3M is in "the architecture planning stages" of IPT and testing Asterisk in its labs. "We've gotten through about half of a project to decide to what level we want to implement IP telephony, and I think we're in the same place as a lot of others," he said. "We've got a very functional and useful system now; to replace that would be a big cost burden. I think that's where a lot of larger corporations are right now, waiting until this makes fiscal sense and not looking to replace what already works with an equivalent -- they want a step up."

Liberty University in Lynchburg, Va., also has Asterisk in production for a small number of users, according to network engineer Tirian Wilson.

Kerravala is not so optimistic, however. "In the long term, it's an interesting idea. [But for now] the IT department doesn't want to worry about tinkering with the phone system," he said.

Ultimately, the benefits of open source could outweigh such concerns. Lazar said the accessibility of source code will bring greater possibilities for companies or resellers looking to bring value to Asterisk products. "The true benefit of open source -- rather than the cost -- is that when you have access to the code, you are able to extend it," he said.

Miller pointed out that customization is easier with an open source product and doesn't necessarily require specialized staff.

"Even a sizable enterprise, say a company with 2,000 phones, and you want to make a change, just to an application; if you are an Avaya or Cisco customer and you say, 'I'm a big company, I really need this feature,' they are going to laugh at you and say, '2,000 phones, that's nothing,'" Miller said. "You can customize [an open source product] like you can't do with a proprietary solution. Our resellers know how to do that. You don't have to have the geeks on your staff. You can, but don't have to."

This flexibility is the real selling point behind Asterisk, according to Butler, because enterprises will eventually want to build best-of-breed IP telephony systems enabled by open source software, as they have been able to do in other technology areas.

"There is a push for open source," Butler said, "for the simple reason that there is understanding of the pieces involved and a desire to make a supportable, robust solution that doesn't require me to live with a vendor's idea of what my telephony solution ought to be."