Don't expect IT Budget giveaways
With the Budget imminent, the chancellor Gordon Brown is under mounting pressure from IT employers and suppliers to make IT...
With the Budget imminent, the chancellor Gordon Brown is under mounting pressure from IT employers and suppliers to make IT skills an election issue.
Nick Huber reports on what the Budget could mean for the IT industry
The scale of the IT skills shortage is not under dispute. Without an additional 150,000 to 200,000 trained professionals each year the development of e-commerce in the UK will be stunted, according to the E-Skills National Training Organisation.

Download this free guide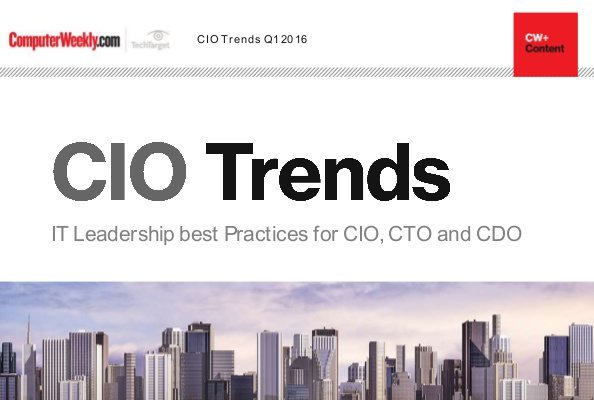 Your exclusive guide to CIO trends
A collection of our most popular articles for IT leaders from the first few months of 2016, including: - Corporate giants recruit digitally-minded outsiders to drive transformation - Analytics platforms to drive strategy in 2016 - Next generation: The changing role of IT leaders.
By submitting your email address, you agree to receive emails regarding relevant topic offers from TechTarget and its partners. You can withdraw your consent at any time. Contact TechTarget at 275 Grove Street, Newton, MA.
You also agree that your personal information may be transferred and processed in the United States, and that you have read and agree to the Terms of Use and the Privacy Policy.

The cost of the skills shortage is also an issue. The E-Skills NTO estimates that a lack of IT skills will cost the UK £34bn over the next three years.
There are also growing fears that the skills gap is encouraging some employers to relocate overseas, which could jeopardise the Government's plans to make the UK a world centre for e-commerce.
The Institute for the Management of Information Systems called for Brown to use his pre-election budget to give tax relief to employers and staff for IT training. Its proposals are designed to overcome the reluctance of employers to invest in training their staff as demand for IT skills changes.
But employers and industry bodies questioned by Computer Weekly said they are not expecting radical IT-boosting measures in the Budget. In fact, most are struggling to keep up with a raft of recent government and industry initiatives on the skills shortage.
Earlier this year, the Government finally appeared to wake up to the problem when the E-Skills NTO unveiled a three-year, £15m plan to find a solution to the skills problem.
The skills blueprint represents the most serious attempt yet by the IT profession to tackle the skills gap. Key measures include a campaign to promote IT as a career and an annual workforce development plan to identify the skills needed.
So what IT-boosting measures is the chancellor likely to pull out of his briefcase?
In last year's Budget Brown promised to let the UK "meet and master a tide of technological change". The grandiose soundbite was backed up by a string of IT-friendly measures, including 100% tax credits on IT investment for small and medium-sized enterprises, a boost for employee share schemes and a relaxation of work permit requirements for overseas IT professionals.
The measures were welcomed by the industry, but there was a general feeling that the chancellor had not gone far enough.
The Computer Services and Software Association expressed disappointment that the Budget failed to address a national insurance liability for businesses that give staff share options.
Aside from the skills issue, the big industry concern is the IR35 tax. Under IR35 IT contractors will be treated as employees for tax purposes, despite the additional costs they incur by operating as limited companies.
The Professional Contractors Group (PCG) is to challenge the tax in the High Court next month on the basis that it breaches European competition law and the Human Rights Act.
But, whatever the outcome of the challenge, no-one expects a U-turn on IR35 in the Budget. "With IR35 anything else [in the budget] is academic," said Susie Hughes, spokeswoman for the PCG. "Companies are closing down and people are moving abroad because of it."
The forthcoming pre-election Budget is unlikely to contain any major give-aways for the IT community. Nor will it be the vehicle to tackle the long-running IT skills shortage or address concerns over IR35.
Initiatives such as the three-year plan by the E-Skills NTO will matter more in the long run than tweaks to the tax system.
The IT industry's wish list
Leading industry figures tell Computer Weekly what they would like to see in the Budget
Margaret Smith
Director for business technology and delivery, Legal & General
Technical staff are in short supply and few people seem to be training them. Tax relief for training would be a good step forward or even something towards relief for their degree loan. The same tax relief could also apply to retraining existing staff.
Laptops and PCs generally need replacing frequently because of advances in technology and processor speed. While costs are coming down, it is still a big overhead. Some sort of tax concession in the IT field would be very useful.
Really good techies switch jobs frequently. It would be great to be able to offer shares tax-effectively for fairly junior people.
Philip Virgo
Strategic advisor to the Institute for the Management of Information Systems
All we want is for Gordon Brown to extend the tax credits in the last Budget to telecoms. We want 100% capital allowances for investment in telecoms infrastructure, as the broadband roll-out has virtually stopped.
People undergoing training should be exempt from national insurance and income tax. If they are on supervised work experience then they should get a proportional tax reduction.
If an individual contractor is training themselves, the full cost of their training should be allowable against their tax and not just some Noddy allowance for IR35 which is about 5% of total income.
John Higgins
Director-general, Computing Services and Software Association
Brown should extend last year's initiative to encourage SMEs to invest in e-business to broadband investment.
Remove the ludicrous national insurance tax on unapproved share option schemes. This is making the UK a less attractive location for international investment.
Provide real incentive to the empty "lifelong learning" rhetoric. This could be done by offering tax incentives to employers, employees and the self-employed who invest in training.
Finally, it is now time to consider some significant incentives to attract high-tech firms to invest and locate in some of the less well-off regions in the North.
David Weymouth
Chief information officer, Barclays
The chancellor should consider reducing VAT on IT services. As a financial services company we cannot claim back VAT and this has a severe impact on our purchasing decisions.
Brown should consider the introduction of a capital gains tax exemption for long-term investments in the technology industry - particularly at a time when capital for new technology investments is scarce.
He should also widen the eligibility for tax relief on research and development. Tax relief is available for scientific research but the widening of the eligibility should include tax relief on development expenditure.
Geoff Petherick
Chairman of the fair deal working party, Eurim
There should be substantial investment in IT education at all levels.
Given financial encouragement, many of the major IT organisations would assist in the programme. Most already have educational operations for training customers.
The level of employers' national insurance (12.5%) prohibits the development of small companies.
Firms have to pay high salaries to attract skills but national insurance costs make this considerably more difficult. One option would be to defer the cost of national insurance until a certain profit margin is reached, or the company has been trading for two years.
Read more on IT jobs and recruitment