Consumers are not inspired by the Internet
Internet business can only succeed if the public accepts the technologies. In the first of a quarterly series of surveys Computer...
This Article Covers
RELATED TOPICS

Download this free guide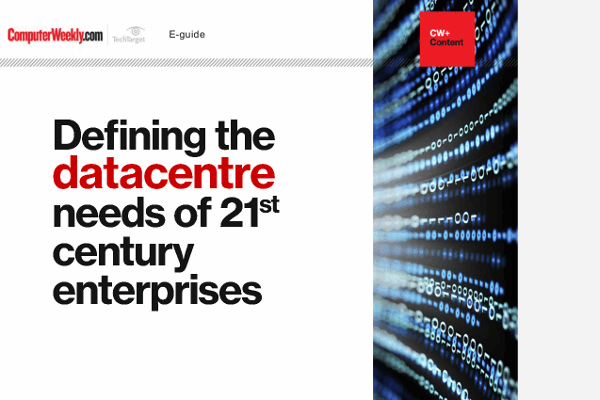 Defining the datacentre needs of 21st century enterprises
A collection of our most popular articles on datacentre management, including: Cloud vs. Colocation: Why both make sense for the enterprise right now; AWS at 10: How the cloud giant shook up enterprise IT and Life on the edge: The benefits of using micro datacenters
By submitting your email address, you agree to receive emails regarding relevant topic offers from TechTarget and its partners. You can withdraw your consent at any time. Contact TechTarget at 275 Grove Street, Newton, MA.
You also agree that your personal information may be transferred and processed in the United States, and that you have read and agree to the Terms of Use and the Privacy Policy.

Internet business can only succeed if the public accepts the technologies. In the first of a quarterly series of surveys Computer Weekly, CW360.com and ICM Research investigated consumers' attitudes to Internet services. Cliff Saran reports



Despite the hype surrounding the dotcom boom (and bust), research conducted by ICM for Computer Weekly has found a relatively low level of understanding of the Internet in the UK, particularly among older members of the population, and people on lower incomes.

Computer Weekly commissioned ICM to conduct the research in order to gauge the extent of the gap between Internet hype and the reality of UK users' experiences. While experts predict a boom in the roll out of broadband Internet, for the moment organisations building online services for home users have to assume the lowest common denominator in terms of Internet access at home.

Businesses need to take into account the type of PCs people use to connect to Internet services. While it is good practice to support the two most popular Web browsers - Netscape Navigator and Internet Explorer - the age of a PC can influence the type of Internet application a user can access.

Just as it would not be wise to load Windows 2000 on a four-year-old PC, users of older PC systems or people who lack high-bandwidth Internet connections are unlikely to find a rich multimedia Web site much fun.

The results of the survey paint a grim picture of the UK's adoption of IT at home. Many people lack even basic Internet access.

In a sample of 1,006 UK citizens aged over 18 years from a variety of social and economic backgrounds, 43% of respondents said they did not have access to the Internet. Almost 50% of the people asked did not own a PC.

Kate Turner, director at ICM Research, said, "This is quite a high proportion." In her analysis of the data Turner said people not owning a PC tended to be older, with less disposable income or living in remote regions of the country. She found that in this group new PC purchases within the past year were highest, with 35% of 55 to 64-year-olds saying they had bought a PC in 2001.

"While younger people are buying [technology] as fast as they can, the 55-plus group is the one to watch. They are catching up," said Turner.

The low penetration of technology is reflected in the use of Internet services.

The Government's online services fared badly in the survey. Just 7% of respondents said they had used the Internet to find information on their taxes and only 3% used Government Web sites to find information on benefits.

Turner said the results showed the public's lack of confidence in communicating with government using the Web, despite high-profile e-government targets.

Education fared better, especially among 18 to 24-year-olds and the 35 to 54 age group. Turner suggested that the younger group was probably made up of students using the Internet for their studies. Among the 35 to 54 age group, parents could be using the Net to help their children's education.

Of those people with Internet access, shopping was a popular online activity. Out of the 579 people who said they had Net access, 34% used the Web for online shopping and 23% of respondents made travel booking online.

Turner noted that the highest proportion of online shoppers was among 25 to 34-year-olds. "These people are making the the most use of the Net," she said.

Turner found the overall picture depressing. She said the survey illustrated a great fear of technology in the UK. "It is an uphill struggle for the Government and business as they need to inform the public," she said.

There is certainly a lack of awareness of fast Internet access - many consumers are not running the latest, state-of-the-art PCs at home. Web site designers also need to be wary of any software that needs to be downloaded or run locally on a home user's PC - such as client-side Java applets, Macromedia Flash and other plug-ins.

While shopping and booking travel online is relatively popular, other services, particularly online government information services and billing, are hardly being used. Consumers clearly have a long way to go before the Internet becomes integrated into their daily lives. Organisations planning to launch or extend Web business need to take this into account.