Case Study: Laptops by Acer and On-Line Computers
A new study shows that providing children with easy access to laptop computers can greatly enhance their educational experience
This Article Covers
RELATED TOPICS
A new study shows that providing children with easy access to laptop computers can greatly enhance their educational experience
Headcorn Primary School near Maidstone, Kent, was one of 28 schools selected by Microsoft to pilot the Anytime Anywhere Learning (AAL) initiative within the UK. The aim of the initiative was to equip pupils and staff with laptop computers to reflect the vision of a "connected learning community".

Download this free guide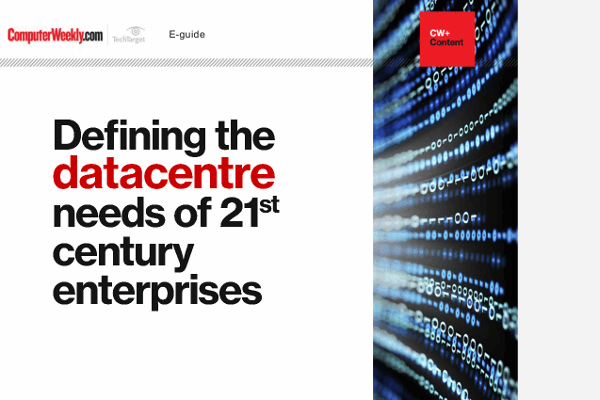 Defining the datacentre needs of 21st century enterprises
A collection of our most popular articles on datacentre management, including: Cloud vs. Colocation: Why both make sense for the enterprise right now; AWS at 10: How the cloud giant shook up enterprise IT and Life on the edge: The benefits of using micro datacenters
By submitting your personal information, you agree that TechTarget and its partners may contact you regarding relevant content, products and special offers.
You also agree that your personal information may be transferred and processed in the United States, and that you have read and agree to the Terms of Use and the Privacy Policy.

"Both the headmaster and I had been investigating the possibility of using laptops within the school for some time," comments James Green, the ICT leader at Headcorn. "Static, desktop computers are difficult to incorporate into classwork and only go so far anyway. We could see that portable computing was able to offer so much more. The challenge was always going to be putting such a programme in place and managing it on top of the heavy workloads that we were already dealing with. The launch of AAL in Brighton was something of a revelation." "When we attended the AAL conference in February last year, we were very impressed with the results of the Australian programme, which had been running for sometime already. There appeared to be clear, solid evidence to support the hypothesis that the use of laptop computers could have significant educational value for our pupils," continues John Rivers. "Another encouraging aspect of the initiative was that there would be other, similar minded schools involved with whom we could share experiences and ideas. I felt very strongly that to be involved in this project was the right thing to do. Based on what we had learnt from Brighton, James and I immediately began to plan how we would use portable computing at Headcorn." Ahead of the launch to UK Schools, a selection process was undertaken by Microsoft to find the three most suitable laptop partners who would supply the equipment to the schools. The decision was made based on a number of criteria including value for money, proven commitment to education, equipment quality and the ability to provide a high level of support to the schools. Each participating school was asked to select the partner that would offer the best package for them. Headcorn School chose to partner with Acer and On-Line Computers. The next stage was to involve the school's staff, governors and parents. The school could not possibly fund the full purchase of the computers, and support from the parents was needed. "We organised an information evening for families from the school. In addition to the Australian evidence, we wanted to show the parents something really tangible, so a week before the event we borrowed a laptop and a multimedia projector from Acer." Remembers James Green: "Throughout the week we gave as many of the children access to the computer as we could and asked them to make some slide shows using Microsoft Powerpoint which we would show at the information evening. The results were really great. More than 120 parents came along and we generated a lot of interest." Initially, thirteen laptops were purchased by parents of the target Year 4 class. These Year 4 pupils were from a broad social spectrum and, because they were of mixed ability, provided an interesting study. Some of the teachers had laptops as well. "What's good is that you can see, in just 6 months, what a difference the laptop has made to all the children," adds James Green. Headmaster John Rivers agrees with this opinion. "The response from the pupils has been quite remarkable, even overwhelming at times. They all readily accepted their new tools and quickly became accustomed to sharing new skills with each other, even teaching us a few tricks as well! Parents rapidly became convinced that they had 'done the right thing' and were impressed with the rise in their child's confidence and ability. They know that computer and communication skills are the future. "As the families actually own the laptops, the children are not the only ones to benefit. Other children, older and younger, in the family have been able to make use of the computer, often in 'downtime' at school, but so have the parents themselves. Evening classes are run in school for parents, including those without laptops of their own. "It is important is that young children are able to use the computer as a tool. They need to be given the freedom to explore and express themselves in such a way that they can reach their potential without hindrance. The pupils experiment and explore without the preconceived 'hang-ups' that we adults imagine, and so manage to achieve so much. It has been a privilege to be a part of a project that has 'enabled' children in such a way." The school's main priority is to understand what benefits the computers are bringing in terms of the quality of education. "As we were unable to equip everybody with a laptop, we were monitoring by outcome. We can make valued judgements as to if the quality of teaching has improved but, at the end of the day, it is what the pupils can achieve 'before and after' that interests us most at this stage. That's what we're focusing upon, " says James Green. "On-Line and Acer have been helping us to make sure that technical issues are minimised. We've removed as many problems as we can from the users, which means the computers are there just as a tool. With about two months of the initial evaluation phase left, we are pretty confident that our faith will be rewarded and that we will want to go forward into phase two. Of course, how we manage this is something we will have to give careful thought to." In addition to the schools own studies, a team from Lancaster University has been commissioned to work as independent evaluators of the project. Compiled by Ajith Ram
Read more on Mobile hardware