At the Margins, episode 111
When we left At the Margins last week, the ghost of Jeff Cantatos was planning to recruit Grant Hacker-Pryke to help get revenge...
This Article Covers
RELATED TOPICS

Download this free guide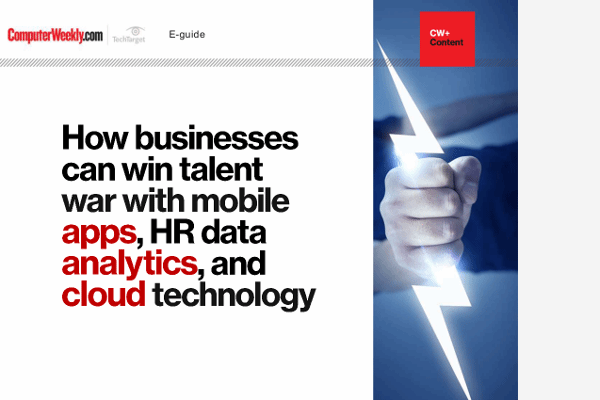 How businesses can win talent war with mobile apps, HR data analytics and cloud technology
Latest articles on HR best practices: mobile apps disrupting the annual staff appraisals; reasons for and against open-source software; and Rolls-Royce case study.
By submitting your email address, you agree to receive emails regarding relevant topic offers from TechTarget and its partners. You can withdraw your consent at any time. Contact TechTarget at 275 Grove Street, Newton, MA.
You also agree that your personal information may be transferred and processed in the United States, and that you have read and agree to the Terms of Use and the Privacy Policy.

When we left At the Margins last week, the ghost of Jeff Cantatos was planning to recruit Grant Hacker-Pryke to help get revenge on its murderer. Meanwhile, ex-programmer Jeffrey Watson was heading towards Monstrous Software second-in-command Steve Pushy, intending to perpetrate grievous bodily harm on him with a sharpened letter opener in his pocket. Now read on



The Monstrous Software letter opener sparkled in his hand, sharp and deadly, glistening in the rain. He looked at it admiringly as he moved relentlessly towards Pushy, who stood, exposed and vulnerable, on a pavement outside a hotel in London as the rain fell.

One bodyguard was in the hotel and the other was looking towards Harry Bleeker-Hoare as the sales director of Callard Computers, Sloe-in-the-Wold's leading IT reseller, struggled to his feet. Now was his chance, Jeffrey Watson thought, as he closed the gap.

Ten feet - finally it was going to happen after all the months of stalking.
Eight feet - finally, Pushy was at his mercy.
Six feet - finally, Jeffrey Watson would be able to still the demons roaring in his heart.
Four feet - finally, he could end the stalking and begin to live again.
Two feet - finally, finally.
Pushy was staring at him, seemingly frozen, transfixed as Watson bore down on him, something metallic glinting in his hand.

He watched, dumbfounded, as the stranger lifted the metal object in front of his face.

"At last, at last," Watson thought, as he prepared to thrust the letter opener into Pushy.

Detecting the Monstrous Software logo, Pushy suddenly found his voice.

"Hey," he shouted. The sound of his voice startled Watson, caused him to pause in the motion of thrusting the letter opener.

"Hey," Pushy bellowed again, "isn't that one of our original Blinds version 1 letter openers?"

It was Watson's turn to be dumbfounded.

"Man, I've been looking for one of those suckers to complete our Monstrous Software museum collection," Pushy said. "May I?"

Before Watson could do anything, Pushy had taken the letter opener and was studying it admiringly.

"It's as good as I remember it," Pushy said, reverentially. "It's fantastic. How much do you want for it?"

Watson still couldn't speak.

"I'll give you ten grand for it," Pushy told him.

Watson said nothing.

"Okay," Pushy said. "I can see you're no fool. You obviously know the value of this baby. Tell you what, I'll give you fifty grand, two thousand shares in Monstrous Software and a job. How does that sound?"

"What kind of job?" Watson heard himself asking.

"I don't know, what can you do?"

"I'm a programmer," Watson replied.

"Okay, you can have a job programming. Alright?"

Watson nodded his head.

Pushy ran his finger along the blade of the letter opener.

"Ouch," he said, as it opened a little cut along his finger. "These babies are sharper than I remember."

Santa Claus is invited to town
The chairman of the Sloe-in-the-Wold chamber of commerce looked at the men seated around the table and reflected that it would not be an understatement to say they represented the most powerful men in Sloe-in-the-Wold. If a bomb were to explode in this room right now, he thought to himself, the heart of Sloe-in-the-Wold's business engine would be destroyed.

"Well gentlemen," he said gravely, "are we all agreed?"

Every head around the table nodded assent.

"I can't see any other way out of it," intoned Mike Markens, who owned a chain of dry cleaners and launderettes in the town. "It's the only course of action open to us to try and get out of this damned downturn."

Next to him, Jim Sawbones, the wily old shopkeeper who had built a huge empire over the past few years, sighed. Despite his scepticism, Sawbones had reluctantly acquiesced to the decision by the chamber of commerce.

"What do we do next?" he asked.

"I suggest we write a letter," replied John Tolworth, chairman of the chamber of commerce and manager of the local branch of Greedy Bank.

"Do we have an address?" asked one of the men at the table.

"I don't suppose it's changed in the past 40 years or so," Tolworth answered.

He turned to Markens, who was secretary of the chamber of commerce. "Do you mind taking this down, Mike?"

Markens shook his head.

"Okay," Tolworth said. "Here goes." And he began to dictate.

Dear Santa, Hope you are well. I am writing in my capacity as chairman of the Sloe-in-the-Wold chamber of commerce to ask if you would consider using our award-winning shopping centre as your preferred supplier for Christmas presents.

In addition to a wealth of choice, we offer special volume discounts, a reward scheme, a privileged shopper club and home delivery (subject to charges over 15 miles).

I feel so confident that we will be able to satisfy all your shopping needs that I am also enclosing a special discount voucher book, only available to selected customers, for use in the shopping centre.

We look forward to seeing you. Merry Christmas, etc, etc.

Will the chamber of commerce plan succeed?
Will Santa Claus come to town? What will Jeffrey Watson do at Monstrous Software? Will Grant Hacker-Pryke help the ghost of Jeff Cantatos to get its revenge? Find out in At the Margins next year. Until then, Merry Christmas
Read more on Business applications