Tips for getting female speakers at tech events
One of the most common issues for women in technology is the feeling of turning up to a networking event or conference and seeing a sea of white, male faces. It can be intimidating, and it means that the viewpoint of only one social group is represented in any discussions held. This is despite the fact that the products these people produce, and the services they provide via technology, will be aimed at and used by people from every possible class, background, gender and colour. Technology's consumers are made up of a wide range of people, and its producers and decision makers should be too.
The organisers of the Tomorrow's Web conference have recently been singled out over this issue. The conference was aimed at under-21s and showcased some of the innovative work the UK's teens are doing with technology, but the speaker page was almost exclusively male. It's not really their fault – finding younger women to speak proved difficult, and they were commendably open-minded when it came to addressing the problem and doing their bit. It's an attitude that a lot of older men would do well to learn from.
I was disappointed not to be able to make the conference, but I hear it was great so I'm assuming they're planning to hold another next year. With that in mind, and because I just love to be helpful, I've plundered a blog post from someone who's eminently more qualified than me to advise on how to get more women speaking at your conference. Allyson Kapin runs the Women Who Tech website, and wrote this piece on why there are so few women speaking at tech and social media events. She gives some pointers at the end of her post.
Her advice includes:
-Contact groups that might be able to help. In the UK that might involve e-skills, which probably has a spectacular list of contacts – both with girls who are into technology and with high flying tech women. The BCS Women's Forum would have great contacts, as will Intellect, the IT trade association.
-Think about the issue right from the start. Is your organising committee diverse, or at least agreed on the notion that diversity is important? Kapin suggests having a committee member or two devoted solely to recruiting a wide range of people.
-Take on a 50/50 keynote challenge
-It's possible that you'll approach people who aren't keen to speak – make sure you get the message across that this is an important issue that needs tackling, and that it won't change until the few girls and women who are involved in technology are keen to stand up and speak about it. Kaplin suggests "editing panel acceptance notices to include a section on the importance of having panels filled with diverse panellists".
-Follow more women in technology and social media on Twitter.
-Read ten more tips from Kirrily Roberts on her Geek Feminism blog

Download this free guide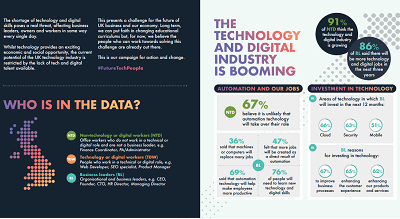 Infographic: Future-proofing UK technology
The current potential of the UK technology industry is restricted by the lack of tech and digital talent available. Read through this challenge for the future of UK business and our economy.
By submitting your personal information, you agree that TechTarget and its partners may contact you regarding relevant content, products and special offers.
You also agree that your personal information may be transferred and processed in the United States, and that you have read and agree to the Terms of Use and the Privacy Policy.
Let us know if you have any other tips, or know of any other articles that provide good advice.