This is a guest blog from Hannah Wright,head of security at Cisco Systems, and App Challenge Dragon @CiscoNetAcad
Last month I had the honour to be a judge of our Dragon's Den themed challenge for local year 8 (aged 12-13) school girls at our south-west London HQ in Feltham.

Download this free guide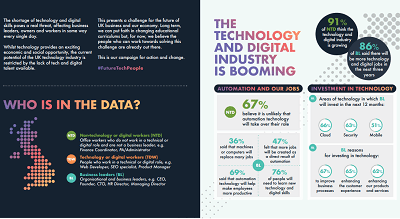 Infographic: Future-proofing UK technology
The current potential of the UK technology industry is restricted by the lack of tech and digital talent available. Read through this challenge for the future of UK business and our economy.
By submitting your personal information, you agree that TechTarget and its partners may contact you regarding relevant content, products and special offers.
You also agree that your personal information may be transferred and processed in the United States, and that you have read and agree to the Terms of Use and the Privacy Policy.
The event was part of Cisco's international Girls in IT Day, held simultaneously at a number of our offices around the world – including Lebanon, Kenya, the Netherlands and Portugal. The day was hosted and run by myself and fellow Cisco employees, from all levels, inside work hours, with the aim of helping encourage more girls to consider a career in IT.
After a talk from senior Cisco spokespeople and an interactive tour of Cisco's office, including a sneak peak at some futuristic technology, the school girls were asked a specific question to challenge their tech and entrepreneurial minds – 'what would you connect to the internet and why?'
Inspired by a day learning about Cisco's take on the 'Internet of Everything', a hyper-connected world of devices in an internet-like structure, the students were split in to five teams. Each group was given 20 minutes to plan, and five minutes to present their ideas to a panel of Dragons – including how much money they needed, and for what percentage of the business!
Considering the short time frame and the openness of the question, the quality of the ideas produced was remarkable. App ideas included:
· The E-mirror – an internet-connected mirror – which allows you to virtually try on clothes before buying, or a new hair style before visiting the barbers
· The MotoChair 3000 – which allows doctors and teachers to send information (and control the whereabouts!) of patients or pupils
· Track-e – a mouldable, internet connected house or car key that allows you to track its whereabouts at all time and change its shape should it be stolen or lost
After an intense pitch-off, the five-strong dragon panel consisting of myself, fellow Cisco executives and a representative from Dell, took a break to discuss the ideas – knowing they could only invest in one. The winning idea, a unanimous decision by the Dragons, was:
Neck-ring -an internet-connected necklace that plays music through your body, making headphones redundant, saving you from the hassle of carrying them around or regularly replacing them. The e-jewellery can also be connected and controlled using your mobile phone. The judges were particularly impressed by the team's marketing plan – including celebrity partners and a limited edition diamond version!
The level of ingenuity and creativity was so impressive. The girls across all the teams really brought the business and technology sides of the challenge together – showing an understanding of not just how the technology might work, but also how they could take it to market.
Most importantly, a great time was had by all throughout the day and clear progress was made. Most of the school girls started the day by declaring they'd never considered technology as a future career. However, many finished it saying they'd now be interested in furthering their IT education, either at school, university or via tech training initiatives. Interested students were given access to further information via Facebook and other relevant opportunities, such as the Cisco Networking Academy which they learnt about during the course of the day.
The success of Girls in IT Day shows that by opening their doors and investing the time to educate, tech companies have the power to inspire the next generation by displaying the industry's exciting and ever-expanding opportunities.