The social media revolutions... Tunisia, now Egypt?
In 'Common Sense' his (anonymously published) pamphlet on the creation of government and society, Thomas Paine described how a ramshackle group of people might form a government:

Download this free guide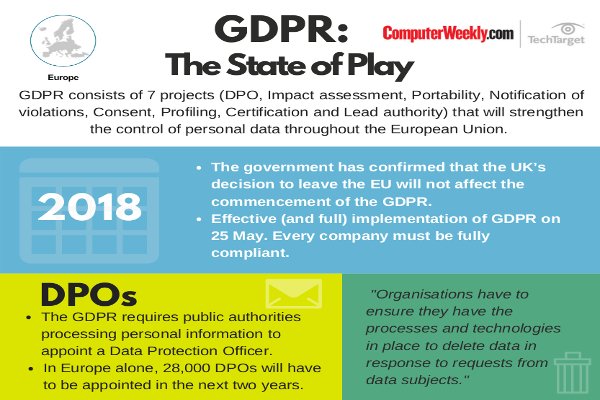 Infographic: GDPR - The State of Play
Get the latest information on how GDPR is going to affect your business and how to avoid any unwanted fines with this simple infographic.
By submitting your personal information, you agree that TechTarget and its partners may contact you regarding relevant content, products and special offers.
You also agree that your personal information may be transferred and processed in the United States, and that you have read and agree to the Terms of Use and the Privacy Policy.
"Some convenient tree will afford them a State-House, under the branches of which, the whole colony may assemble to deliberate on public matters. It is more than probable that their first laws will have the title only of Regulations, and be enforced by no other penalty than public disesteem. In this first parliament every man, by natural right will have a seat."
Paine published this in 1776, in the midst of the American revolution. It aimed to remind the American people of the kind of government they should be creating – representative and democratic – with every voice heard. An organisation that remembers it is representative of the people, and not that the people are subjagated by it.
Governments today are often not like this. Politicians are power-hungry and fly around the world in private jets, enjoy limousines to ferry them from one meeting to the next, and far from representing the people of their country, they often become an untouchable elite answerable only to themselves.
Not every politician is like this. It still pleases me to see political representatives in 'normal' situations, such as on the bus or underground. I met (until recently shadow chancellor)
Alan Johnson
on the tube once and he explained to me that it is the best way to get around London. This is the kind of pragmatic 'normal' behaviour that keeps elected officials closer to the people they are supposed to represent.
But away from England and America, there are far more despotic regimes where leaders suck wealth from their people and enjoy a life most can only dream of. Often the people on the streets don't even get a real chance to elect or choose those leaders, and if they do get an election, it's rigged anyway.
Revolution has been the historic answer, sweeping away a corrupt regime and introducing a fairer society. However revolution is hard to control and even harder to create – it doesn't just happen because people are fed up.
But look at what is now happening in north Africa. The people of Tunisia rose up and removed their corrupt government.
It's overstating the power of the Internet to suggest that this was a social media revolution, but the fact is that 1 in 5 Tunisians is on Facebook – and this was a major contributory factor in spreading the news of the initial suicide that sparked the protests.
The Tunisian leaders failed to block the Internet in time.
Egypt has seen protests all week now and the protestors have used the Internet (
#j25
) to promote the idea of a mass protest by the entire nation today after prayers. The police chiefs have already warned the government that if the protesting crowds swell to anything greater than 70,000 people then the police will be overwhelmed and can offer the government no protection.
Naturally, the government has banned access to the Internet.
Whatever happens today in Egypt, revolution or not, it will be reported on and spread throughout the world. A light will spark in the mind of every person dissatisfied with the way their leaders fail to represent the people – especially those leaders who sit in power for decades, only to hand the riches of office to their own children. Since when could a government leader believe that they own the right to hand power to their child?
It's surprising just how many leaders still behave this way.
Not for much longer.
Julian Assange
may have been vilified by the USA for his Wikileaks website, but what he showed the world is that any government – even one that proclaims to be democratic – needs to answer to the people who elected them.
And the Internet is now handing power, and freedom, back to the people.
This blog was originally published on my personal blog. Once I published there, I thought it would be suitable for cross-posting given the social media comment and relevance of the story – apologies if you had already seen it on my other blog.