Major public sector IT project said to be going well
The much-needed Tell Us Once IT project is said to be progressing well, though it's early days.
The project is being led by the Department for Work and Pensions, and is important because, if it continues to work well, the next of kin after a bereavement won't need to give the deceased's name and address countless times when informing government departments and agencies of the death.

Download this free guide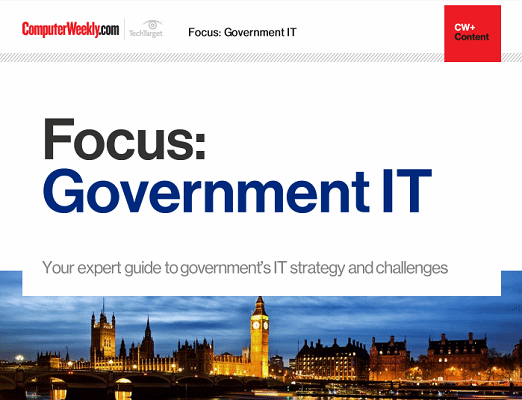 Government IT in post-Brexit Britain
Get an expert look at the government's ideas for a prosperous post-Brexit Britain as well as its ambitious 5G strategy. Features an interview with Sarah Wilkinson, chief data, digital and technology officer at the Home Office.
By submitting your personal information, you agree that TechTarget and its partners may contact you regarding relevant content, products and special offers.
You also agree that your personal information may be transferred and processed in the United States, and that you have read and agree to the Terms of Use and the Privacy Policy.
Tell Us Once would also make it easier to inform government of a birth, or a major change of circumstances. The idea is that you tell one department, and the information gets passed to all departments and agencies that need to know.
"That sounds an utterly obvious thing to do – and it is – but making it a reality is very challenging," says Sir Leigh Lewis, Permanent Secretary at the DWP.



The main participants are
– HM Revenue & Customs
– Local authorities
– Cabinet Office
– HM Treasury
– Driver and Vehicle Licensing Agency
– Dept for Transport
– Identity and Passport Service
– Communities and Local Government
– Improvement and Development Agency
– Local Government Association
– Information Commissioner's Office (ICO
The project is progressing well, according to Government Computing Weekly [needs registration].
Lyn McDonald, programme director for Tell Us Once, told Kable's Managing Public Sector Information conference on 1 March that in its first fewmonths the service has had a 100% success rate. About 16,500 people contactedthe 14 participating local authorities to inform them of a birth ordeath for the notification of relevant services, and none had to repeatthe task.
But GC Weekly says there is no room for complacency.
"Sofar it has been used by a small number of people and authorities, andonly for a limited number of services. The process is going to become alot more complex as it is taken up by more councils and, as is planned,it is used to notify changes of address.
"It's notable that theprogramme is being rolled out incrementally rather than as a big bang,and it's significant that McDonald said there is no timeframe foruniversal take-up. If her team pulls this off they could provide avaluable lesson in how to make a big project work."
Links:
Tell Us Once chief proclaims 100% success – Kable
Tell Us Once case studies – Govt website
Tell Us Once is only a workround – News from a nerd