MPs get in a funk over open source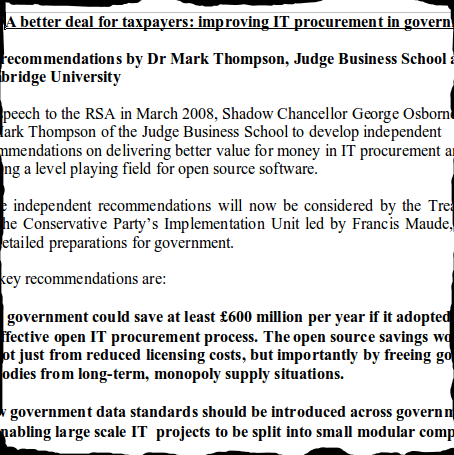 The Conservative's open source technology strategy may have reached its culmination at a low water mark with the coalition government's renegotiated contract with Computer Sciences Corporation.

Download this free guide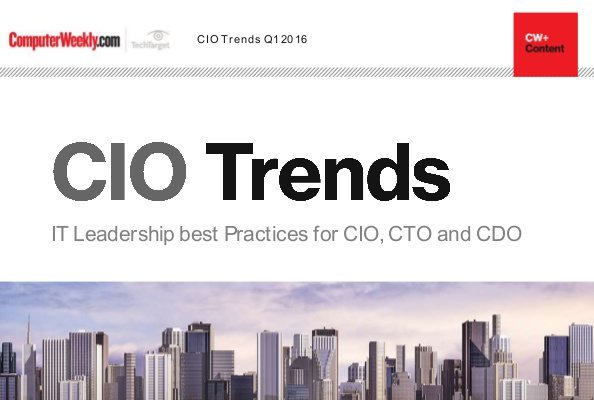 Your exclusive guide to CIO trends
A collection of our most popular articles for IT leaders from the first few months of 2016, including: - Corporate giants recruit digitally-minded outsiders to drive transformation - Analytics platforms to drive strategy in 2016 - Next generation: The changing role of IT leaders.
By submitting your email address, you agree to receive emails regarding relevant topic offers from TechTarget and its partners. You can withdraw your consent at any time. Contact TechTarget at 275 Grove Street, Newton, MA.
You also agree that your personal information may be transferred and processed in the United States, and that you have read and agree to the Terms of Use and the Privacy Policy.

Cabinet Office minister Francis Maude and chancellor George Osborne presented open source software as the antidote to the Labour government's "catastrophic" NHS National Programme for IT – and a recipe for cheaper and less botched government computing all round – when they launched their technology strategy in 2009.
Now four years on, what they have done instead is reconfirm £2bn the £2.9bn contract CSC originally signed under Labour, and dropped that bit of it that would have given them the means to open source the goods.
But the original Conservative tech policy was floated on a stream of opportunistic press leaks and anchored with a fishy tie-in with the then Conservative Parliamentary Public Accounts Committee chair Edward Leigh.
The coalition government's lack of progress since raises questions about whether it is prepared to put its weight behind the policy.
Spin
A party insider told Computer Weekly the NHS element of Conservative open source policy was spun to latch on to then current news about NPfIT – the National Programme, Labour's NHSIT disaster.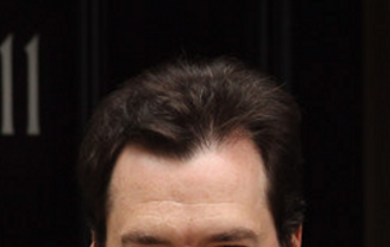 Osborne floated his open source policy on 27 January 2009, the same day the Public Accounts Committee published a report warning NPfIT wouldn't be delivered till 2015, four years late and at a cost of £12.7bn, because of BT and CSC in particular.
The weekend before the Public Accounts Committee released its report, Osborne's team did a last minute edit of his unpublished 2007 open source policy backgrounder.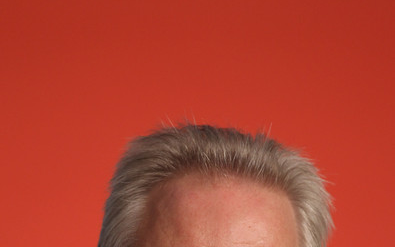 The day the committee report came out, Osborne leaked his backgrounder to the tech press.
It had in fact been gathering dust in Osborne's draw for nearly two years. It was now unofficial Conservative policy: open source software would cut IT costs and "free government bodies from long-term, monopoly supply situations" such as its NPfIT contracts with BT and CSC.
A week later, The Times newspaper and Computer Weekly scooped the nethermost reserves of poop from the bottom of the Conservative policy headquarters' mudslinging barrel and slung them right in the then Labour government's bullseye.
It was a big bullseye. IT bodges had been par for the course since Labour took office in 1997.
The Times' had done an exclusive investigation of government IT bodges. But it was old news. The paper had dug right down into the archives, dragged up a clutch of rotten old IT bodges and slapped them up as an exclusive investigation.
Outrage
Leigh was so gullibly outraged he told The Times: "As a result of The Times' investigation I am going to immediately ask the Comptroller and Auditor-General [the head of the NAO] to investigate the whole matter of government IT spending and in particular the contracts highlighted in the paper."
The old dog must have had a short memory, because he forgot to mention he had already handled most of these IT bodges as chair of the Public Accounts Committee. And that's how The Times and Computer Weekly new about them in the first place.
The Times' investigation, published on 2 February, involved simply taking a bunch of old stories about IT budget over-runs and adding up the numbers. It said the total cost of Labour IT budget over-runs was over £18bn.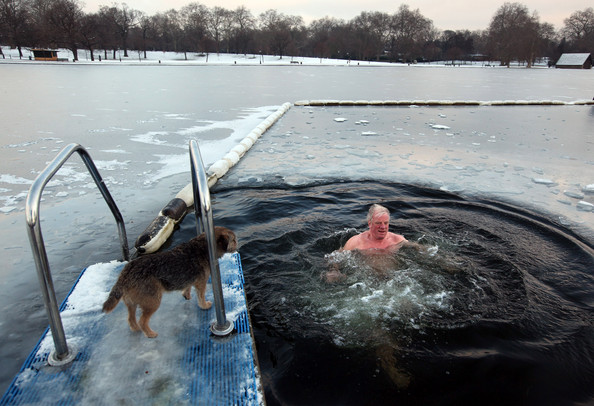 But £10bn of that came from the NPfIT cost over-run the NAO recorded in a report it had submitted to Leigh's committee three years before, in 2006. The NAO reviewed the situation again in May 2008 and stuck it in another report to Leigh's committee. After conducting its usual hearings into the 2008 NAO report, the committee then produced its usual report about the NAO report. That's the report the committee had published on 27 January – one that Leigh had been talking about in all the papers.
Now a week later, he was calling for the NAO to produce a report about The Times' report about his committee's report about the NAO report about NPfIT, as though it was the first he had heard of it. It was an outrage. It really was.
More outrage
Most of the rest of The Times' £18bn budget over-runs had come from HMRC's Aspire contract with Capgemini. The NAO had reported on this one in 2007. So had Leigh's Committee. So had the press.
Leigh had said in a 2007 committee press statement "the forecast figure is some £8.5 billion…compared with the original estimate of nearly £3 billion". Now two years on, The Times had reported it again. Leigh was outraged.
And most of the rest of The Times' £18bn came from the publication just 18 days before of Leigh's own committee report into the Ministry of Defence's Defence Information Infrastructure. That was about £5bn over-budget – a terrible state of affairs, really. But The Times' had learned about it from Leigh's committee, and they had both got it from the NAO about six months before. Now The Times was regurgitating it again, and Leigh was outraged like it was the first he'd heard of it.
Most of the rest of the £18bn came from Leigh's Committee's 2003 report into the Courts Service Libra project. Libra's cost had more than doubled to £400m, said Leigh in 2003, drawing from NAO numbers given him earlier. The cost had more than doubled to £500m, said The Times in January 2009, drawing from Leigh's earlier work. Leigh was outraged.
The rest of The Times' investigation regurgitated old news about three cancellations: a DWP benefits processing system from 2006, and police and passport websites from 2007. Ah and there was the National Offender Management Information System – then still work-in-progress for the NAO. Leigh was outraged.
Investigation
Leigh was so forgetful that no sooner had he called for an NAO investigation of The Times' investigation of the committee report on the NAO report than the whole idea of an NAO investigation was forgotten, like it had never even been officially proposed at all.
It hadn't. The NAO recorded no official request from Leigh for such an investigation. The NAO in fact never conducts general studies. So it says. So Leigh's committee would have been surprised if the NAO had done a general report into government IT bodges, because it has for the last 30 years worked to a Standing Order by which it examines about 40 of those non-general NAO reports every year.
This was all nevertheless important enough for Osbor ne to pitch in with a commentary in The Times on 3 February.
Osborne said: "Yesterday's report in The Times that government…IT is running nearly £19 billion over budget was genuinely shocking".
It seemed nobody had read any of Leigh's old committee reports. Or they were so far back on his shelf that everyone else had forgotten about them as well.
But at least Osborne had an answer to this old problem that he had known nothing of till The Times regurgitated it.
The solution, he said, was to stop handing out big IT contracts to the same old big suppliers and break them up into manageable chunks using open source software and open standards. Maude, then head of the Conservative Party's Implementation Unit, was to lead the work.
Now nearly four years on, the coalition government has still to reach a significant milestone on either its open source or open standards policies.
The big departments of state have continued to sign large contracts with the same old large suppliers. The same old large suppliers have opposed the coalition's open source and open standards policies, just as they oppose the contract transparency the coalition government promised as well.
The Tory top team may have been so desperate to put nails in Labour's coffin in 2009 that it would have said anything to get the vote – even that it would use open source software. The two parties were clambering over one another to make the most convincing noises about IT bodges. Labour's own open source policy had been gathering dust for years.