Documentary on IBM £400m deal - a summary
ITV West's "West Eye View" has issued a summary of its film "Public Money, Private Gain" which is due to be broadcast this evening at 7.30. The film is the result of several months of work by a small team, led by two indefatigable individuals James Garrett and Fiona Scott.

Download this free guide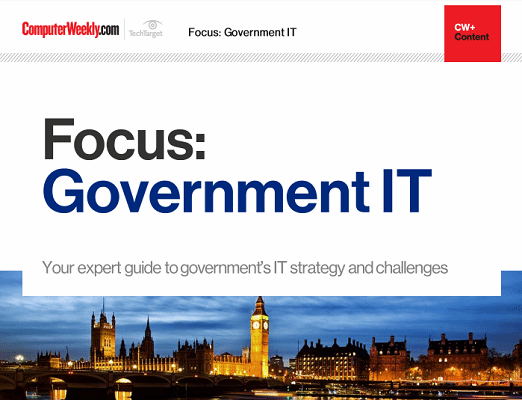 Government IT in post-Brexit Britain
Get an expert look at the government's ideas for a prosperous post-Brexit Britain as well as its ambitious 5G strategy. Features an interview with Sarah Wilkinson, chief data, digital and technology officer at the Home Office.
By submitting your personal information, you agree that TechTarget and its partners may contact you regarding relevant content, products and special offers.
You also agree that your personal information may be transferred and processed in the United States, and that you have read and agree to the Terms of Use and the Privacy Policy.
West Eye View is the story of a £400m, 10-year public/private partnership involving IBM, two local councils and a police force.
This is ITV West's summary:
South West One is an outfit born in secrecy and reliant on secrecy," claimed Ian Liddell-Grainger, the MP for Bridgwater in a speech in Parliament.

South West One came into being in September last year after six months of negotiations between Somerset County Council, Taunton Deane Borough Council, Avon & Somerset Police and IBM.

Its aim is to provide all the back offices services for the three public bodies – like human resources, reception services and information technology – cheaper and more efficiently.

South West One has taken over the jobs of 1,400 staff on the same terms and conditions and has promised tens of millions of pounds in savings over the next decade.

Many critics have found it hard to make a judgment on whether or not the deal is a good one for the council taxpayers of Somerset. The fine detail of the business plan and contract were kept secret – even from the local government union Unison.

The three public partners say South West One was one of the most scrutinised projects ever. But last month the county council's own leader of the Opposition raised his concerns.

…"the negotiations have been shrouded in secrecy with all the details hidden from most of us councillors," Cllr Ken Maddock told a meeting of the full council.

West Eye View had to force the hands of the both councils to see the contract detail by using open government law – the Audit Commission Act. Even having gained access, IBM made a last-minute request that some information was still kept from us. Somerset County Council has sought legal advice over this request. West Eye View will go to court if access continues to be denied.

Despite this secrecy, Somerset County and Taunton Deane councils insist they struck the best deal possible for their future financial security. Avon & Somerset Police agree. All three partners believed they had little option but to embrace the concept of South West One.

"Part of the problems that we've had as a council..is that we were forever salami-slicing, you know – let's nip a bit off here in order to pay a bit more there, let's slice a bit more off that service in order to be able to boost that service a little bit – and you can't go on like that," said Cllr Jill Shortland (Lib Dem), Somerset County Council leader.

Alan Jones, chief executive of Somerset County Council said:

"We have a ten-year plan here in Somerset based upon what we know will happen if this contract succeeds. The contract of course will succeed we will make it succeed."

West Eye View has interviewed numerous critics who are unhappy with the deal. One is Professor Dexter Whitfield, who was employed by local government union Unison to look at the venture. He believes South West One will lead to job losses and may not deliver.

He said:

"They talk about the social transformation of Taunton, Somerset and the South West, we've seen nothing, no evidence whatsoever that that will happen."

West Eye View has also learned that the months leading up to the signing of the deal were not plain sailing, particularly for Somerset County Council – when the project was named ISIS, Improving Services In Somerset.

Questions were raised over the fact that the person brought in to run the project, Susan Barnes, was the wife of the chief constable of Avon & Somerset Police, Colin Port. Although there is no suggestion of any conflict of interest in her appointment, it has been criticised.

Ms Barnes was employed as a consultant – brought in under the council's emergency procedures – for the 20 months until the deal was signed in September 2007. During that contracted period she earned more than £208,000.

The programme also asks what has happened to the former deputy leader of the council, Paul Buchanan, who was a senior councillor involved in the ISIS project and now finds himself the subject of a Standards Board inquiry into his conduct as a councillor…complaints have been made about him by the chief executive of Somerset County Council Alan Jones… a judgment on some of the complaints made about him [has been] released. It said there was no evidence of any failure to comply with the Code of Conduct.

Cllr Buchanan has found support from an unexpected quarter.

Ian Liddell-Grainger said: "I have a lot of sympathy for Paul Buchanan. We've crossed swords as you can well imagine when he was deputy leader… I will say this: I'm on the [House of Commons] Public Administration Select Committee and we are going to look at this …why is a chief executive taking a deputy leader of a council to the Standards Board?"

South West One was created in September last year. It is unique in that it is the first public/private venture to involve local authorities and a police force. It also has a framework agreement which 33 other public organisations have signed. This means that they can, if they wish, join and hand over their back room services as well. In fact the success of the venture might just depend on it.

All three public partners stand by their decision to create this joint venture company even though they know it's a risky business. Interested parties – including ITV West – will be talking to the three parties again this time next year to see if IBM has started to deliver on its promises to the 1.5 million people served by them."

Links:

Southwest One – promotional video

Southwest One – James Barlow (local blogger)

Southwest One – lessons

Southwest One – Computer Weekly article

IBM seeks to stop council divulging £400m contract details – IT Projects blog