SAP buys into blockchain, joins Hyperledger Project
The Hyperledger Project is an open source consortium focused on development issues for blockchain, the distributed database of 'permanent' time-stamped records. Led by the Linux Foundation, Hyperledger has now welcomed enterprise software company SAP into its membership ranks.

Download this free guide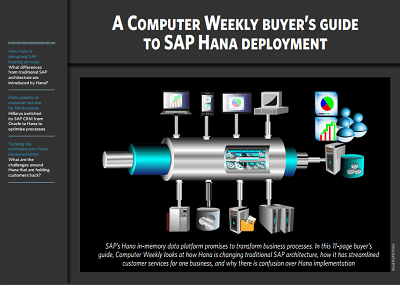 Computer Weekly's Buyer's Guide to SAP HANA Deployment
SAP's Hana in-memory data platform promises to transform business processes. Computer Weekly looks at how Hana is changing traditional SAP architecture, how it has streamlined customer services for one business, and why there is confusion over Hana implementation.
By submitting your personal information, you agree that TechTarget and its partners may contact you regarding relevant content, products and special offers.
You also agree that your personal information may be transferred and processed in the United States, and that you have read and agree to the Terms of Use and the Privacy Policy.
SAP says it intends to implement blockchain solutions in both 'existing and new' business scenarios for enterprises across its portfolio.
Diversity of members
Executive Director of Hyperledger Brian Behlendorf has said that the diversity of the project's members members is its real strength. "We look to advance open blockchain technology POCs, pilots and production deployments across many industries this year," he said.
SAP will implement blockchain across its portfolio including the SAP Ariba network to enable use cases like provenance scenarios, digital object representations or collaborative transaction execution.
"We believe blockchain is a transformative technology for enterprise businesses. We are committed to advancing its adoption via the creation of new standards, use cases, platforms and open applications," said Juergen Mueller, CIO SAP. "In joining Hyperledger, we plan to share our expertise and knowledge to help bring open distributed ledger technology to all businesses."
Hyperledger aims to create common distributed ledger technology that enables organisations to build and run industry-specific applications, platforms and hardware systems to support individual business transactions.
The project has grown to more than 122 members since its inception, spanning various industries including finance, healthcare, the Internet of Things, credit card services and aeronautics.