UK businesses have booted out hundreds of IT staff and offshored hundreds in last two year
According to the survey of IT professionals I have been blogging about for the last week, the reality of offshoring's impact on the UK IT profession is clear.

Download this free guide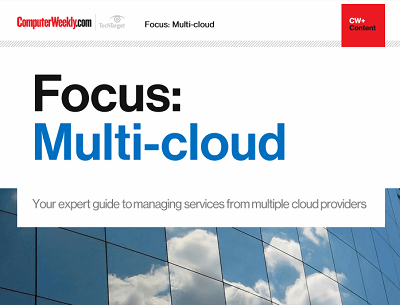 The maturity of the enterprise public cloud
Many IT leaders are increasingly coming round to the idea that sourcing services from one or more providers might be the best way to go. Join us as Computer Weekly takes a closer look at the multi-cloud approach and what providers are doing to capitalise on the trend.
By submitting your personal information, you agree that TechTarget and its partners may contact you regarding relevant content, products and special offers.
You also agree that your personal information may be transferred and processed in the United States, and that you have read and agree to the Terms of Use and the Privacy Policy.
The survey put together by reader, Matt, has revealed a great deal.
On Monday I blogged the results that showed that less than 20% of offshore IT workers in the UK have specialist skills, Tuesday revealed that 80% of IT professionals have had no real pay rise in five years and then wednesday showed results that revealed results that showed that Half of UK IT professionals have received no training in last five years.
Yesterday gave figures on the number of trainee IT graduates being taken on, and today I present the figures about the number of staff made redundant by businesses and the number of jobs sent offshore.
There is a strong correlation if you look at the graphs below.
The amount of businesses that have made over 100 IT workers redundant and offshored over 100 is similar.
The large slices of the pie charts are the number of businesses that have made between 0 and 10 IT staff redundant and offshored between 0 and 10 IT jobs. Because we cannot differentiate between the businesses that have not offshored any IT jobs and those that have offshored between 1 and 10, I will ignore this stat.
But the number of businesses making over 100 IT workers redundant and offshoring over 100 are significant.
The survey asked: How many IT jobs has your organisation lost in the last 2 years?
And the survey said: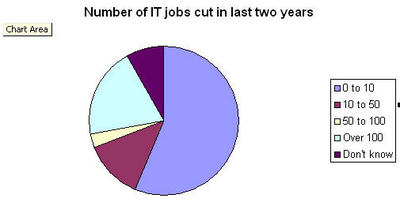 The survey asked: How many IT jobs has your organisation moved offshore in the last 2 years?
And the survey said: