Some Indian suppliers want more UK citizens as staff "but where are they?"
My blog post earlier today talked about Jobcentres and the three month rule where jobseekers have to broaden their searches.
Mark Lewis, a lawyer who works in the outsourcing sector, talked about a meeting he had recently where a CEO at an Indian supplier talked about how he wants more UK citizens to work for his company but struggles to find them.

Download this free guide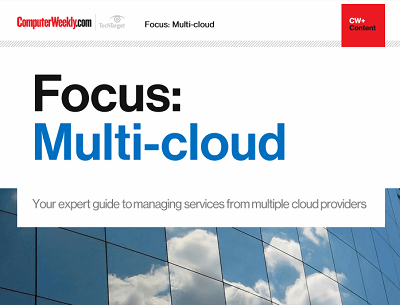 The maturity of the enterprise public cloud
Many IT leaders are increasingly coming round to the idea that sourcing services from one or more providers might be the best way to go. Join us as Computer Weekly takes a closer look at the multi-cloud approach and what providers are doing to capitalise on the trend.
By submitting your personal information, you agree that TechTarget and its partners may contact you regarding relevant content, products and special offers.
You also agree that your personal information may be transferred and processed in the United States, and that you have read and agree to the Terms of Use and the Privacy Policy.
The CEO even raised the issue with Lord Mandelson at a recent meeting.
In a recent interview with HCL, its European president told me the company wants local people in the regions it operates.
I don't want this blog to appear to be against the use of Indian suppliers because it certainly isn't. But the blog wants a fair chance in the jobs market for UK workers and better treatment for some workers caught up in outsourcing deals.
So I would like the offshore service providers to outline their stance on the Intra Company Transfer System and whether it is being abused. And whether they want more UK citizens as staff.
I would also like to know whether UK IT professionals are seeing any opportunities at offshore service providers in the UK.
Thisis Mark Lewis' comment to my earlier blog in full: "On a related, but slightly different, tack, I had a very interesting chat last week in Bangalore with the CEO of one of India's leading IT companies. He says that he is actually looking for suitably qualified IT workers in the UK to join his company. He states that, for all the talk about Intra-Company Transfers (ICT), companies like his would much prefer to employ local IT staff. The main reasons are that there are a limited number of India-based IT workers who actually want to come to the UK under ICT and the catchment group is in the age range 24-28, so is by definition quite limited. As he has to pay his Indian staff approximately the same as equivalently qualified UK workers, it would be far less disruptive to employ UK IT staff. He asks: where are they and how do I get to know about them? He raised this issue with Lord Mandelson recently. Perhaps our Job Centres should send lists of UK IT workers to the Indian IT companies and between them and the IT consultants bodies set up a proper work exchange?"