News
Stay informed about the latest enterprise technology news and product updates.
NHS IT project is dead, but why do large IT projects fail? Part 5
Following the news that the NHS National Project for IT has been dropped I have been posting some of the views I have recently had provided to me for an unrelated feature I am working on. The feature, which will appear in two parts on Computerweekly.com soon, asks the question: Why do large IT projects fail?

Download this free guide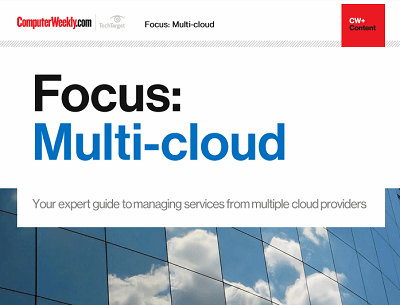 The maturity of the enterprise public cloud
Many IT leaders are increasingly coming round to the idea that sourcing services from one or more providers might be the best way to go. Join us as Computer Weekly takes a closer look at the multi-cloud approach and what providers are doing to capitalise on the trend.
By submitting your personal information, you agree that TechTarget and its partners may contact you regarding relevant content, products and special offers.
You also agree that your personal information may be transferred and processed in the United States, and that you have read and agree to the Terms of Use and the Privacy Policy.
I started with the comments made by Brian Randell. Randell is a professor of at the School of Computing Science at Newcastle University.
Then part two came from Anthony Finkelstein. He is professor of software systems engineering at University College London (UCL) and dean of UCL Engineering. Part three, was from Yann L'Huillier, group CIO at financial services giant Compagnie Financiere Tradition, who has also headed up IT at several of the world's t stock exchanges.
Part 4 was from James Martin, the former IT COO Europe at investment bank Lehman Brothers.
Today is part 5 from Philip Virgo is secretary general at the Information Society Alliance. He has nearly 40 years' experience of IT projects.
He says: "Large projects nearly always fail unless broken into components that can be delivered step by step by mixed teams of users and technicians who know what they have to achieve together, what their next job will be if they succeed – and that they cannot move onto it until they have delivered this one to the satisfaction of the business. That satisfaction may well be an evolving mix of specification, time and budget, because incremental implementation and market change leads to changing expectations and needs. My first major project was the merger and decimalisation of the sales ledgers for the companies that had come together to form ICL. My reward was two years at the London Business School, including a course on programme management led by one of the Polaris team. I have watched success and failures over nearly 40 years. The reasons have not changed. By far the IT biggest project in the UK was the transition of the payment clearing system, including the ATMs in every high street, to internet protocols and common card standards. It took nearly ten years to complete all the incremental changes. No one has ever heard of it because success is boring."