NHS IT project is dead, but why do large IT projects fail? Part 11
Following the news that the NHS National Project for IT has been dropped I have been posting some of the views I have recently had provided to me for an unrelated feature I am working on.

Download this free guide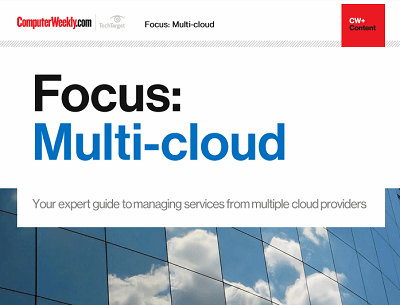 The maturity of the enterprise public cloud
Many IT leaders are increasingly coming round to the idea that sourcing services from one or more providers might be the best way to go. Join us as Computer Weekly takes a closer look at the multi-cloud approach and what providers are doing to capitalise on the trend.
By submitting your personal information, you agree that TechTarget and its partners may contact you regarding relevant content, products and special offers.
You also agree that your personal information may be transferred and processed in the United States, and that you have read and agree to the Terms of Use and the Privacy Policy.
The feature, which will appear in two parts on Computerweekly.com soon, asks the question: Why do large IT projects fail?
I started with the comments made by Brian Randell. Randell is a professor of at the School of Computing Science at Newcastle University.
Then part 2 came from Anthony Finkelstein, professor of software systems engineering at University College London (UCL) and dean of UCL Engineering.
Part 3, was from Yann L'Huillier, group CIO at financial services giant Compagnie Financiere Tradition..
Part 4 was from James Martin, the former IT COO Europe at investment bank Lehman Brothers.
Part 5 came from Philip Virgo , who is secretary general at the Information Society Alliance. He has nearly 40 years' experience of IT projects.
Part 6 was from investigative journalist Tony Collins.
Part 7 featured professor ILan Oshri, associate fellow at Warwick Business School and associate professor at the Rotterdam School of Management.
In part 8, I featured comments from Robert Morgan, director at sourcing broker Burnt Oak Partners.
Part 9 were the comments of Sam Kingston, head at IT service provider T-Systems.
In part 10, I presented the views of Lawrence Grahan lawyer Peter Brudenal.
I am looking for more comments. If you want to contribute please send you answer to the question: why do large IT projects fail? It must be under 200 words. Please send a short biog and a picture. I can't publish them all but I will consider them all.
Today, part 11, is another lawyer. This time Mark Lewis at Berwin Leighton Paisner.

Mark is head of the outsourcing practice at BLP. He has specialised in IT and outsourcing for over 26 years and represents customers and providers, so understands both sides in any deal.
He says: "Customers, even big companies, lack internal resources to specify technical and operational requirements fully or at all. Increasingly they are unwilling to engage consultants. So they start IT projects with little or no actual specification of what their business users need.
They hope the requirements will become clearer with time and that the supplier will help them specify, document and deliver them. (Not going to happen, of course.) Customer then signs up supplier to master services agreement with projects being called off piecemeal.
With no holistic project scope and changes in corporate strategy and business need, project scope changes and creeps and costs escalate. Timetables may be met (there are often penalties for missing them), but deliverables and services do not always meet the customer's needs. With no clear or incomplete specifications, it is hard to pin blame on the supplier.
So customer has to go back to the drawing board, usually with the same supplier: more time and cost. In the rare cases where a customer can pin blame on the supplier (because it can point to a clear contract specification or term that the supplier has failed to meet) we get to hear of the dispute."