NHS IT project is dead, but why do large IT projects fail? Part 10
Following the news that the NHS National Project for IT has been dropped I have been posting some of the views I have recently had provided to me for an unrelated feature I am working on.

Download this free guide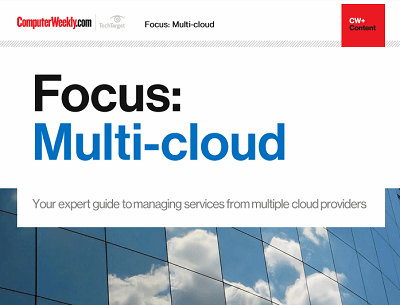 The maturity of the enterprise public cloud
Many IT leaders are increasingly coming round to the idea that sourcing services from one or more providers might be the best way to go. Join us as Computer Weekly takes a closer look at the multi-cloud approach and what providers are doing to capitalise on the trend.
By submitting your personal information, you agree that TechTarget and its partners may contact you regarding relevant content, products and special offers.
You also agree that your personal information may be transferred and processed in the United States, and that you have read and agree to the Terms of Use and the Privacy Policy.
The feature, which will appear in two parts on Computerweekly.com soon, asks the question: Why do large IT projects fail?
I started with the comments made by Brian Randell. Randell is a professor of at the School of Computing Science at Newcastle University.
Then part 2 came from Anthony Finkelstein, professor of software systems engineering at University College London (UCL) and dean of UCL Engineering.
Part 3, was from Yann L'Huillier, group CIO at financial services giant Compagnie Financiere Tradition..
Part 4 was from James Martin, the former IT COO Europe at investment bank Lehman Brothers.
Part 5 came from Philip Virgo , who is secretary general at the Information Society Alliance. He has nearly 40 years' experience of IT projects.
Part 6 was from investigative journalist Tony Collins.
Part 7 featured professor ILan Oshri, associate fellow at Warwick Business School and associate professor at the Rotterdam School of Management.
In part 8, I featured comments from Robert Morgan, director at sourcing broker Burnt Oak Partners.
Part 9 were the comments of Sam Kingston, head at IT service provider T-Systems.
I am looking for more comments. If you want to contribute please send you answer to the question: why do large IT projects fail? It must be under 200 words. Please send a short biog and a picture. I can't publish them all but I will consider them all.
Today, in part 10, I present the view of Lawrence Graham lawyer Peter Brudenal.
Peter Brudenal is a specialist in technology and outsourcing law at . He has over 15 years' experience in advising companies on technology procurement, the outsourcing of services, contract disputes and software development. Recent work includes, advising the UK Home Office on a £250m outsourcing of IT work for the design, development and integration of a biometrics system for iris recognition.
"Although there is no single reason why the failure rate of IT projects is so high, I believe there are a couple of key factors that are often found in the aftermath of a project failure. Firstly, the need for customers and suppliers to work together on a complex IT project is too often discussed and "agreed" prior to the contract being signed, but then forgotten about when the contract is drafted and in the practical administration of the project. Customers often believe that the inclusion in the contract of a detailed list of specifications and requirements should be sufficient for the supplier to then go away and produce a "fit for purpose" system. However, it will only be through constant dialogue, and often refinement of those contractual requirements in line with the customer's business objectives, that a successful outcome is likely to be achieved. This is too often not reflected in the contract.

Secondly, and I believe this is partly as a result of the high failure rate in IT projects, many customers have become very risk averse. As a result we are getting longer and longer contracts dealing with every possible eventuality. This however, often has the effect of stifling the parties' ability to work together to solve problems, or change direction where necessary, and builds an adversarial layer into the relationship. Instead, what we need are shorter, more flexible, results-oriented contracts that set out more accurately the collaborative manner in which most parties to a complex IT project want to work. "