News
Stay informed about the latest enterprise technology news and product updates.
IT service providers are all over the cloud but lack of standard prices confuse customers
Find an IT service provider today that doesn't at least have a cloud offering on the way and you must be on another planet. IT service providers are getting to sell themselves all over again as the cloud delivery model garners interest.

Download this free guide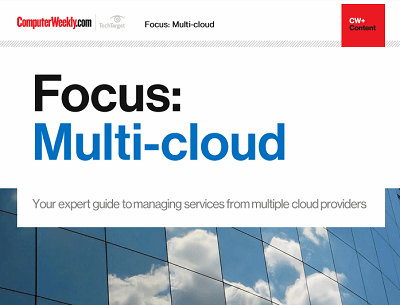 The maturity of the enterprise public cloud
Many IT leaders are increasingly coming round to the idea that sourcing services from one or more providers might be the best way to go. Join us as Computer Weekly takes a closer look at the multi-cloud approach and what providers are doing to capitalise on the trend.
By submitting your personal information, you agree that TechTarget and its partners may contact you regarding relevant content, products and special offers.
You also agree that your personal information may be transferred and processed in the United States, and that you have read and agree to the Terms of Use and the Privacy Policy.
But I interviewed the head of IT at credit company International Personal Finance (IPF), Andrew Herd, yesterday and he told me how difficult it actually was to find a supplier that could provide what the company wanted. He also said there were huge differences in the prices applied to very specific requests for a cloud service.
The first thing IPF did when it decided it wanted to move to the cloud was to go to 20 suppliers to see what they offered. IPF realised it was going to be a challenge when less than half had anything resembling what they needed.
Read the full article I wrote here to find out just what IPF was looking for. IPF went forward to request more specific details from the suppliers who it thought had a cloud service that might fit its needs. It asked them for prices specific cloud services, such as storage-as-a-service. When it got the information back it found a lack of consistency which reflects that immaturity of many of these cloud offerings.
This makes it difficult to chose between suppliers and to understand how mush cloud services should cost.