IT critical to rail industry as government instigates cuts
The rail regulator has told Network Rail to save £2bn over the next five years and improve service levels. It has also said that safety levels must not be impacted.

Download this free guide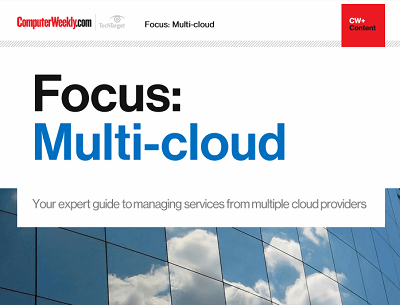 The maturity of the enterprise public cloud
Many IT leaders are increasingly coming round to the idea that sourcing services from one or more providers might be the best way to go. Join us as Computer Weekly takes a closer look at the multi-cloud approach and what providers are doing to capitalise on the trend.
By submitting your personal information, you agree that TechTarget and its partners may contact you regarding relevant content, products and special offers.
You also agree that your personal information may be transferred and processed in the United States, and that you have read and agree to the Terms of Use and the Privacy Policy.
At the same time network rail has consolidated the number of IT service providers it deals with. Presumably there is work on its way and by committing to fewer suppliers Network rail might be able to make extra savings, by committing more to suppliers for better prices.
One of the short-listed IT services firms named by Network rail is Cognizant. Here in this guest blog Rohit Gupta, head of Cognizant's manufacturing, energy and transportation practice in the UK, talks about IT as a key lever for efficiencies.
How the UK's rail industry will fare better with IT
By Rohit Gupta
"It is expected that over the next 30 years, passenger demand for rail travel will more than double and freight demand will go up by 140 per cent. While the government has invested £9.4 billion in railway improvements across England and Wales to meet these requirements–one of the largest sums of money to be spent in rail infrastructure for the last 150 years–some have argued this will barely scratch the surface. However, improving rail services across the country is not solely down to government initiatives. The rail industry needs to be looking at its internal operations and business processes and, wherever necessary, make changes to increase productivity and safety measures.

The asset-heavy rail industry is facing multiple challenges. It is being constantly pushed to increase efficiency and punctuality, while reducing operational costs. At the same time, it has to meet the rapidly increasing demand from passengers and freight services, providing them increased safety. In order to address this challenging mandate, the industry would need to not just continuously enhance the efficiency of existing processes, but also create the concept, architect and implement new–and increasingly different–capabilities. In other words, it would need to run better and run differently.

Technology is a key lever through which the rail industry can bring in massive efficiencies, both in terms of optimising its technology spends and, more importantly, through adopting newer technologies. Information Technology is critical for this industry to operate smoothly and seamlessly, but it can also be a key enabler of transformation and innovation. For example, potential maintenance issues can be resolved at an early stage by adopting intelligent asset management techniques that utilise cutting-edge mechanisms to collect and analyse data related to assets such as tracks and bridges. Similarly, the rail industry can also apply social channels to gather more feedback from its customers, thereby providing them with a greater sense of involvement.

In fact, the emerging SMAC (Social, Mobile, Analytics and Cloud) technologies are increasingly playing a key role in shaping the future of rail. The influence of SMAC technologies in driving efficiencies in rail network will have a significant impact across the UK rail ecosystem–including Network Rail, Train and Freight operators, Rolling Stock companies and Rail Delivery Group. Use of handheld devices and smartphone applications in providing real time cargo visibility will be immensely appealing to the freight transportation industry. Building a greener and smarter ecosystem of consumers, customers, network and train operators using an underlying information network enabled by SMAC technologies will be the essence of future-proofing one of the oldest rail networks in the world."